Can Carbon Motors Survive Without Government Loan?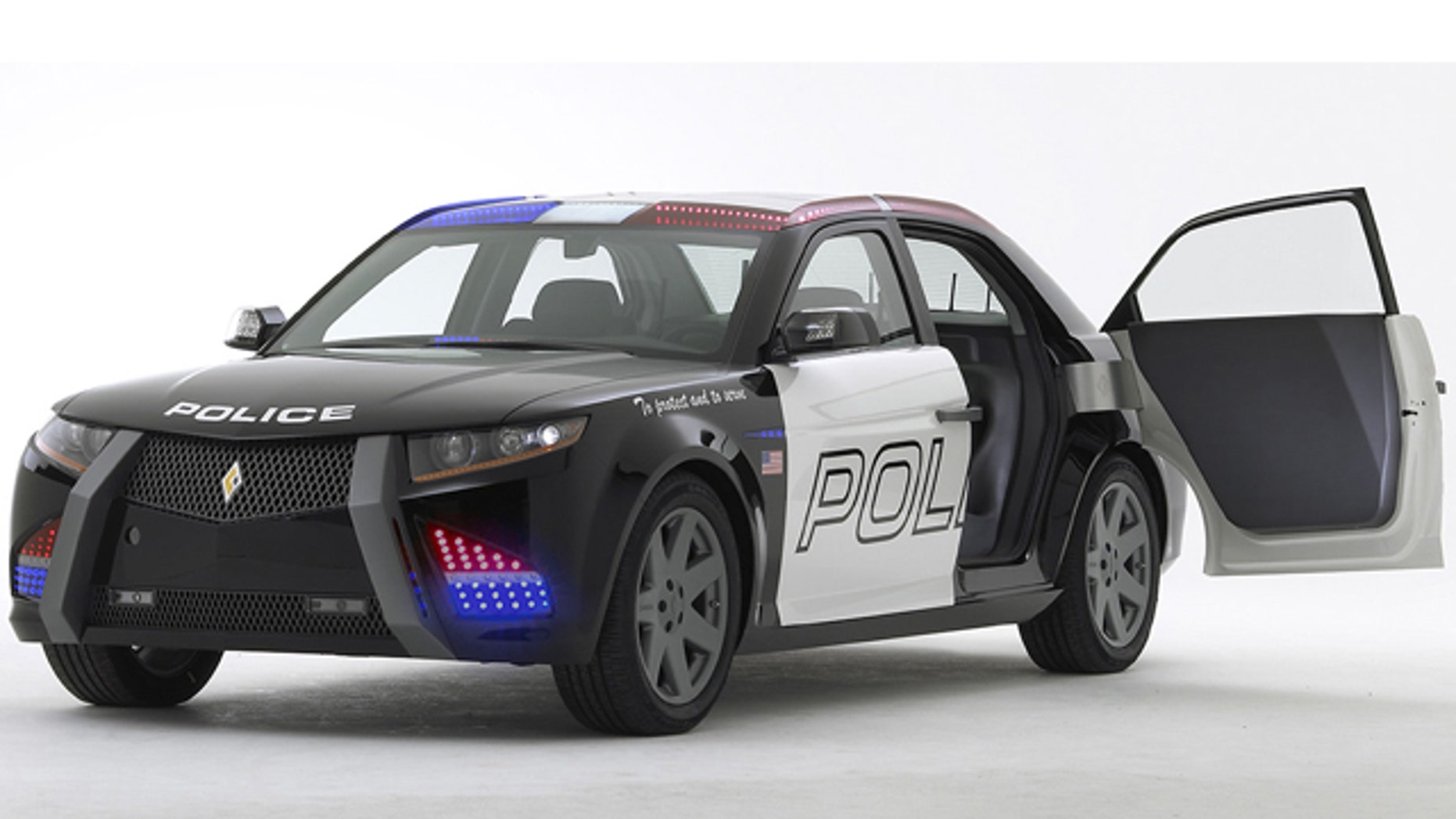 When Carbon Motors first announced the purpose-built E7 police car in 2008, the Atlanta-based company created quite a stir. The sleek, diesel-powered cruiser was designed with integrated law enforcement equipment, including "weapons of mass destruction sensors" and then cutting-edge automated license plate readers. A wireless network would connect each E7 to a central police command station and other vehicles.
With a BMW-supplied engine boasting 300 hp and 420 lb-ft of torque, a top speed of 150MPH and up to 30 MPG on the highway, the E7 shows great potential as a police pursuit vehicle – even if there is just one existing prototype.
But now it looks like the startup is on the verge of becoming another victim of the state of the economy.
In an open letter addressed to President Obama's cabinet members that was released last December, Carbon Motors CEO William Santana Li made a plea for them to support the approval of a $300 million loan it applied for two years ago from the Department of Energy's Advanced Technology Vehicle Manufacturing (ATVM) program to help put the E7 into production. So far, there has been no response.
"We spent 28 months in due diligence working with the Obama administration and Department of Energy officials," says Santana Li, speaking to FoxNews.com. "This is not a vehicle designed to take you to the grocery store, or a police car that's the same as the one from six or seven decades ago. This will have a material impact on law enforcement and be environmentally more responsible."
Santana Li explained that the E7 is a completely new design for US law enforcement. He believes basing a law enforcement vehicle on an existing car is like asking the Air Force to take a Cessna airplane and modify it for military engagements. The money from the loan would help Carbon Motors build a factory in Connersville, Indiana, an area that has suffered from high unemployment rates and economic downturns in recent years.
Li notes that most police cars today are imported from Canada, while the E7 will be American-made. There's a fundamental role of government to protect and serve, he argues, and that federal agencies and state police should be obligated to purchase only American-made police vehicles.
And one automotive expert agrees – at least in part.
"I like the product because it is purpose built as a police cruiser," says Thilo Koslowski, an automotive analyst at Gartner, a technology research and consulting firm. "But good product alone is only half of the required success in the automotive business, because production, maintenance and service requires substantial resources."
Koslowski says Carbon Motors faces the same uphill climb that led to the recent demise of Aptera Motors, a California electric car startup that went belly-up a few weeks ago after failing to secure its own loan from the ATVM program. In the wake of the bankruptcy of Solyndra, a cleantech company that received a $535 million loan from the Department of Energy in 2010, seed money programs like these have come under increasing public scrutiny.
Read: Electric Vehicle Maker Aptera Motors Pulls the Plug
That means, for Carbon Motors, securing a federal loan might be difficult. Santana Li would not answer questions about whether Carbon Motors will have to fold if it does not acquire the ATVM loan. He said, as a privately held company, he cannot comment on its financial situation.
To date, Carbon has booked about 20,000 reservations for the E7. Santana Li says about 3,500 members of law enforcement were involved in the development of the car, including 500 state agencies. However, the reservations are what Santana Li equated to "raising your hand" as a show of support. Carbon Motors has not collected any deposits on these "pre-orders" of the E7.
Daniel Sperling, a director at the Institute of Transportation Studies and a professor of Transportation Engineering and Environmental Policy at the University of California, Davis, told FoxNews.com that he can't figure out what Carbon Motors is up to.
FoxNews.com Autos is on Twitter.Click here to follow us @FoxCarReport
"It makes no sense to start from scratch with a vehicle, given the massive scale economies and expertise of the big original equipment manufacturers (OEMs) [like Chevrolet and Ford]," says Sperling. "Frankly, nothing I read convinces me this is a compelling investment of taxpayer dollars."
Sperling also questioned why there should be only one police car model, since there are many needs for city patrols, highway cruisers and even rugged all-terrain vehicles. He says the trend today is for the U.S. government to use existing consumer-grade products and modify them.
Dana Hammer, the manager of law enforcement vehicles at GM, says the Chevy Impala and Caprice-based police cars, modified for law enforcement, go through rigorous tests to conform to standards set by law enforcement agencies. Two annual testing sessions in Michigan and Los Angeles County test braking, high-speed driving and other performance parameters. (Carbon Motors has consulted with the testing agencies, but the E7 prototype has not been tested.)
Hammer says there are 15 full-time advisors who work at GM, and a field staff of 25. He says GM has worked directly with just about every police force and law enforcement agency in the U.S. over the past 50 years. The Caprice Police Patrol Vehicle, which is imported from Australia, has a base price of just over $30,000, before the addition of specialized law enforcement equipment, which varies agency to agency, while the Canadian-built Impala goes for around $27,000. Carbon Motors has not yet specified how much the E7 will cost, but says that it will be competitive with existing vehicles.
"We do a dramatic amount of engineering and testing to meet specific needs of the police market," says Hammer. "Government agencies are on strict budgets. We mass produce these vehicles and keep the economies of scale as affordable for them as possible. These are moderately priced vehicles."
Santana Li would not state how many police cars Carbon Motors expects to produce each month if the ATVM loan is approved. For now, it looks like the $300M would mostly fund construction of the manufacturing facility.
"The federal loan will accelerate the production of the E7," he says. "We are not going to predict the behavior of the federal government, but we are expecting a favorable response."