2017 Jeep Compass test drive
NEWYou can now listen to Fox News articles!
The original Jeep Compass got some of the worst car reviews of the past decade.
Arriving in 2007 as one of Jeep's first front-wheel-drive-based models, it was little more than a Dodge Caliber in Jeep's clothing — and every bit as unimpressive off-road as that sounds.
An awkward-looking thing with a Little Tikes-quality interior, it came across as the Jeep equivalent of a child who shows up at school in a robot costume that his mom stayed up all night making from scraps around the house because he forgot to tell her he needed one.
It was as DOA as cars come. Nevertheless, Jeep persisted.
It made a few styling tweaks over the years, upgraded the cabin and drivetrain and turned the Compass into … a better car. Still not a very good one, but good enough to sell a lot of them, with a little help from some cash on the hood and ravenous rental fleet purchasing managers.
In fact, it did so well in its later years that Jeep put in the effort to design an all-new one for 2017 that it expects to become its best-selling model overall. Not necessarily in the U.S., but around the world, where many of its other vehicles are considered too gargantuan for mass consumption.
The difference is that Jeep did things right this time.
The little guy looks like a baby Grand Cherokee. It's seriously handsome, and it squeezes into the 15.4-inch-long slot between the cutesy Renegade and the midsize Cherokee, because there's always room for more SUVs.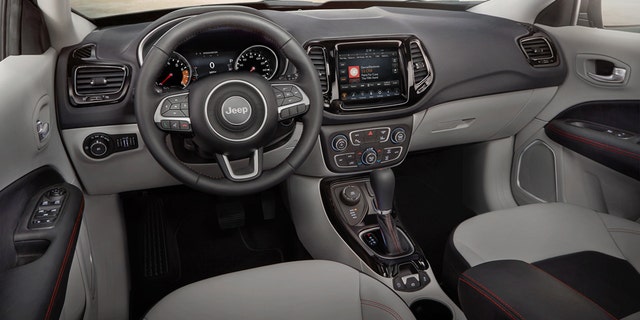 Though it's smaller on the outside, the well-packaged $22,090 Compass actually has more cargo space than the Cherokee, as well as a roomy passenger compartment that's as nicely-appointed as its big sister's. It is narrower, however, so there's not much space for phones and stuff in the center console, or for the fifth passenger's backside. It's also a tad stingier on the rear legroom, but it can fit six-footers all around.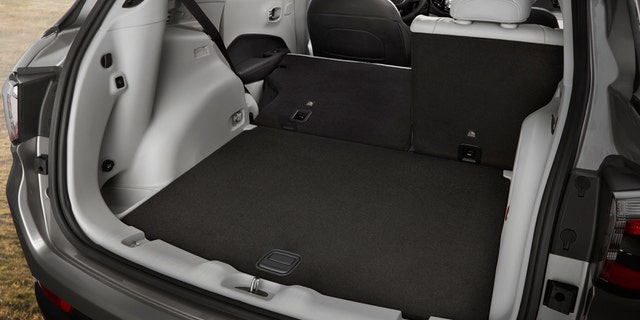 The Compass comes with only a 180 hp four-cylinder engine with a nine-speed automatic transmission, while the Cherokee is offered with a 271 hp V6. That sets them apart more than anything, and it allows the Cherokee to tow up to 4,500 pounds, compared to 2,000 pounds for the Compass.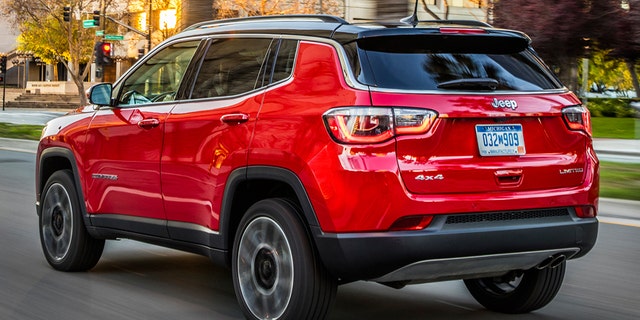 Unlike before, the Compass can now be had with legitimate off-road chops. All-wheel-drive versions come with a healthy amount of ground clearance, and there's a Trailhawk model that jacks it up even more and trims the front bumper to give it approach, breakover and departure angles that would put its closest competitor, the Subaru Forester, to shame in its namesake ecosystem.
Even the top-of-the-line, very street-smart Compass Limited that I tested rode like a much bigger SUV on the streets and easy trails I tried it out on. It has a loping gate that steps through potholes like they aren't there, but is well-behaved when you go around a curve.
You wouldn't take it bouldering, but thanks to its limber suspension and a smart all-wheel-drive system with settings for Snow, Sand and Mud, it can make quick work of a sloppy, rutted dirt road. The Trailhawk adds a Rock mode and faux-low range provided by a shorter final drive ratio and second-gear starts in normal operation, with first saved for the roughest stuff. You can do that kind of thing when you have so many speeds to play with.
NEW JEEP WAGONEER AND WRANGLER PICKUP CONFIRMED:
It isn't the quickest vehicle on the highway, but it's quiet and rides well there. Automatic emergency brakes are optional, along with a lane departure prevention system that abruptly steers you away from the lane markers if you start to wander.
The transmission could shift more smoothly, and is a little lazy changing gears, but it does deliver 30 mpg, which is very good for a high-riding all-wheel-drive utility vehicle this size. A six-speed manual transmission that can be had on lower trim levels adds 1 mpg and some old-school interactivity.
The new kind is provided by Fiat-Chrysler's latest UConnect system, which is one of the best infotainment systems around and now comes equipped with Apple CarPlay and Android Auto smartphone integration. One minor annoyance is that the controls for the heated seats and steering wheel are buried several steps in the 8.4-inch touchscreen, rather than on the dashboard, so you need to dig in when you want to warm up.
Nevertheless, the Compass impresses in just about every way the original disappointed. It could sell on its looks alone, and most of the time it probably will, but it has the goods to back them up. Given how hot this segment is today, don't be surprised if it ends up being the USA's top-selling Jeep someday.
If nothing else, I'm sure it won't be the worst.
----------
2017 Jeep Compass Limited
Base price: $29,840
As tested: $32,870
Type: 4-door, 5-passenger AWD SUV
Engine: 2.4-liter four-cylinder
Power: 180 hp, 175 lb-ft
Transmission: 9-speed automatic
MPG: 22 city/30 hwy