2015 Jeep Renegade Trailhawk Test Drive
Jeep's covered a lot of ground over the years, but now it's going somewhere it's never been before.
Not only is the new Renegade the off-road icon's first subcompact crossover, but it's also the first Jeep imported from Italy, where it's built alongside some of its Fiat siblings.
That's a long way from Toledo, but closer to Tipperary and many of the other global locales where it will be sold. Unlike its ancestors, this Jeep wasn't designed to liberate the world, but to conquer it.
That includes the United States, where a battle is brewing among a quickly growing group of tiny utility vehicles that includes the Kia Soul, Nissan Juke and Chevrolet Trax.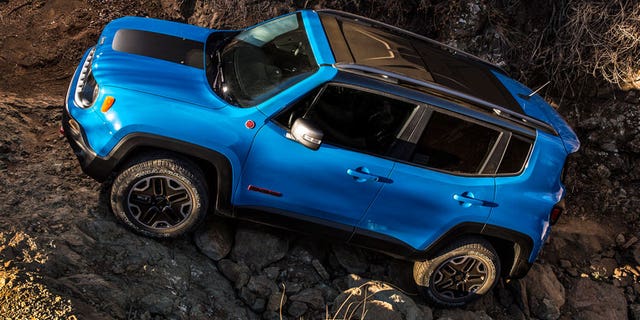 It's tough to design a car with these kinds of proportions that isn't at least a little offbeat, so most go for cute. The Renegade is definitely that. It would fit right in with a Playskool Heroes military collection, and looks like a lot of fun to play with.
All of the classic Jeep characteristics are present and accounted for, like round headlights, a seven-slot grille, and turn signals on the fenders. Plus, it has basketful of Easter eggs hidden inside and out that run the gamut from gas-can style brake lights to topographical maps on the upholstery and even a tiny Bigfoot silhouette on the rear window.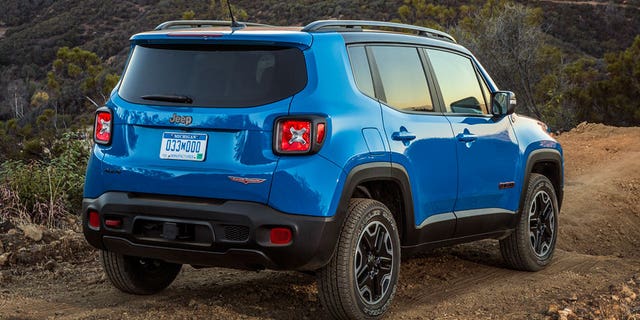 The starting price is $18,990 for a front-wheel-drive Sport, which features a 160 hp 1.4-liter turbocharged 4-cylinder engine and a 6-speed manual transmission that will likely make it as rare as a Sasquatch. Spend the extra $1,200 for an automatic transmission and you get nine speeds it doesn't always juggle so smoothly and a 180 hp 2.4-liter 4-cylinder to go with them.
Of course all-wheel-drive is available, and it's standard on the top-of-the-hill Trailhawk model, which costs $26,990 and is the version I tested at length. Not (just) because I'm fancy, but because, even though Jeep has proven that it can sell a lot of mediocre crossovers like the Compass and Patriot, if anyone is going to take the Renegade seriously, the Trailhawk has to carry its "Trail Rated" badge with some pride.
It earns the designation with taller tires that raise the it 8.7 inches of ground clearance, underbody skid plates, fetching red tow hooks, increased approach and departure angle-increasing bodywork, and the ability to pretend it has a low range transfer case with a 20:1 crawl ratio for putting that geometry to some use.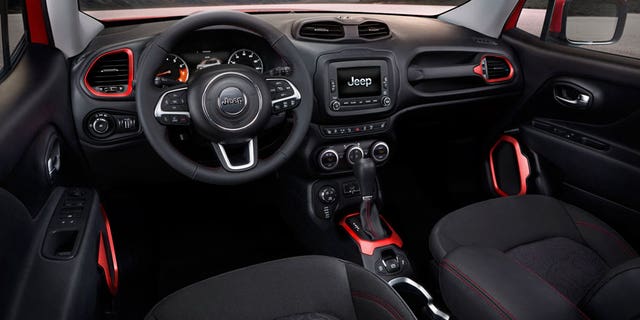 Despite its outward appearance, the Renegade feels big from the driver's seat. The interior has a more serious style about it, high-grade materials and an overall impression of substance. The high hood, steep windscreen, chunky roof pillars and somewhat floaty SUV ride quality just add to the effect.
The cargo bay won't amaze, but it sure beats a Wrangler's, and there's a full-size spare underneath. It's hard to fault a small vehicle for being small, anyway, and if you fold the rear seats, which are fine for adults, 50 cubic feet of action sports gear carrying space is the reward for not bringing your friends along.
Then again, you might not want to load it up too much. Although it offers a maximum 2,000-pound tow rating, a few more horsepower would be appreciated, even when it's empty. At least on the street.
I took the Renegade to the scraggliest public road I know that's within spitting distance of Fox News HQ. It's no Rubicon Trail, but you wouldn't want to make a wrong turn onto it in anything that doesn't resemble a truck. There are a couple of steep climbs, lots of exposed granite, and nooks and crannies deep enough to challenge both its drivetrain and the articulation of its strut-type fully independent suspension.
Normally, the Renegade operates as a front-wheel-drive vehicle, sending power to the rear only when the fronts start to slip, but its Select-Terrain system lets you lock it in all-wheel-drive and optimize it for different surfaces. On pavement, I preferred leaving it in 4x4 Auto, which takes the twitchiness out of the steering when you hit the accelerator, while this particular route called for Rock.
Computers, they're a heckuva thing. I won't say the little guy had no trouble making it over the terrain, which is rough enough to get a novice nervous, but it pleasantly surprised. I could hear the traction control system tapping the brakes to move power from the wheels off the ground to the ones planted on it, but there was no scraping, no slipping, and no painful shunts.
Jeep admits that if you rate the Wrangler's off-road abilities a 5, then the Renegade is more like a 2, which sounds about right. But compared to the rest of the soft-roaders in its class, there is no comparison. Even the larger Subaru Forester, with all its outdoorsy charm, wouldn't do as well.
That's not to say I would recommend it to someone who lives to drive off-road, but if your life sometimes takes you off-road, this is definitely the subcompact for you. And the rest of you can feel free to buy your lesser Renegades with confidence that they pay tribute to a worthy hero.
That's certainly what Jeep hopes it will be.
----------
2015 Jeep Renegade Trailhawk
Base price: $26,990
As tested: $30,245
Type: 5-passenger, 4-door CUV
Engine: 2.4-liter 4-cylinder
Power: 180 hp, 175 lb-ft torque
Transmission: 9-speed automatic
MPG: 21 city/29 hwy