The Ford GT is the most clutch car ever made, even though it has an automatic transmission.
It was built for one reason: to win the top production class at the last year's 24Hours of Le Mans and mark the 50th anniversary of the company's legendary victory over Ferrari with another.
We're talking about the most grueling and competitive sports car race in the world, and Ford hadn't even been to the track since 1969. Ferrari, Porsche and arch-rival Chevrolet, meanwhile, practically live there. No pressure.
Ford thought about going for it with a Mustang, but realized that it was practically a pickup compared to the sleek 488s, 911s and Corvettes it would have had to compete with. So it decided to gamble untold millions to design an all-new mid-engine supercar for the task at hand. There would be no second chance.
It didn't need one.
The GT took first, third and fourth places, with a Ferrari sandwiched between them for good measure. You can still hear the sighs of relief coming from Dearborn — and the meatballs hitting the wall in Maranello.
At the launch event for the street version of the GT that Ford is selling to amortize the feat, I asked the Ford Performance division's marketing boss, Henry Ford III (yeah, he's related), if he thought people would have been willing to pay the $450,000 Ford is charging for it if it hadn't won, especially if it had been beaten by a dang Chevy. He said yes, but of course he did. If nothing else, his job is much easier than it might've been.
Ford is building a scant 250 GTs annually, and the first three years of production are already spoken for. Henry's team got to choose the people it deemed to be the worthiest stewards for the car from a list of over 6,000 qualified applicants.
Ford will sell it only to people that it's confident will actually use it, and hopefully share their glorious experiences with millions of social media followers. If you have that many, and an equal amount of liquid assets, the order books for the last batch will open next year.
If you think this all sounds a little hifalutin for a Ford, you're not alone. When I heard the price, I was disappointed — not because I'm a label snob, but because I felt anyone could build a fast car for that kind of cash. The last time Ford made a supercar, the 2005 GT, it was world class and a relative bargain at $139,995.
2006 FORD GT SETS STANDING MILE RECORD AT 293.6 MPH
But it's hard to argue with success. Along with notching the all-important Le Mans win, plus another at this year's 24 Hours of Daytona, Ford has built one of the best sports cars in the world.
It isn't charging a lot of money for it just because it can. The GT is unlike anything the company has ever made. It was developed in secret by a small team in a forgotten basement studio that was being used for storage. There were nondisclosure agreements, code words and an old-fashioned padlock on the studio door for cover. Real skunkworks stuff.
Ford didn't go it alone, though. It partnered with Canadian engineering firm and race car builder Multimatic, who is handling final assembly of the GT, which features a lightweight carbon fiber passenger cell with a built-in steel roll cage that needs only minor modifications for competition.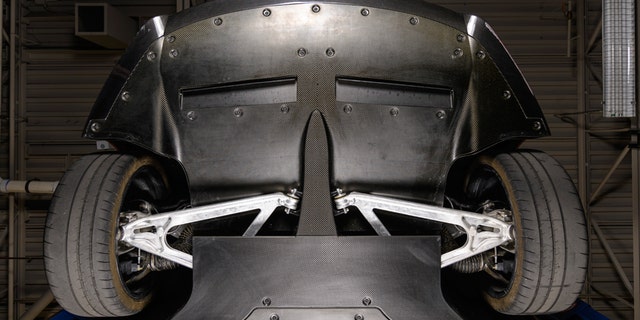 The suspension is race-bred, too, with pushrod-activated springs mounted to a keel in the center of the car up front (picture an F1 car covered in full carbon fiber bodywork) and similarly remote spool valve-type dampers, buried near the footwell, that Multimatic originally developed for Indy cars.
This layout clears spaces that allow air to flow past a wing-like surface under the nose that generates downforce in concert with a giant wing that pops up from the rear of the car. Every vent and surface shape on the very striking GT is designed to efficiently coax the atmosphere around its teardrop-shaped cabin, including the tendon-like buttresses that connect it to the pod-style fenders.
Between them is the rear-wheel-drive GT's most controversial feature: an EcoBoost V6. It's bad enough that the twin-turbocharged 3.5-liter is two to 10 cylinders short of what most people expect from a supercar, but it also shares more than half of its parts with the one in the Ford F-150.
FOLLOW FOX NEWS LIFESTYLE ON FACEBOOK FOR MORE TEST DRIVES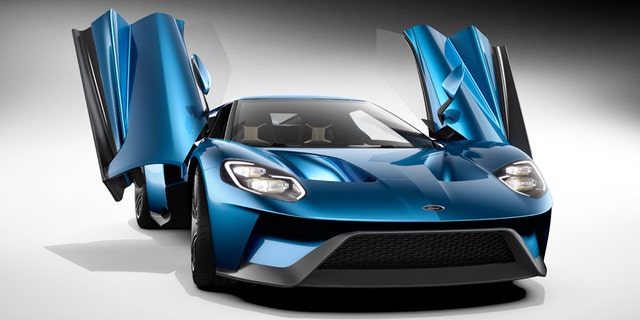 This was primarily a marketing play. Ford needed something for the racing program to sell, and EcoBoost is a bigger deal for the brand these days than V8s, even if its 14-mpg combined fuel economy rating isn't going to impress anyone at the EPA. Then again, jamming a pickup engine into a supercar is about as American as you can get, regardless of how many pistons it has.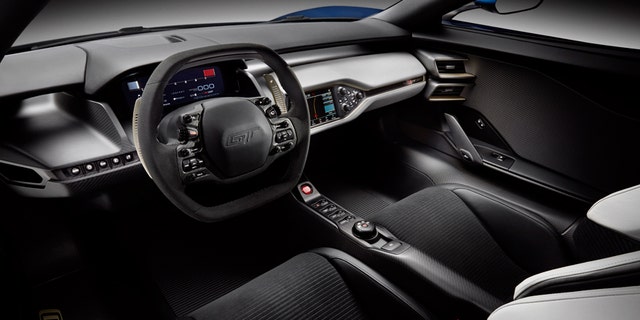 It's not a straight swap, though. The GT gets a unique intake system that breathes through vents in the side pods. The air is then compressed by larger turbos, intercooled, fed through ducts hidden in the buttresses and mixed with port and direct fuel-injected gasoline. This produces 647 hp and 550 lb-ft of torque, making it the most powerful V6 in the world.
You get yourself in front of it by entering the GT butt-first through supercar-appropriate butterfly doors. The opening is tight and so is the cabin, which is about as narrow as a canoe. To keep the roof low and sleek, the seats are bolted to the floor, so you have to adjust the pedal box and steering wheel instead. But there's more than enough travel to accommodate folks a couple of inches over 6 feet tall with a helmet on.
The standard interior isn't as lavishly appointed as a Ferrari's or a Porsche's, but Ford is happy to work with you on that, because no one is buying a GT off the lot. I think it looks best done up in black Alcantara, but the orange leather dash trim that's offered is oddly appealing.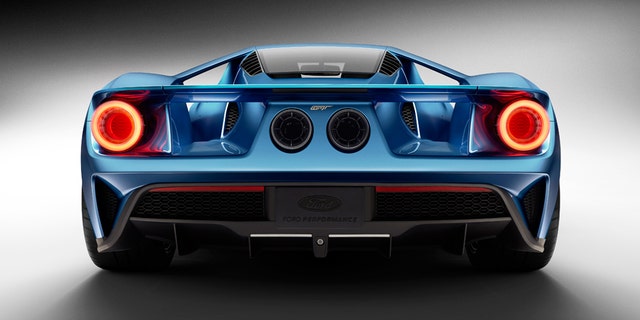 As far as amenities are concerned, there are two cupholders that switchblade out of the center console near the passenger's right left knee. You'll have to keep your gloves on, though, because there isn't a compartment to store them in. The infotainment screen is equipped with a pared-down version of Ford's Sync 3 system, but it's small and slow and doesn't have satellite radio.
You won't care once you start the engine. Separated from your ears by only a pane of glass, it fills the cabin with a distinctive mix of mechanical sounds and induction noises that seems louder than what you hear outside the car. The turbo-choked exhaust makes more of a muted jet fighter whoosh than a banshee scream as it flies by envious onlookers whose tongues are hanging out.
Furthering what I said earlier, the GT has two clutches in its transmission for quick shifts, but they're controlled electronically, so it's strictly a two-pedal car. If you want to change gears yourself, use the paddles on the back of the steering wheel, which has more buttons on the front than a Continental Army uniform. If you need to activate the turn signal or windshield wipers, it's all thumbs.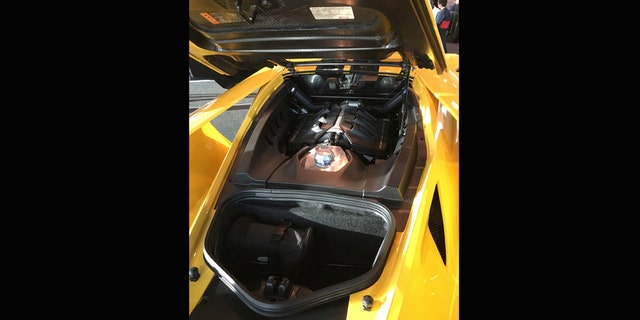 FOLLOW FOX NEWS AUTOS ON TWITTER
A knob on the left spoke adjusts the GT's drive modes, which include Wet, Normal, Sport, Track and V-Max. The last two are the most entertaining, even in the driveway. When you engage them, the GT quickly drops two inches, like a race car coming off its air jacks in the pit lane. It does this by hydraulically compressing springs in the suspension, which also stiffens the ride. In V-Max, vents in the front bumper close and the rear wing stays in its stowed position to streamline the car and unlock its top speed of 216 mph. Track opens things up and deploys the rear wing to help it stick in the curves.
Neither is meant for public roads, but the GT loves them in Sport mode. The ride is more compliant than you'd ever expect by looking at its ride height and steamroller tires, and the car feels light, nimble and compact in the twisties. Piggybacking off the pump used for the suspension and aero bits, the steering is hydraulically assisted and provides a much more natural feel than even the best electric assist systems can.
The GT could easily live up to its abbreviation and take you on a grand tour, but pack lightly. If you had to describe the size of the .4 cubic foot trunk tucked in behind the engine during a game of 20 questions, the answer to "is it bigger than a breadbox?" would be "ha ha ha!" On the bright side, Ford's 3-month-old-size test dummy doesn't fit, so you don't have to worry about your kids getting stuck inside.
Although many GTs will spend their lives as show ponies, they're thoroughbreds that deserve to stretch their legs on the track. I got to do that with one on Utah Motorsports Campus' west course, a windy little 2.2-mile circuit that doesn't let you get anywhere near the GT's top speed, but perfectly highlights its handling. And its brakes, which have fade-free carbon ceramic discs and are so effective that you need to recalibrate your brain, lest you end up stopping in the middle of the track several zip codes before the turn that you were slowing down for.
Accelerating to the next one is a CliffsNotes in time travel. Ford says the rear-wheel-drive GT is good for a 0 to 60 mph sprint in less than three seconds, and it's even quicker when you're already on the move. The engine has an anti-lag system that keeps pumping air into the big turbos as you take your foot off the pedal, so they're ready to go when you put it back to the metal.
Redline comes up quickly at a relatively low 7,000 rpm, indicated by a sequential row of lights on the steering wheel. They're there so you don't need to look down at the digital instrument panel, which has a hockey stick tachometer and clearly displays what gear you're in. Instead, keep your eyes up and focused on the next corner, because that's where things really get good.
Under 75 mph or so, the GT is all about mechanical grip, and the specially engineered Michelin Pilot Sport Cup 2 tires provide plenty of it and release it progressively. There's a sweeping, triple apex section on the track labeled Demon, Devil and Diablo that tempts you to take it faster than you should. I succumbed a couple of times and feared the rear was heading for the abyss on the side of the road, but a light lift off the throttle and a little countersteer were all it took to bring it back in line as easily as you could in a go-kart. The engine wears its accessories at the rear, so the block is tucked up tightly against the firewall, balancing the GT more like a top than a pendulum. If the stability control played any role, it was seamless and uncredited, because I didn't feel the computer gods intervene.
In the track's fast left-hand kink named Scream, you will do that with joy. Here, the aerodynamics really come into play to press the GT into the surface like a kid playing with a Hot Wheels car, and it's exactly as thrilling as you imagined it would be when you were doing that in second grade. The long right-hander called Dreamboat truly is one, if you clear your mind and trust the physics of fooling with the wind.
To prove the GT's worth in more skilled hands than mine, Ford took it to Calabogie Motorsports Park in Canada and pitted it against the two cars it bought to benchmark it against during development: The Ferrari 458 Speciale and McLaren 675LT. You won't be surprised to hear that it beat both, because Ford wouldn't have mentioned it if it hadn't. The GT's lead engineer, Derek Bier, says Ford is satisfied with that and will leave it up to the owners and magazines to set times at other tracks.
Between that and the race wins, Ford has built an instant heritage that should protect the value of the GT for the fortunate few that get to buy one. But what does all this mean for the rest of us?
Bier says the lessons Ford learned working with carbon fiber will eventually trickle down to its mainstream vehicles. He points to that last GT, Ford's first aluminum-bodied car, and the effect that had on the current F-150, which lent its engine to the new GT.
The strange cycle of life continues.
As excellent as the GT is as an engineering exercise, race car and performance car, however, it's not magnitudes better than its peers, and that price leaves one heck of an opportunity for someone to outdo it for less. (Say, $139,995?)
Even Ford has a lot of room in its lineup between the GT and the Mustang. It should think about filling it one of these days.
Here's hoping that it doesn't wait until 2066 before it does.
Editor's note: FoxNews.com covers its own cost to attend product launch events.
----------
2017 Ford GT
Base price: $450,000
Type: 2-passenger, 2-door rear-wheel-drive coupe
Engine: 3.5-liter turbocharged V6
Power: 647 hp/550 lb-ft of torque
Transmission: 7-speed automatic
MPG: 11 city/18 hwy