2006 Ford GT sets standing mile speed record at 293.6 mph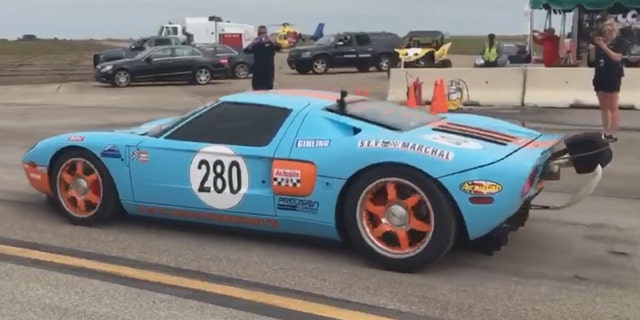 "Quick" and "fast" don't mean the same thing.
One is about acceleration, the other about top speed.
This car is both.
A 2006 Ford GT has set a new world record for the standing mile by sprinting to 293.6 mph at the Texas Mile event on March 26.
The car was run by tuning house M2K Motorsports, which twin-turbocharged the GT's 5.4-liter V8 with 45 psi of boost to pump out approximately 2,500 horsepower on methanol -- nearly five times what the stock engine can muster -- aided by a humongous Wilson intake manifold equipped with an air-to-ice water intercooler and a host of other upgrades.
Video of the run down the airport runway confirms that the motor sounds something like the apocalypse.
The car broke a record set in 2012 by another GT that hit 283.232 mph on the Space Shuttle landing strip at the Kennedy Space Center in Florida. The GT's engine has proven to be remarkably strong, and heavily modified versions are a common sight at this type of event.
FOLLOW FOX NEWS LIFESTYLE ON FACEBOOK FOR MORE AUTO NEWS
Jamal Hameedi is the chief vehicle engineer for Ford Performance and was a key player on the 2005-2006 GT program. He says that never in his wildest dreams did he expect to see GTs going this fast – it only had a 205 mph top speed, after all, and mile-racing really wasn't a thing back then -- but that it's a testament to the work his team did on a shoestring budget to deliver a world-class supercar with a starting price of $139,995.
"We didn't have the time or money to build, test, and fix everything as we went along, so we designed it all to Ford's best practices. That motor is incredibly overengineered."
The GTs aerodynamic design has also stood the test of time. M2K Motorsports' Kevin Kesterson says they used stock bodywork for the record run. And it won't be the last one.
The next Texas Mile event is in October and Kesterson says they plan to be back and gunning for 300 mph.
Of course, Ford has a new GT on sale this year with a $450,000 price tag, a 657 hp twin-turbocharged V6, a 216 mph top speed and a racing pedigree that already includes wins at the Le Mans and Daytona 24 hour races. So should we expect to see it chasing speed records, too?
"This new car is much rarer and more expensive, so people may be less inclined, Jamal says. "But, I think I said something like that about the last one, and it's very easy to tune and modify the engine, so some people will be probably be making it faster as soon they get one."
That's quick.