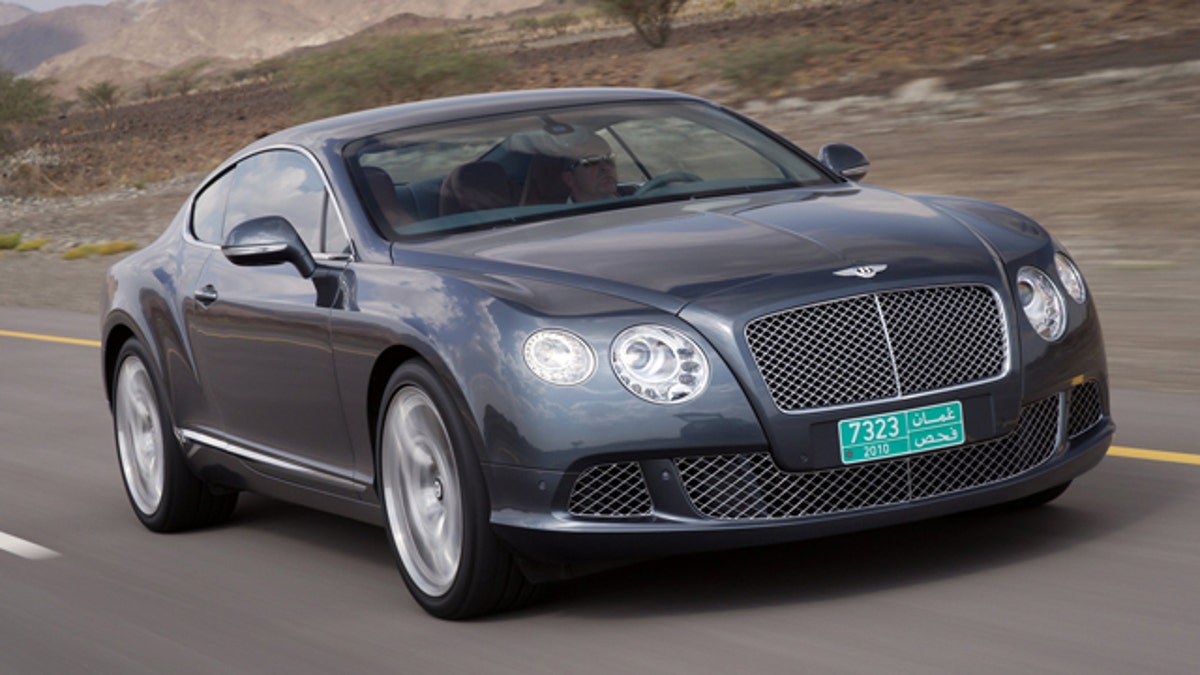 Even fat cats are finding the need to trim down and change their image these days.
The Bentley Continental GT - official daily driver of the wealthy and famous for the past decade or so - has been given the Jillian Michaels routine and returns for 2012 in a much fitter form. The beautiful puffball of a coupe drops a few pounds - literally and visually – and becomes both more powerful and environmentally conscious in the process.
That's not to say you won't recognize it. Rather than reinvent the wheel – although it did redesign them - Bentley has gone the icon route and kept the GT's familiar shape intact.
With a quick glance you might miss the sharper character lines, re-cleft chin and reworked hindquarters of the imposing two-door, but the overall affect is a much tighter appearance. Its new suit is tailored by a manufacturing process that involves superheating the aluminum body panels and forming them with pressurized air. If that sounds a little high-tech for such a traditional automaker, it's hard to argue with the results. LED surrounds for the oval headlights further help to lighten the package, so to speak.
The interior remains mostly handcrafted and doesn't stray too far from the previous model's dual cowl layout. It gets deeper, more flowing details and shapes along with an instrument cluster that replaces the very old-fashioned layout of last year's model – each gauge drilled separately into the face of the dash – with a single cluster. Again, this is meant to be the same car, only better. You've got to give the rich folks a reason to trade up without alienating them in the process.
Unfortunately, that almost happened to me the moment I tried to use the touch-screen infotainment system. It works fine, but – horrors! - speaks with an American accent. While this has never bothered me in a German or Japanese car, in these clubby confines I instinctively expected to hear a snappy British accent when I paired my Blackberry (a process that requires a 16-digit password and locks out all of the other functionality of the device, by the way.)
If I can download Eddie Izzard's voice into a TomTom from Staples, is it really that hard for Bentley to let me do the same? I'd even settle for Kevin Costner playing Robin Hood. In a bespoke vehicle that offers a remarkable $7,015 Naim audio system as an option, I really don't think this is too much to ask.
Jeeves, get on that, will you?
But start the engine and you'll hear no complaints from me. The thick, rich burble produced by the twin-turbocharged 12 cylinders sitting under the hood in a W pattern is more than befitting of the 567 horsepower they produce along with it.
If that figure seems excessive, keep in mind that, even after dropping 143 pounds, the GT weighs over two and a half tons. That's what happens when you cover every visible surface in the interior with leather, wood, metal or deep pile carpet and then build a car to support it all. Whether or not it offers any real safety advantage, its assuring to know that if you accidentally go head to head with an SUV you'll stand a fighting chance in the E=MC² department.
Or, if you see one coming, you can just step on the very baroque, drilled alloy accelerator pedal and get out of the way. Not long after the GT disposes of 60 mph in 4.4 seconds it can reach 198 mph. At speed, this big heavy brute has the momentum of a boulder rolling down Mt. Everest. Around town, the engine barely has to breathe.
In either situation, the car is both silent and potentially deadly to the bottom lines of the world's oil companies. Not because it gets good fuel economy – 14 mpg combined isn't something you'll see headlining any advertisements, and sticks the car with at $3,000 gas guzzler tax – but because it doesn't need gas at all, at least not much.
The GT, as with all Bentleys from here on out, is flex fuel and can run on E85. While we can debate the advantages of that fuel compared to premium until we run out of oil, the fact is that it'll take a lot longer for that to happen if everyone is using this largely renewable elixir. Considering how many cars Bentley sells in the Middle East, one wonders if it hasn't bit the hand that feeds it with this move.
They'll get over it. With a standard active suspension, the GT rides like no other $189,900 supercar on the market. Even on 20-inch wheels with low-profile Pirelli P-Zero tires it does an admirable job of soaking up bumps in the road, but still manages to endow it with impressive handling. Hustle it around a cloverleaf or two and you'll be amazed by how responsive and light on its feet it feels. The all-wheel-drive system keeps it dead neutral, and four wheel drifts are on demand. It's a truly surprising car when driven in a spirited way.
Given its abilities, and considering many of the two-door alternatives in this price range – Ferrari 458 Italia, Audi R8, etc. – the GT makes a multifaceted lot of sense. It's sports car quick, luxury car smooth and turns heads with the best of them, especially painted Glacier White. Plus, the back seats can actually accommodate adults and are perfect for the kids. Well, almost.
When you get into the GT, an arm extends forward from behind the door jam to hand you the seat belt, retracting after you buckle it. My crying 2-year old confirmed that they aren't fitted with pinch protection when he held up his finger and said that the car bit him. No permanent harm was done, but a few miles later, full of purple yogurt drink and dizzy from playing Leapster, he let the car have it. Or at least he tried. Shockingly, the upholstery was untouched by the mess. I can't say the same for the Graco.
I'd like to think he did it on purpose - fight the power, and all that - but since he kept asking me to "drive fast" long after the incident, I'm pretty sure he got over it.
----------
2012 Bentley Continental GT
Base Price: $189,900
As Tested: $228,340
Type: 2-door, 2-passenger coupe
Engine: 6.0L twin-turbocharged W12
Power: 567 hp, 516 lb-ft torque
Transmission: 6-speed automatic
MPG: 12 city/19 hwy