Venezuela's Maduro says meetings with U.S. envoy could restore full diplomatic relations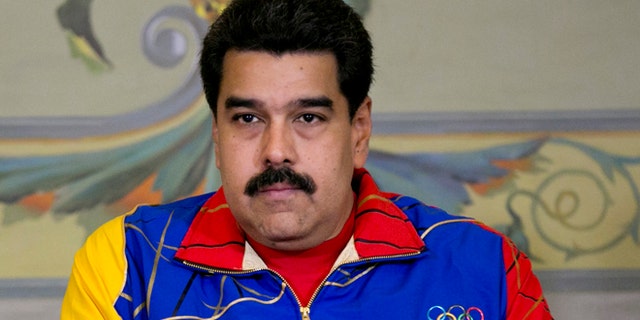 CARACAS, Venezuela (AP) – President Nicolás Maduro says a recent meeting between Venezuelan and U.S. officials has opened an important channel that could lead toward restoration of full diplomatic relations.
Maduro's comments came Monday night following a Saturday meeting in Haiti that included Venezuelan National Assembly head Diosdado Cabello, Foreign Minister Delcy Rodríguez and senior U.S. State Department official Tom Shannon. Haitian President Michel Martelly mediated.
The State Department called the bilateral talks "positive and productive."
Relations between the two countries have rarely run smooth, but they deteriorated rapidly earlier this year after Venezuela imposed a visa requirement for U.S. tourists and ordered the U.S. to slash its embassy staff in Caracas. Washington then declared Venezuela a security threat and imposed sanctions on top officials.
Maduro has often accused the U.S. of plotting to overthrow his socialist government, and but he has recently backed off from more flamboyant rhetoric, such as leading weekly chants of "Gringo, go home."
During a national television address Monday night, he said the two countries were now working "to normalize diplomatic relations on the basis of respect," with Cabello, the country's second most powerful official, heading up the effort from Caracas.
The countries have not exchanged ambassadors since 2010. The U.S. nevertheless maintains deep economic ties with Venezuela, particularly in its energy sector. Venezuela was one of the top five suppliers of foreign oil to the U.S., according to a 2013 State Department fact sheet.
Cabello has been lashing out at reports that U.S. prosecutors are investigating him for possible ties to cocaine trafficking and money laundering. He has emphatically denied that he heads a drug cartel composed of senior government and military officials and has promised to sue the local and international outlets that have published reports related to the investigation.
Shannon and other U.S. diplomats have been making trips to Caracas since April for low-profile meetings with top Venezuelan officials.
Venezuelan officials have suggested that the rollback of this year's U.S. sanctions would have to be part of any deal to restore relations.
The U.S. has repeatedly called on Venezuela to free a group of imprisoned opposition leaders considered political prisoners by human rights groups, the highest-profile of whom is Leopoldo López, a former mayor jailed for his involvement with 2014's anti-government street protests.
On Tuesday, a group of opposition senators from Brazil who planned to visit some of the prisoners Thursday said Venezuela had refused to issue a landing permit for their government plane. The politicians said they would consider booking a commercial flight.
Such visits have become largely symbolic since Venezuela generally blocks international visitors from seeing the prisoners.