Syrian man detained in France reportedly reveals large terror cell in Germany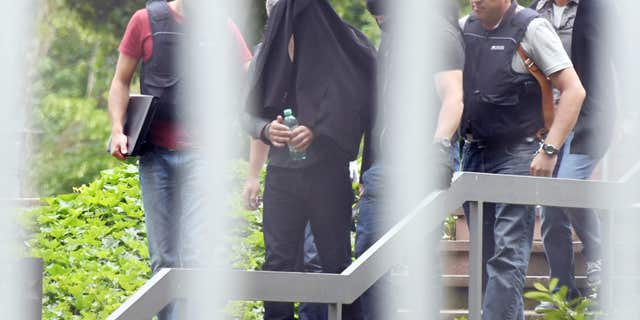 A Syrian man who was detained in France and exposed a terror ring in Germany, told officials that the cell contained more people than the three who were arrested last week, according to officials familiar with the man's testimony.
The Wall Street Journal reported Wednesday that the man's revelations are increasing concerns that the Islamic State (ISIS) could be close to carrying out an attack in Europe once again.
Authorities in France, Germany and the Netherlands are examining the testimony from the man, only identified as Saleh A., who walked into a Paris police station in February and claimed to be part of an ISIS sleeper cell numbering between 10 and 20 people, unidentified officials with knowledge of the investigation told the Journal.
The man's testimony led to the arrest of three Syrian men in three different German states last week, federal prosecutors said. The men reportedly got into Europe under the cover of asylum-seeking Syrians and were preparing to attack the city of Dusseldorf.
One German official told the Journal that Saleh A.'s statements are "central" to the investigation. German and French authorities are working closely together on the case.
According to one French official, Saleh A. told police that the cell was waiting instructions from a man named Abu Doujana Al Tunisi, supposedly the head of foreign fighters for ISIS.
Another official said that Saleh A. had told investigators that 10 people would participate in the attack on Dusseldorf.
The arrests have heightened concerns that ISIS had smuggled hundreds of foreign fighters into Germany among some 1 million refugees who arrived in the country since last fall. That notion had previously been dismissed by German authorities.
Two of the three suspects had been living in refugee camps before their arrests. Saleh A. was registered in a camp in a town outside Dusseldorf. Stephan Adams, who runs the officer for the mayor of Kaarst, said that Saleh A.'s request for asylum was still being processed.
The other three suspects who were arrested were only identified as Hamza C., 27; Mahood B., 25; and Abd Arahman A. K., 31.
Mahood B. had lived in a refugee shelter in the middle class neighborhood of Mulheim in western Germany. Hamaza C. had lived in a shelter in the eastern German town of Bliesdorf.
Abd Arahman A.K. had prior knowledge of building explosive vests back in Syria in 2013, a prosecutor told the Journal. He had been living in a rented apartment in the southwest German town of Leimen.
Prosecutors said that Saleh A. and Hamza C. joined ISIS in Syria in 2014 and got instructions from the group's leadership to carry out an attack in Dusseldorf. After receiving their orders, the two traveled to Turkey and then separately to Germany through Greece.
Their plan was to attack Dusseldorf passerbys with guns and explosives, but the German prosecutor's office said there was no indication that concrete plans for the attack were underway.
German officials have warned for months that the refugee crisis could create a chaotic situation. Nonetheless, thousands have been let into Germany, many without background checks, leaving authorities in the darks about who was in the country and what their real intentions were.
The Associated Press contributed to this report.
Click for more from The Wall Street Journal.