Sunni Muslim rulers snub Iraq at Arab League summit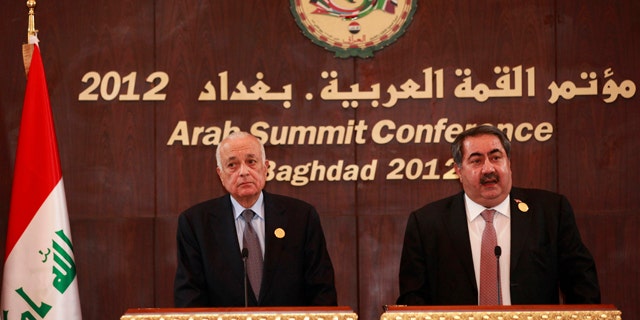 BAGHDAD – Sunni Muslim rulers largely shunned an Arab League summit hosted by Shiite-led Iraq on Thursday, illustrating how powerfully the sectarian split and the rivalry with Iran define Middle Eastern politics in the era of the Arab Spring.
The crisis in Syria is the epicenter of those divisions. The one-day summit closed with a joint call on Syrian President Bashar Assad to stop his bloody crackdown on an uprising seeking his ouster. But the final statement barely papered over the differences among the Arab nations over how to deal with the longest-running regional revolt.
"What disturbs the breeze of our Arab Spring and fills our hearts with sadness is the scenes of slaughter and torture committed by the Syrian regime against our brothers and sisters in Syria," said Mustafa Abdul-Jalil, leader of Libya's National Transitional Council.
In a snub to Iraq, only 10 heads of state from the Arab League's 22 members attended, with the rest sending lower-level officials. Especially notable were the absences of the rulers of Saudi Arabia, Qatar and most other Gulf countries, as well Morocco and Jordan -- all of them headed by Sunni monarchs who deeply distrust the close ties between Baghdad's Shiite-dominated government and their top regional rival, Iran.
The Gulf countries also see Iraq as too soft on Syria. Saudi Arabia and Qatar have talked of arming Syria's opposition, apparently eager to bring the fall of Assad and break the Sunni-majority country out of its alliance with Iran.
Speaking to the gathering, Iraqi Prime Minister Nouri al-Maliki urged restraint, saying Baghdad opposes any military intervention and citing his country's years of turmoil as an example of what happens when outside forces get involved in national struggles. U.S. forces left Iraq just over 100 days ago after nearly nine years of war and occupation.
"Iraq is afraid of the attempts to militarize the Arab uprisings, because this will deviate them from the right course and push toward the wrong position," al-Maliki said. "Dialogue between the government and the opposition is the right option to solve the crisis."
Iraq's hosting of the annual summit for the first time since 1990 was touted by Baghdad officials as a victory in their efforts to show the country is moving toward stability after years of sectarian fighting that almost tipped the nation into civil war. Thousands of security forces cleared the streets and locked down the capital in one of the quietest weeks in years, although officials said two Katyusha rockets hit near the fortified Green Zone where the summit was held just as diplomats convened. No casualties were reported.
The summit was the first since the wave of Arab Spring uprisings began sweeping the region more than a year ago, targeting its long-ruling strongmen. The 2011 summit was canceled because of the turmoil. There were two new faces at Thursday's collection of heads of state: Libya's Abdul-Jalil, who holds nominal power after the ouster and killing of Moammar Gadhafi, and Tunisia President Moncef Marzouki, a former human rights activist who was elevated after the fall of Zine El Abidine Ben Ali.
The new leaders of Egypt and Yemen -- the other two countries whose rulers fell last year -- did not attend, a reflection of their continuing domestic troubles.
The session was dominated by the uprising in Syria, where the U.N. says more than 9,000 people have been killed in the regime's yearlong crackdown on its political opponents. The regime has sent tanks and troops into Syrian cities and towns, saying the country was under attack from the armed groups.
The conflict has a dangerous sectarian angle -- most in the opposition come from the Sunni majority, while Assad's regime relies on the minority Alawites, an offshoot from Shiism.
Assad has accepted a peace plan put forward by U.N.-Arab League envoy Kofi Annan, which calls for a cease-fire. But the Syrian opposition and many Arab governments are skeptical Assad will implement it, believing he is just playing for time. Assad said Thursday that armed rebels must also commit to a cease-fire.
The summit's final resolution called on Assad's regime to "immediately implement" Annan's proposals. It also said Arab leaders fully support the "legitimate aspirations of the Syrian people to democracy and freedom and their right to determine their future."
U.S. State Department spokesman Mark Toner congratulated Iraq on the summit.
"From what we've seen, (it was) a success. They did talk about Syria and voiced their very strong support for Kofi Annan's efforts," he said. "All indications are that it ... has gone well and that Iraq should be proud of what it's been able to accomplish in recent years. And we believe the hosting of this summit is indicative of its positive role in the region and among the community of nations."
Gulf nations, which have made clear they have little faith in the diplomatic efforts, are already looking at the possibility of moving ahead on their own over Syria. They meet this weekend in Saudi Arabia, and U.S. Secretary of State Hillary Rodham Clinton is planning to attend those talks in Riyadh, which may yield stronger calls for action than those made by the Arab League.
"The Syrian government is required today to listen to the voice of reason and wisdom and stop all kinds of violence," said the emir of Kuwait, Sheik Sabah, the only ruler from the Gulf to attend. He signaled support for an earlier League plan that called on Assad to cede power to his vice president until elections are held. The League had to back down from that after an attempt to win U.N. backing for it was vetoed by Russia and China.
That plan, he said, is the best way "to get out of this crisis and to stop the bloodshed of our brothers and to keep the Syrian country from slipping into a civil war."
The cold shoulder from other Sunni-led monarchies, however, underlined their suspicion about Iraq's Shiite leadership and their conviction that it is too close to the camp of their rival, Iran.
"To be obvious here, these countries have a problem with Iran," said Kuwait delegation member Khalid Al Anteri.
In unusually direct remarks, Qatar's prime minister said a midlevel official was sent to the summit instead of the emir as a "message" protesting what he called Baghdad's sidelining of Iraq's Sunni minority.
"We do not agree with all what goes on in terms of the political process inside Iraq; we believe a particular sect is targeted," Sheik Hamad bin Jassem bin Jabr Al Thani told Al-Jazeera on Wednesday.
The Kuwaiti emir's presence reflected the progress in Baghdad's efforts to rebuild long tense ties with its neighbor since Saddam Hussein's 1990 invasion and seven-month occupation of Kuwait. But despite Baghdad's recent charm offensive to settle legal claims across the region and its dazzling display at the summit where delegates were fed gold-covered dates, Gulf states have little to gain from fully welcoming Iraq into their ranks.
Its lucrative oil supply makes it a strong competitor in the Gulf, and its ongoing insurgency and political instability makes Iraq a risky teammate.
"It's no surprise that the Gulf states did not want to give Iraq the prestige that they would by sending heads of state to the summit," said Crispin B. Hawes, Middle East director of the Eurasia Group, a New York-based risk consultant agency.
"They want Iraq to continue to be a second-rate citizen in the region; they want to keep Iraq inside the box," he said. "They don't want it to be another major regional player."