SouthCom Addresses Iran and Drug Violence in Latin America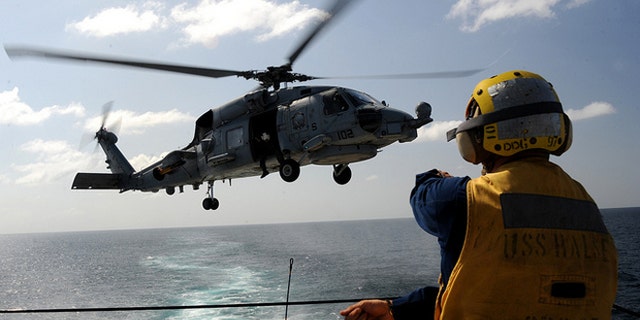 As U.S. President Joe Biden was in Honduras discussing drugs and violence in Central America, the head of the U.S. Southern Command (SouthCom) went before Congress to address the military's efforts in the region to combat transnational crime and Iran's influence throughout Latin America.
Testifying before the House Armed Services Committee Tuesday, Air Force Gen. Douglas Fraser said that while SouthCom sees transnational drug routes extending from South America through Central America and into Mexico and the United States, the command has focused its efforts mainly on the Central American isthmus.
"The violence continues to increase in Central America, and that's where and why we are focusing there," Fraser said. "Last year, the U.N. estimated or said that Honduras has the highest violence of any country in the world. And we see that as a direct influence of transnational organized crime, but there are gangs and there are other factors that also enter into that."
According to the first United Nations Office on Drugs and Crime's Global Study on Homicide, Honduras registered 82.1 murders for every 1,000 people in the country. Four out of the top five countries on the U.N.'s list were from Latin America, including El Salvador, Panama and Mexico.
"The rising wave of violence and illicit trafficking, coupled with the expansive resources of transnational organized crime, is challenging the law enforcement capacities of some Central American governments," stated SouthCom's annual posture statement, which was released yesterday.
The report noted that Guatemala, Honduras and El Salvador have all supplemented their domestic police forces with military force and mentioned the 60 day military state-of-siege in Guatemala following the killing of 27 people by the Zetas drug cartel in country's northern Petén department.
Guatemala's recently inaugurated President Otto Pérez Molina promised during his campaign to bring an "iron fist" approach to security in the country, something that worried some activists wary of a more active military role in a country known its human rights violations. However since taking office, Pérez Molina has been an open advocate for drug legalization as a way to decrease violence in the country.
While not mentioning whether he would bring up the legalization topic during a meeting of Central American leaders with Vice President Biden, Pérez Molina said the meeting was an opportune time to discuss "organized crime, drug trafficking and the problems the region faces."
However, The Obama administration made it clear that Washington does not see legalization as a solution to the problem.
"The Obama administration has been quite clear in our opposition to decriminalization or legalization of illicit drugs," said Dan Restrepo, the White House's top Latin America official.
With Israeli-Iranian relations making headlines recently as concern arises over if the two countries will begin an armed conflict, Gen. Fraser said that the Iran's role in Latin America is less militaristic and more about building friendly ties with nations, especially those of the Alliance for the People of our Americas (ALBA) such as Venezuela, Ecuador, Bolivia, Nicaragua and Cuba.
"Iran is interested in engaging in building relations with counterparts in Latin America," Fraser said. "Primarily, I see a diplomatic, as well as commercial interests, economic interests, and that's how their relationship has been growing."
President Hugo Chavez' Cancer Battle in Pictures
Iran has developed a number of cultural centers in the region, including the Fundación Cultural Oriente that is run by cleric Moshen Rabbani, who is currently on Interpol's Red List for involvement in the 1994 bombing of a Jewish cultural center in the Argentine capital of Buenos Aires, the SouthCom report stated.
Fraser added that SouthCom is monitoring other Middle Eastern groups that have operations in Latin America.
"There [are] connections -- and that is our concern as we watch this -- the connections with Hezbollah and Hamas who have been in the region for a number of years, primarily still focused on supporting, conducting illicit activity to provide funding support and logistics support back to parent organizations within the Middle East," he said.
The story contains material from The Associated Press.
Follow Andrew O'Reilly on Twitter: @aoreilly84
Follow us on twitter.com/foxnewslatino
Like us at facebook.com/foxnewslatino