Six days after hanging crime victim, Iran defends its human rights record before UN panel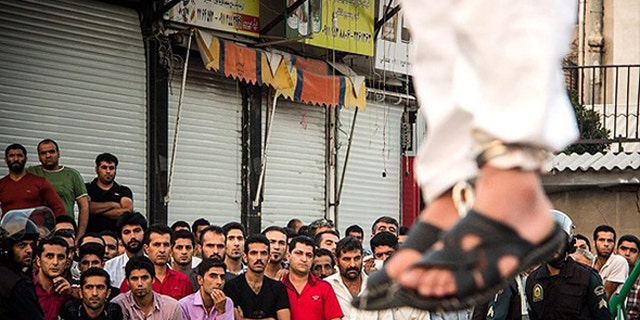 Iran lashed out at critics of its abysmal human rights record at a U.N. hearing Friday, blaming the West for Saturday's execution of a woman who killed her attempted rapist, and receiving support from a host of countries with dubious records of their own.
The Islamic Republic's rebuttal of a damning report from the U.N. special rapporteur on human rights in Iran came during a three hour review in Geneva of the U.N. Human Rights Council of Tehran's record. The debate was part of the U.N. council's examination of every member state's record every four years.
"This idea of, 'the West and the rest, only the West has good things,' this is wrong," Mohammad Javad Larijani, chief of human rights in Iran's government, told the world body panel. "Please accept the idea that others have a good way of life. Western lifestyle isn't only way of doing things."
Larijani, secretary general of Iran's High Council for Human Rights, a part of its judiciary, lashed out at what he called attempts to "impose your lifestyle under the banner of human rights," including gay rights.
But the panel also heard from Ahmed Shaheed, the world body's special rapporteur on human rights in Iran, who filed a report charging 852 people were executed in the Islamic Republic over the last year, mostly for drug offenses, homosexuality and alleged crimes against sharia law. Western diplomats were appalled at Iran's persecution of Christians and disregard for due process.
[pullquote]
"There are continued reports of government harassment towards members of religious minorities. Journalists have been arrested, detained or prevented from doing their work," U.S. ambassador Keith Harper said in a speech.
Harper urged Iran to release Jason Rezaian, a Washington Post reporter detained since July, "to demonstrate its commitment to freedom of expression."
Rezaian, a dual Iranian-American national, has worked in Tehran since 2008. This month Iran released his wife, an Iranian journalist, on bail after more than two months held without charge
Iran is also holding Pastor Saeed Abedini, a Boise, Idaho, married father of two who went back to his homeland to help establish a secular orphanage and was imprisoned for proselytizing; Amir Hekmati, a U.S. Marine who went to visit an ailing grandparent and was arrested and accused of being a spy and Robert Levinson, a former FBI and DEA agent who disappeared in 2007 while investigating a cigarette-smuggling ring in the Kish Islands. Iran denies it is holding Levinson, but the State Department says it is.
Britain's deputy ambassador Mark Matthews voiced concern at a "sharp increase in executions in Iran over the past year."
[image]
"We note with concern continued widespread discrimination against minority religious groups, particularly the Baha'is and Christians, and the reported harassment, interrogation and detention of journalists and human rights defenders," he said.
But several nations spoke or later tweeted in defense of Iran, including Bahrain, Bangladesh, Belarus, Sudan, Syria, Vietnam, Venezuela, Yemen and Zimbabwe.
"Thank you, Iran, for your positive report and your commitment to human rights and progress, in face of unjust sanctions," Sudan tweeted after the hearing.
Iranian dissidents blasted the hard line regime for its record, and its defense of it before the world body.
"Listening to Iran's delegates today, I felt they were competing with themselves as to who would tell the biggest lie," said Sepideh Pooraghaiee, an Iranian journalist who was jailed for 110 days in Tehran's notorious Evin Prison and has since fled to France.
The panel met less than a week after Iran hanged Reyhaneh Jabbari, a 26-year-old woman who spent eight years in prison after allegedly killing a man who tried to rape her. The prosecution of Jabbari drew international condemnation, but at Friday's panel, Larijani blamed the West for her execution.
Jabbari's life could have been spared under Iranian law if the dead man's family forgave her, Larijani said. But with international outrage arrayed against Iran, amplifying the charge he had tried to rape Jabbari, the family could not forgive Jabbari, he explained.
"We were not successful to solicit forgiveness from the hearts of victims," he said. "Unfortunately we were not able, perhaps one reason for that was the huge propaganda that was created against this case."
Shadi Sadr, an Iranian lawyer who defended Jabbari at her first two trials, said at a briefing later she had reported having been tortured.
The man she killed had worked for intelligence forces, according to Sadr, who fled Iran in 2009.
Iranian activists in exile accused Tehran's delegation of dodging questions from member states or misleading them.
"They were not coming here to answer any questions, they are just playing games," Mohammad Nayyeri, a member of the Iranian Bar Association living in exile, told a news briefing.
"There is no appeal for drug offences. Stoning is still in the new penal code," he added.
Reuters contributed to this report.