Most expensive destroyer in U.S. fleet loses propulsion in Panama Canal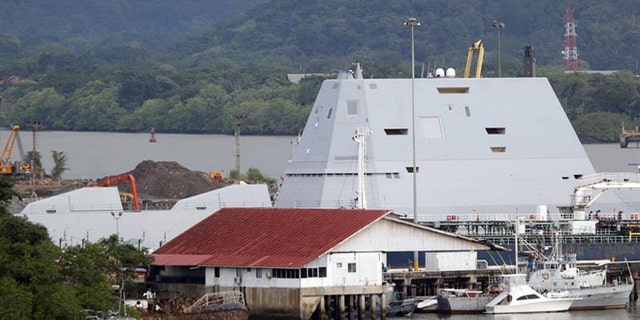 A U.S. Navy guided-missile destroyer suffered a mechanical problem while crossing the Panama Canal and is undergoing repairs at a Panamanian facility, the U.S. Embassy in the Central American nation said Wednesday.
The USS Zumwalt – at a cost of $4.4 billion, the most expensive destroyer in the American fleet – experienced a loss of propulsion Monday night as it transited the canal and was towed to the former U.S. Naval Station Rodman, located at the Pacific entrance.
Rodman now belongs to the Panamanian aero-naval service.
The Zumwalt was en route from Norfolk, Virginia, to San Diego at the time of the incident.
"The schedule for the ship will remain flexible to enable testing and evaluation in order to ensure the ship's safe transit to her new home port in San Diego," the U.S. 3rd Fleet spokesman, Cmdr. Ryan Perry, said.
USNI News, a U.S. Naval Institute publication, reported that the ship lost propulsion. The website also reported that crew observed seawater spilling into two bearings connecting electrical motors to drive shafts.
After the shafts locked up, tugboats moved the Zumwalt to the Rodman facility. In the process, the ship made contact with the walls of a lock that caused minor cosmetic damage.
A Department of Defense official told USNI News that the repairs could take as long as 10 days to fix.
Includes reporting by EFE.
Like us on Facebook
Follow us on Twitter & Instagram