'Otto' expected to recover hurricane force, make landfall in Costa Rica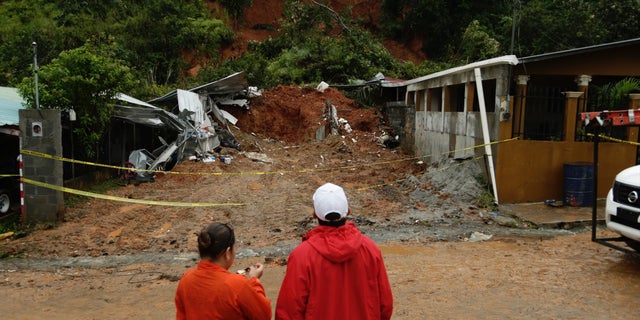 PANAMA CITY (AP) – An unusually late-season Tropical Storm Otto swirled over the Caribbean just off Central America on Wednesday heading toward a possible landfall as a hurricane in Costa Rica, which hasn't seen such a storm since reliable record-keeping began in 1851.
Heavy rains from the storm were blamed for three deaths in Panama, and officials in Costa Rica ordered the evacuation of 4,000 people from its Caribbean coast.
The U.S. National Hurricane Center said the westward-moving storm had weakened slightly overnight down to tropical storm status, with winds of 70 mph (110 kph). But it said the storm would likely recover hurricane force and make landfall Thursday in the border region of Nicaragua and Costa Rica.
The storm caused heavy rains in Panama as it moved roughly parallel to that nation's northern coast.
Jose Donderis, Panama's civil defense director, said a landslide just west of Panama City early Tuesday trapped nine people. Seven were rescued but two were pulled from the mud dead. In the capital, a child was killed when a tree fell on a car outside a school.
The country "faces one of the worst meteorological situations, with imminent risk," Donderis said.
Panamanian authorities canceled school and began to release water from the locks and lakes feeding the Panama Canal.
Costa Rica's National Emergency Commission said it was evacuating 4,000 people from the area where the storm was expected to hit and where rivers could overflow. The effort was expected to involve evacuations by plane, boat and road in the low-lying coastal areas.
Costa Rican President Luis Guillermo Solis said Otto could damage the country's important coffee and agriculture sectors.
Early Wednesday, the hurricane had top sustained winds of 70 mph (110 kph) and was moving westward at 5 mph (7 kph), the U.S. hurricane center said. Otto was centered about 235 miles (375 kilometers) east-northeast of Limon, Costa Rica.