Mexican official: 7 prison guards, officials arrested in connection to Chapo Guzman jailbreak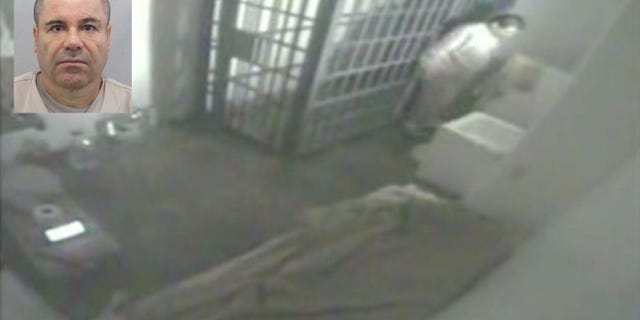 NEWYou can now listen to Fox News articles!
MEXICO CITY (AP) – A Mexican federal official said Friday that seven people who were being questioned in the jailbreak of drug lord Joaquin "El Chapo" Guzman have been formally arrested and taken to a prison to await charges.
The official, who was not authorized to be quoted by name, did not specify whether those arrested were prison guards or other officials in the penitentiary system.
About three dozen people have been taken in for questioning; it was unclear if more would be charged.
The drug lord sneaked out of the Altiplano prison, Mexico's highest-security facility, through a tunnel on July 11.
The office of Attorney General Arely Gomez issued a statement late Thursday confirming that the United States filed an extradition request for Guzman on June 25, about 2 ½ weeks before he escaped.
Guzman faces U.S. charges of conspiracy to import and distribute cocaine.
The office said Gomez had issued instructions to review the request and submit it to courts for consideration. The appeals process can stretch out extradition proceedings for years.
Former Mexican Attorney General Jesus Murillo Karam said earlier that Mexico wouldn't extradite Guzman until after he had served time for all his crimes in Mexico.
Murillo Karam told The Associated Press earlier this year that the U.S. would get Guzman in "about 300 or 400 years."
Mexico has blamed the escape on a combination of Guzman's skill at building tunnels, and misconduct or corruption that allowed his people to get their hands on the blueprints for the prison and tunnel directly into his shower stall undetected.
President Enrique Pena Nieto, who had traveled to France for an official visit when Guzman escaped, returned to Mexico and said in a speech Friday that the prison escape has caused "indignation, frustration, anger in broad sectors of society."
But in what appeared be a reference to questions about why no high-ranking official has been fired in relation to the escape, Pena Nieto said "We are not going to solve this issue by getting angry, and filling ourselves with rage."
"The only way to answer this insult without doubt is by recapturing this criminal," he said.