McAfee Admits to Faking Heart Attack in Guatemala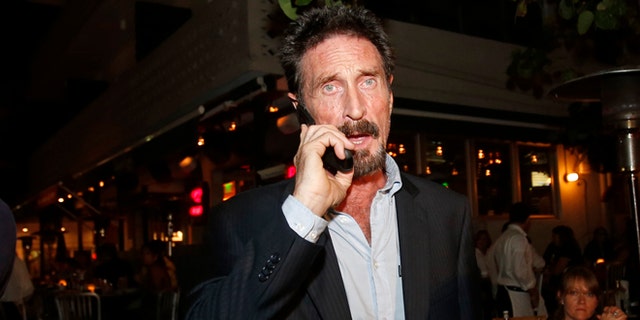 Software guru John McAfee is back and the U.S. after pulling a sly one on Guatemalan authorities when he faked a heart attack during his first night in detention in Guatemala.
McAfee, who returned to the U.S. Wednesday and was staying in Miami Beach, Florida, said that he was strategically "playing the crazy card" with his faked heart attack.
The chatty computer genius was deported from Guatemala after sneaking in illegally from Belize, where police want to question him in connection with the death of a U.S. expatriate who lived near him on an island off Belize's coast. U.S officials said there was no active arrest warrant for McAfee that would justify taking him into custody.
He said he was put on a plane to Miami where he will stay until his two girlfriends, 20-year-old Belizean Samantha Vanegas and a woman he called "Amy," can join him.
"I had the warmest welcome of my life. The captain patted me on the shoulders and said, 'We're here to help you, sir, please come with us,'" McAfee told a throng of reporters camped outside his hotel Thursday.
Since returning to the U.S., McAfee has embraced the press scrum surrounding him in Miami. He's been photographed posing with fans, signing autographs and opening his new cell phone at his swank digs at the Beacon Hotel.
The 67-year-old British native said he has no money and no home in the U.S. and has been getting by on cash that a Canadian friend sent him until his property manager comes to Miami with his cash and credit cards.
If he's reunited with the women, he said he doesn't know where he'll live or how he'll rebuild his life. Over the weekend, the British-born McAfee said he would be happy to go to England, noting he has dual citizenship.
McAfee bristled as reporters repeatedly asked him why he won't answer questions from officials in Belize, denying he was under investigation. He stressed that he was afraid to answer questions because dozens of officials there stormed his property, killed his dogs, handcuffed him for hours and tried to extort money. He has not been charged with a crime.
"If they didn't want to harm me, why have they been harming my property and my dogs? Now 5 of my dogs have been killed," said McAfee, claiming authorities shot one of his dogs in the head and raided his house eight times.
With reporting by The Associated Press.
Follow us on twitter.com/foxnewslatino
Like us at facebook.com/foxnewslatino