John McAfee Back in the US, Holes Up in a Miami Hotel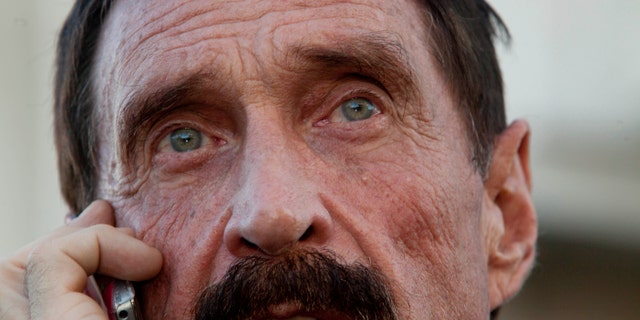 Miami – Anti-virus software founder John McAfee is holed up in a Miami Beach hotel after weeks of evading Belizean authorities who want to question him in a homicide.
Shortly after McAfee arrived Wednesday evening on a flight from Guatemala, he announced on his website that he had alighted in the city's swank South Beach neighborhood.
McAfee was deported from the Central American country after sneaking in illegally from Belize, where police want to question him in connection with the death of a U.S. expatriate who lived near him on an island off Belize's coast.
McAfee says he did not kill the neighbor and feared his own life would be in danger if he turned himself in to Belizean authorities. He has not been charged with any crime, and it was unclear whether U.S. authorities had any interest in questioning him.
An FBI spokesman in Miami, James Marshall, told the AP in an email that the agency was not involved with McAfee's return to the U.S.
Authorities from U.S. Customs and Border Protection, Immigration and Customs Enforcement, the U.S. Marshals office and the U.S. attorney's office did not immediately respond to questions Wednesday about whether McAfee would be questioned or detained in the U.S. They said there was no active arrest warrant for McAfee that would justify taking him into custody.
On his website Wednesday night, the 67-year-old British native said he was escorted by a group of federal agents to an airport taxi stand, where he caught a cab to the hotel.
"I have no phone, no money, no contact information," the online post said. Reached by telephone at the hotel, McAfee told an AP reporter he couldn't talk because he was waiting for a call from his girlfriend, 20-year-old Belizean Samantha Vanegas.
Vanegas had accompanied him when he was on the run, but did not go with him to the U.S.
On a blog he has been posting for the past two weeks, McAfee wrote, "I have been forcibly separated from Sam." But he claimed she would be coming to the United States later.
McAfee sat in a coach-class seat on an American Airlines flight from Guatemala City, according to the airline.
He told ABC News that he did not know what to expect when he arrived in Miami.
"They said, 'Mr. McAfee, please step forward,'" McAfee told ABC. "I was met by a dozen or maybe fewer officers. I said, 'Am I arrested?' They said, 'No, sir, I am here to help you.' That felt the best of all."
Other passengers on the flight told The Associated Press that McAfee was escorted off the aircraft before they were allowed to disembark.
"They asked us to please stay seated and said, 'Mr. John McAfee, come to the front,' and he did," said Maria Claridge, a 36-year-old photographer from Fort Lauderdale. "He walked very peacefully, chin up. He didn't seem stressed."
Claridge said she did not see what happened to McAfee after he left the aircraft. She said he was well dressed, in a black suit and white shirt, appeared to be traveling alone and that she didn't realize who he was until another passenger told her.
"I thought he was either a diplomat or a politician," she said. "It just seemed eerie to be traveling on an airplane with someone who was in trouble."
In Guatemala on Sunday, McAfee said he wanted to return to the United States and "settle down to whatever normal life" he can. "I simply would like to live comfortably day by day, fish, swim, enjoy my declining years."
He later said he also would be happy to go to England, noting, "I have dual citizenship."
McAfee's expulsion from Guatemala marked the last chapter in a strange, month-long odyssey to avoid police questioning about the November killing of American expatriate Gregory Viant Faull, who lived a couple of houses down from McAfee's compound on Ambergris Caye, off Belize's Caribbean coast.
McAfee has acknowledged that his dogs were bothersome and that Faull had complained about them days before some of the dogs were poisoned, but denies killing Faull.
He was in hiding in Belize for weeks after police pronounced him a person of interest in the killing. Belizean authorities have urged him to show up for questioning, but have not lodged any formal charges against him.
Belize's prime minister, Dean Barrow, has expressed doubts about McAfee's mental state, saying: "I don't want to be unkind to the gentleman, but I believe he is extremely paranoid, even bonkers."
McAfee is an acknowledged practical joker who has dabbled in yoga, ultra-light aircraft and the production of herbal medications. He has led an eccentric life since he sold his stake in the software company named after him in the early 1990s and moved to Belize about three years ago to lower his taxes.
He told The New York Times in 2009 that he had lost all but $4 million of his $100 million fortune in the U.S. financial crisis. However, a story on the Gizmodo website quoted him as describing that claim as "not very accurate at all."
Based on reporting by The Associated Press.
Follow us on twitter.com/foxnewslatino
Like us at facebook.com/foxnewslatino