John McAfee Feels Better After Chest Pains, Wants to Stay in Guatemala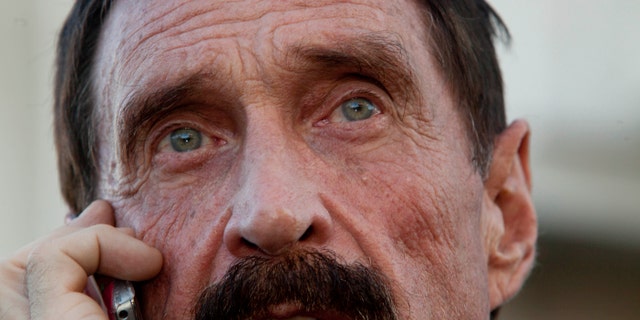 NEWYou can now listen to Fox News articles!
Guatemala City, Guatemala – Software founder John McAfee is feeling better after he was transported to the hospital after suffering chest pain, his lawyer says.
Guatemala had rejected McAfee's request for political asylum, but his lawyer says he wants to stay in the country.
Attorney Telesforo Guerra told reporters outside the detention center where McAfee is being held that the creator of the McAfee antivirus program is in good health, and his team is filing four separate legal appeals in an effort to prevent his return to Belize, where police want to question him in connection with the fatal shooting of another U.S. expatriate.
He expects McAfee to stay at least until Monday.
McAfee says he had no involvement in the shooting of his neighbor on a Belizean island, and authorities are persecuting him because he knows about official corruption.
McAfee told The Associated Press that he suffered chest pains overnight but didn't believe he had a heart attack. A government doctor who examined him agreed, saying that McAfee's heart rhythm and blood pressure were normal and that he appeared to be suffering from high stress.
McAfee was moved from an immigration center to a police-run hospital after Guatemalan authorities said McAfee's request for asylum had been denied. They did not explain why.
He was released from the hospital and taken back to the detention center Thursday night.
Shortly after the decision to deny him asylum was announced, McAfee issued a plea on his blog for the public to petition Guatemalan President Otto Perez Molina to let him stay.
"Please email the President of Guatemala and beg him to allow the court system to proceed, to determine my status in Guatemala, and please support the political asylum that I am asking for," the post read.
McAfee's legal team said they were preparing to appeal the denial of asylum to the country's constitutional court, a process that could give McAfee perhaps another day or two in Guatemala. The court would have to issue a decision within 48 hours.
McAfee's complaints of chest pain prompted authorities to move him from the immigration center where he had been held overnight. He had been taken to the center after his arrest for illegally entering the country after a bizarre weekslong journey as a self-styled fugitive with an active blog and constant contact with the press.
Based on stories by The Associated Press.
Follow us on twitter.com/foxnewslatino
Like us at facebook.com/foxnewslatino