Gunmen Kill 6 Police Escorting Spanish Cyclist In Pakistan, While Touring The World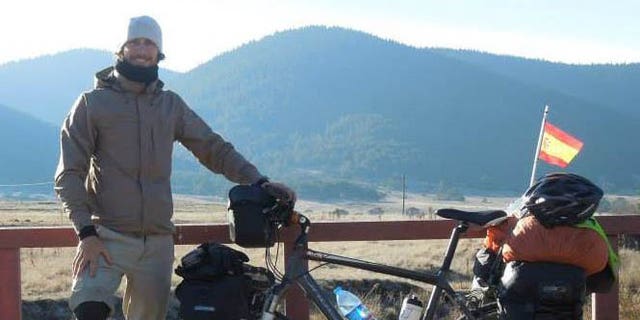 QUETTA, Pakistan – Gunmen opened fire on Pakistani police escorting a Spanish cyclist through a volatile province bordering Iran on Wednesday, killing six officers and wounding the Spaniard, said officials.
The attack on the cyclist, who had just arrived from Iran and whose blog said he was trying to cycle around the world, came one day after militants in the same region killed 28 people in a bus convoy of Shiite Muslim pilgrims. One police officer said authorities suspected the same group carried out both attacks.
The Spanish cyclist had arrived in the town of Dalbandin, about 220 miles from Quetta, provincial capital of Baluchistan, on Tuesday evening after biking from the Iranian border, said the provincial Home Secretary, Asadur Rehman Gilani.
Local authorities asked him to stay overnight out of concern for his safety and then arranged a police escort of more than a dozen officers to take him to Quetta on Wednesday morning, Gilani said.
When they were in the Mastung district, about 45 miles from Quetta, gunmen opened fire.
A message attributed to Mr. Colorado's family was posted on the Facebook page devoted to his trip, Colorado on the Road.
"First of all, we want to thank the Spanish consulate in Pakistan for all their help. We've received a call from the embassy and they have informed us that Javier is well and not hurt. Today he will fly to Lahore, on the border with India. His initial intent is to continue his trip," reads the post.
The Spanish embassy in Islamabad did not return telephone calls by the AP seeking comment.
The Home Secretary identified the Spaniard as Colorado Solana while the Spanish media identified him as Javier Colorado. A blog written by the Spaniard said he was cycling around the world and that he had been the victim of an attack in Pakistan.
Tourists have been targeted in Baluchistan before. Gunmen last March kidnapped two female Czech tourists and their police guard as they were traveling on a bus from Iran to Quetta. The captives were taken to Afghanistan and the officer released but the women are still being held.
No one claimed responsibility for the shooting Wednesday, but Ibrahim said he suspected the same group that targeted a group of Shiite pilgrims returning from Iran on Tuesday was responsible for the Wednesday incident as well.
He described the group as "sectarian." Radical Sunni Islamic militants who view Shiites as heretics have stepped up attacks against members of the minority Shiite Muslim sect in recent years. Over 400 Shiites were killed in 2013, according to Human Rights Watch. Violence has been especially bad in impoverished Baluchistan.
Police initially said 20 people died when a bomb exploded near the pilgrims' bus, but on Wednesday, a local police official, Asad Cheema, said the death toll had risen to 28. Some of the wounded were still listed in critical condition.
Shiite Muslims rallied Wednesday in Quetta, demanding action to stop the continued violence against their sect. In a show of protest, they brought the coffins carrying the dead pilgrims into the street.
"We will not bury our dear ones until the government acts against the attackers," local Shiite leader Agha Dawood said.
Militants also struck in the country's northwest. A bomb rigged to a bicycle exploded next to a police patrol on its way to guard a polio vaccination team. Six officers were killed as well as a boy who was nearby, said officer Shafiullah Khan.
Islamic militants have repeatedly targeted health workers carrying out anti-polio vaccinations and policemen who are supposed to protect them. In the last 24 hours alone ten people have been killed in connection with the anti-polio campaign.
The blast happened in the Charsadda district, just outside the provincial capital of Peshawar. The bomb also wounded 11 people, four of them tribal policemen, Khan said.
It was the second such attack in the past 24 hours. On Tuesday, gunmen killed three health workers in an attack on a polio vaccination team in the southern port city of Karachi.
Pakistan, one of only three countries in the world where the polio virus is still endemic, has seen relentless attacks on polio vaccination teams.
Militants oppose vaccinations against polio and consider such campaigns a cover for spying against Pakistan and a conspiracy to allegedly make male Muslim children sterile.
The vaccination campaign is also viewed with suspicion by many in Pakistan after a fake vaccination effort was used as a cover by the CIA in its pursuit of Osama bin Laden.
Based on reporting by The Associated Press.
Follow us on twitter.com/foxnewslatino
Like us at facebook.com/foxnewslatino