Girl found wrapped in dead parents' arms in China collapse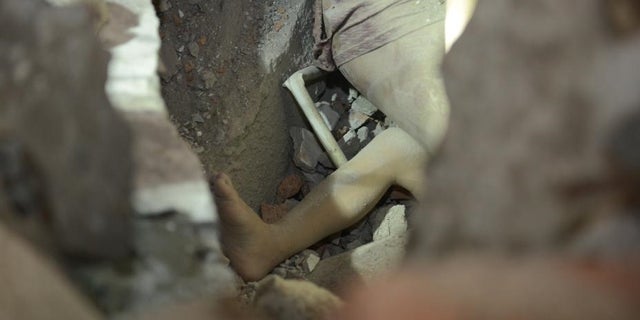 BEIJING – Rescuers pulled out a 3-year-old girl who survived under the remains of collapsed homes in the arms of her dead parents, state media reported Tuesday.
The bodies of her mother and father protected Wu Ningxi from being struck by heavy objects. The three were found under the rubble 15 hours after a group of decrepit homes collapsed in eastern China, killing 22 people. Six people survived.
State broadcaster CCTV said the child had only minor injuries, but her parents died after being struck on the back and head by a piece of cement floor. They were found with their arms around their daughter.
"We first found a young man. Then his wife and daughter were found as we were clearing the rubble," firefighter Sun Jing told CCTV. "We found them tangled together, with mother and father facing down and the little girl between their bodies facing up."
The cause of the collapses in an industrial district on the outskirts of the city of Wenzhou is under investigation. Reports said the four buildings were built in the 1970s by their farmer owners and were in a highly degraded state. Extra floors had been added over the years, making them between three and five stories high and further weakening their structures.
The official Xinhua News Agency said five adjacent houses that were still standing were being demolished "to avoid secondary disasters."
Poor construction quality has long been a problem in China, particularly in the countryside and smaller cities.