Wrongful death trial opens in New York crane collapse; owner was acquitted of criminal charges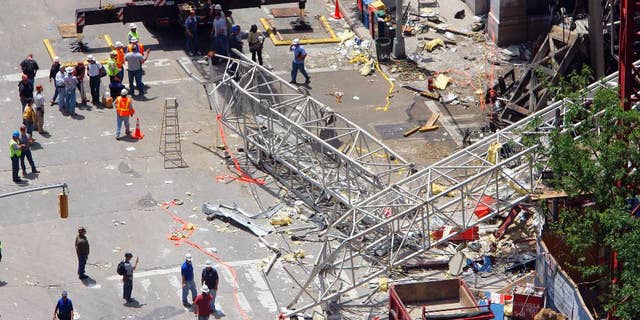 NEW YORK – A construction crane owner who was acquitted of manslaughter in a collapse that killed two workers is now facing a civil wrongful death trial over the accident, which helped spur new safety measures.
The slain workers' families are suing crane owner James Lomma, his company and others involved in a Manhattan high-rise construction site where a crane snapped apart in May 2008. In opening statements Friday, lawyers for the families lambasted Lomma, whose 2012 acquittal they saw as a blow.
"Cranes are not supposed to fall from the sky," said Bernadette Panzella, who represents crane operator Donald C. Leo's family. "James F. Lomma didn't do what he was supposed to do."
Defense openings are due Tuesday. Lomma's lawyers have indicated they may suggest that Leo's handling of the crane contributed to the collapse, echoing his defense at his criminal trial.
The families' lawyers say that Lomma allowed a cheap, shoddy repair to a critical crane part and that the fix failed and sparked the collapse. Top portions of the 200-foot-tall rig snapped off and plummeted to the ground, killing Leo, 30, and crushing to death sewer company worker Ramadan Kurtaj, 27.
Prosecutors made — and jurors rejected — a similar argument at Lomma's 2012 criminal trial. There, Lomma's lawyers said he got the repair done and inspected responsibly. They also argued that Leo made mistakes that destabilized the crane, a theory his family called offensive.
The legal bar for proving a criminal case is higher than for holding someone liable in civil court. Civil courts also can apportion blame among different parties, including the plaintiff.
Before Lomma was acquitted, mechanic Tibor Varganyi, who had arranged the repair, pleaded guilty to criminally negligent homicide. Varganyi was sentenced to a year of community service.
The collapse happened two months after another crane topped elsewhere in Manhattan and killed seven people. The accidents prompted scrutiny of crane safety and a host of new crane rules.