Wounded vets' custom cycles stolen on Alaska training trip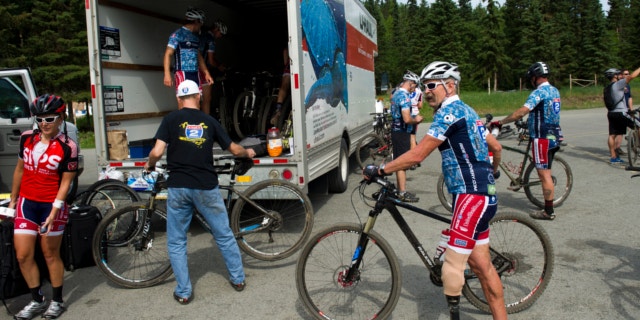 NEWYou can now listen to Fox News articles!
ANCHORAGE, Alaska – A custom-made mountain bike belonging to a double-amputee war veteran has been recovered after being reported stolen in Anchorage, but four other bikes remained missing, police said Wednesday.
The bike belonging to Army Staff Sgt. Matt DeWitt was one of five bikes — together valued in the tens of thousands of dollars — reported stolen Tuesday by the nonprofit Ride 2 Recovery, the Anchorage Daily News reported. The group had organized the trip to Alaska for wounded war veterans training for a race.
The 26-person group arrived Sunday and Monday to begin the trip, sponsored by the Tatitlek Corp.
DeWitt said the group spent Monday riding trails at Kincaid Park. That night, the bikes were locked in a U-Haul trailer in a downtown hotel parking lot, said Tiffini Skuce of Ride 2 Recovery. The bikes were last seen around midnight, and when riders began unloading the bikes the next morning, they noticed the lock and some of the bikes gone.
"It's heartbreaking because it's injured veterans who are trying to carry on and better themselves and then their bikes are gone," she said.
Participants in the program are mostly veterans from the Iraq and Afghanistan wars, with some suffering from traumatic physical injuries, post-traumatic stress disorder or traumatic brain injuries, she said.
Skuce said the group filed a police report. Rentals temporarily replaced other bikes so riders could still train, but they're not as nice as the ultra-light, high-end bikes belonging to the riders, she said.
DeWitt, who is training for a long-distance, high-altitude race in Colorado, isn't able to ride a rental.
Police spokeswoman Dani Myren said authorities received a call Wednesday morning from a person who found a bike propped against a "No Parking" sign in Anchorage's Kincaid Park. It turned out the bike belongs to DeWitt, of Weare, N.H., who lost both arms below the elbow to a rocket-propelled grenade in Iraq in 2003. The bike, which police said was valued at $19,000, has controls that allow him to shift with his knees and brake with his back.
Skuce said the program's equipment director received a text message Wednesday morning saying the bike had been found. The group was in Seward to bike and fish Wednesday.
According to the police report, the missing bikes include a custom "Stealth" Ride 2 Recovery bike, a Raleigh Talus black bike with blue accents, a Felt black carbon fiber bike and a Cannondale 29 white bike with black lettering.
Another police spokeswoman, Jennifer Castro, said all the bikes also have "Ride 2 Recovery" stickers.
"Not a way to welcome them to Alaska," she said.