World War II veteran, 98, presented with French Legion of Honor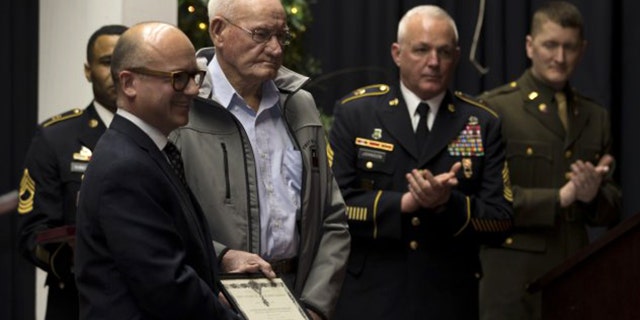 A humble 98-year-old Kentucky man has become one of the few World War II veterans to receive the French Legion of Honor, France's highest military award, comparable to the U.S. Medal of Honor.
France bestowed the honor on Jack Baker at a ceremony Wednesday in the small Kentucky town of Olive Hill.
"The ones that didn't get back are the ones that deserve it," Baker said.
Drafted into the Army, Baker wore the First Army patch as a young private, Fox affiliate WVAH-TV reported. Due to a clerical error he never attended boot camp.
Baker landed at Omaha Beach on D-Day in 1944 under the command of First Army commanding Gen. Omar Bradley and fought through the Cherborg Forest, the station reported.
In the critical fight at St. Lo, he was there as the Germans collapsed and surrendered en masse at the Falaise Gap.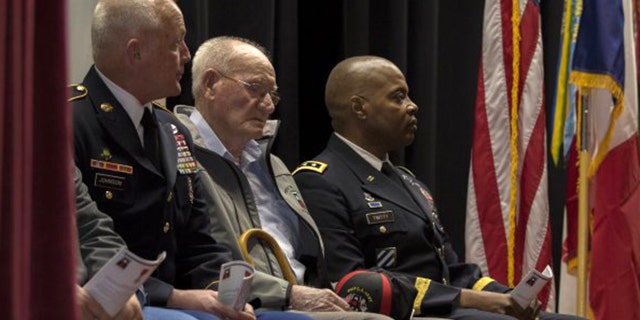 With the First Army, he was among the first U.S. troops to enter and liberate Paris.
He also fought in the Battle of the Bulge. He was awarded five Bronze Stars.
"Well, you just took it day by day, whatever happens is going to happen, you know, just try to dodge the bullets," Baker told the station.
He stood at attention on the stage as he received the Legion of Honor from Guillaume Lacroix, the consul general of France in Chicago.
"Mr. Jack Baker, and through him, thanks (to) all the veterans who have helped my country be what it is today. A free, independent, democratic country," Lacroix said.
Baker is well known in Olive Hill, Ky., where he still cuts his own grass. He is looking forward to another season of fishing in Tygarts Creek, the Ironton Tribune reported Thursday.
Those honoring Baker included the commander of the First Army, Lt. Gen. Stephen Twitty.
"Generations from now many of these folks will be gone and shame on us if we don't say thank you for the sacrifices you've made for this great country," he said.
The U.S. Army says the First Army is the military's longest serving field Army and is celebrating its 100th birthday on Aug. 10, 2018.