Wisconsin man, 76, guilty in fatal shooting of 13-year-old neighbor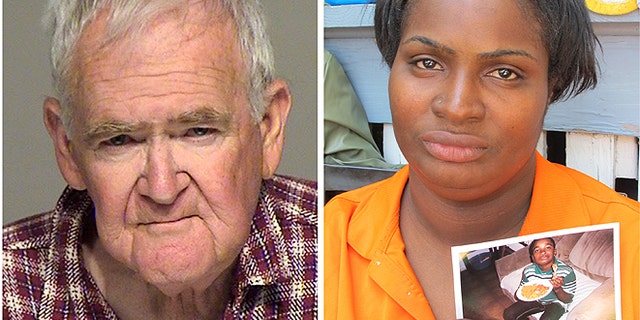 MILWAUKEE – A Milwaukee man who suspected his 13-year-old neighbor of breaking into his home and stealing weapons was convicted Wednesday of fatally shooting the boy as the teen's mother looked on. Now, jurors will decide whether the 76-year-old defendant was mentally ill at the time.
A jury deliberated for about an hour before finding John Henry Spooner guilty of first-degree intentional homicide. Surveillance video from his own security cameras showed him confronting Darius Simmons in May 2012, pointing a gun at him from about 6 feet away and shooting him in the chest.
Spooner had entered two pleas to the homicide charge: not guilty and not guilty by reason of mental disease or defect. That set up the trial to be conducted in two phases: the first to determine whether he was guilty of the homicide, and if so, a second to determine whether he was mentally competent at the time.
With the first phase complete, the second began with testimony from a psychiatrist hired by the defense. Dr. Basil Jackson said his examination of Spooner revealed a man with anger issues who periodically dissociated from reality.
Spooner's daughter once brought home a kitten that he didn't want so he took it into the basement and killed it, Jackson said. Spooner also used to choke and beat his late wife, the doctor testified.
The violence shows Spooner occasionally loses the ability to control his anger — as during the moments that he shot Darius, Jackson said.
"There was an eruption, a loss of control. And at that moment he was not able — at that moment — to make a judgment," Jackson said. "It's like he was on autopilot."
Spooner's defense attorney, Franklyn Gimbel, never denied that his client shot Darius. Instead, he argued that Spooner did not mean for the gunshot to be fatal.
"This is not a case of whodunit," Gimbel said. "It's not a question of whether the behaviors of John Spooner caused the death of the young man — but what motivated it and what went on in his mind at the time is the crucial question."
During the second phase of the trial, the burden of proof shifts to the defense, which only has to prove "clear and convincing evidence," instead of the stricter standard of "beyond a reasonable doubt." In addition, a verdict requires agreement from only 10 jurors, not unanimity from all 12.
Spooner's surveillance video provides a clear view of what happened. Spooner emerges from his house and confronts the teen, who is retrieving his family's garbage cart from the street. Spooner points a gun at Darius, who moves back a few steps. Spooner then exchanges words with Darius' mother, who's standing on her porch out of view of the camera, and Spooner briefly points the gun in her direction. Moments later, Spooner points the gun back at the boy standing a couple of feet in front of him. He fires, hitting Darius in the chest.
The teen stumbles and runs away, and Spooner fires a second shot that misses. He appears to attempt a third shot, but the gun jams.
Darius' mother, Patricia Larry, testified that she chased her son to where he collapsed in the street. She cradled him in her arms as he died.
"I pulled his shirt up and I (saw) he had a bullet hole in his chest," she said tearfully. "He took one more breath and that's it."
Spooner paced along the sidewalk until police arrived a few minutes later. Police Officer Richard Martinez testified that he was handcuffing Spooner when Spooner acknowledged, "Yeah, I shot him."
During closing arguments, Gimbel seized upon that statement as an indication that his client didn't mean to fire a fatal shot.
"He didn't say, 'I killed the kid.' He didn't try to explain anything about the circumstances," Gimbel said.
But prosecutor Mark Williams said it's impossible to watch the video without realizing that Spooner knew exactly what he was doing. He pointed out that Spooner confronted Darius, aimed deliberately and pulled the trigger.
"How is that not intent to kill?" he asked. "You can see the intent. Look at him (Darius) holding his chest. Look how close they are together. It's point-blank range. Darius runs away and he shoots again."
Larry's attorney, Jonathan Safran, said the family was pleased with the verdict. "She's cautiously optimistic as we move into this second phase of the trial," he said.