Wildfire in Nebraska threatens small town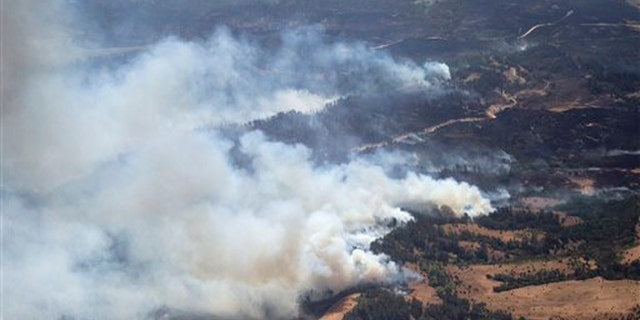 OMAHA, Neb. – The wildfires burning in north-central Nebraska threatened to force the evacuation of a second small town Tuesday and continued to interfere with boating along the scenic Niobrara River.
Monday's windy, hot weather helped the main Fairfield Creek fire expand to nearly 92 square miles -- an area just bigger than the state capital of Lincoln. Two other smaller fires about 20 miles east of the main fire had burned more than six square miles. And Tuesday's high temperature again topped 100 degrees.
Officials estimate the fires, which have already destroyed at least 10 homes, are about 15 percent contained. More than 200 firefighters and 4 helicopters are fighting the fires, and three firefighters have been injured.
A surge of new firefighters is expected to join the fight over the next day or so. Officials said that will allow give some of the crews a chance to take a break and provide additional help in containing the fire.
Nebraska Emergency Management Agency spokesman Mike Wight said the town of Sparks, which has some cabins and a couple river outfitting businesses, is on alert Tuesday for possible evacuation. A 14-mile stretch of the river valley, which is known for canoeing and tubing, already has been evacuated between Norden and Highway 183. A section of Highway 12 between Springview and Norden is closed.
Much of the fire-swept land near the river is rugged, forested and populated with cabins, so only 17 residences had been evacuated as of Tuesday morning. But the fire covers a large area north and south of the river in Keya Paha and Brown counties, and part of Cherry County. Federal officials have closed the river to boating downstream of Smith Falls State Park.
Part of the challenge is that the densely wooded ravines are difficult for firefighters to reach, Wight said. And when the wind picks up, the fire can spread quickly up those ravines.
Heat and strong winds made firefighters' work difficult again. By Tuesday afternoon, the National Weather Service said temperatures had already reached 106 degrees in Valentine, which is about 20 miles west of the main wildfire. And winds continued to gust up to 25 mph.
While a cold front is expected to move across the state and provide some relief, highs Wednesday will still be in the mid-90s. The front may also bring some rain, but the weather service says major storms aren't likely to develop near the fire. Plus, storms could also bring lightning and spark new fires.
Gov. Dave Heineman visited the area on Tuesday for the second time in less than a week. He received a briefing from officials overseeing the fight about how their priority Tuesday was to stop the westward expansion of the fire. He promised to send any state resources the fire crews need.
"We don't want these fires going on for another two or three weeks," Heineman said to KBRB radio in Ainsworth.
Fire officials told Heineman that the three wildfires near the Niobrara River could be contained within three days as long as more fires don't erupt.
About 150 miles west of the Niobrara River fires, another wildfire has burned less than one square mile, or about 300 acres, of grassland and trees in the northwest corner of the state.
That fire, known as the East Ash Creek fire, is on federal recreation area land south of U.S. Highway 20 between Chadron and Crawford.
Steve Lenzo, deputy forest supervisor for the Nebraska National Forests and Grasslands, said that fire is about 25 percent contained. He also said there have been no injuries and no reports of any structures being damaged with that fire.