Wife of Michael Hastings takes to twitter to dispel rumor.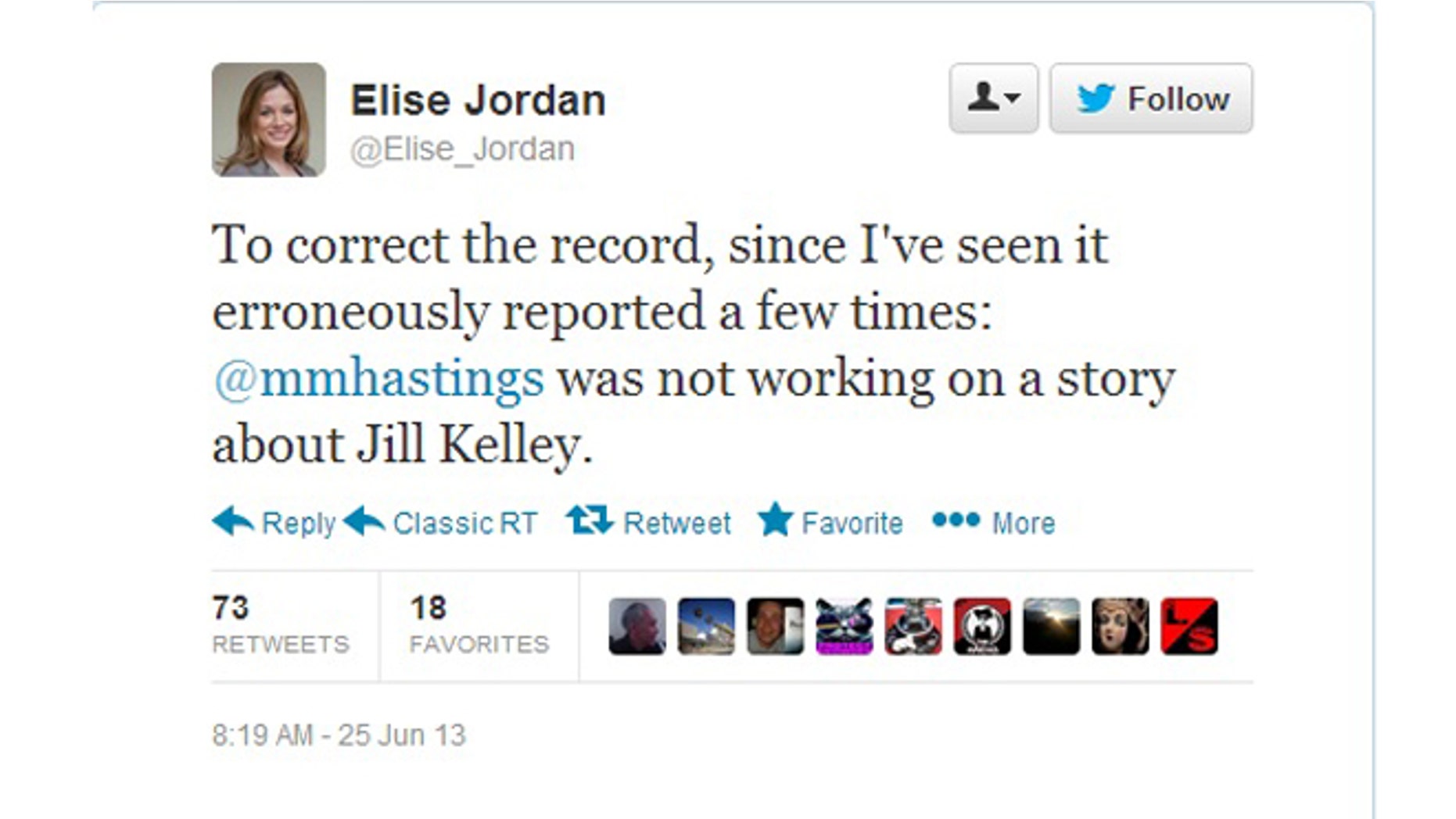 As speculation continues to swirl around the sudden death of journalist Michael Hastings, his wife has taken to twitter to dispel rumors and call out naysayers.
"To correct the record, since I've seen it erroneously reported a few times: @mmhastings was not working on a story about Jill Kelley," Elise Jordan wrote in a message dated June 25th on her twitter page.
Jill Kelley is a Florida socialite who claimed in a federal lawsuit filed earlier this month that the government willfully leaked false and defamatory information about her and her husband, violating their privacy, in the scandal that led to Gen. David Petraeus resigning as CIA director.
Earlier reports suggested that Hastings was in LA working on a story about Kelly before being involved in a single car accident on June 18th in the Hancock Park section of the city.
Jordan also tweeted out a series of messages to Time Magazine reporter Mark Thompson on Tuesday in response to comments he made about Hastings.
"@MarkThompson_dc suffice to say I take strong issue with your denigration of my husband's work. He did speak truth to power, unlike you." She wrote in the June25th tweet.
"@MarkThompson_DC your shocking advice that 4-stars should only give interviews to journos they 'know' is cowardly and anti-free press," she wrote in another.
On June 20th Jordan tweeted a message to FoxNews Correspondent Geraldo Rivera after he made comments on his page that Hastings death was tragic, "But hard to forget he destroyed career of 1 of our best fighting generals."
"@GeraldoRivera you are a sick bastard," she wrote in her response. "To atone, make a donation to the Andi Foundation in Michael's memory."
Jordan did not immediately respond to a request for comment from FoxNews.com
He had emailed a warning to colleagues on June 17 saying the "Feds" were interviewing his close friends and associates. He added: "I'm onto a big story, and need to go off the radat (sic) for a bit."
BuzzFeed editor Ben Smith confirmed that he had received the email.
At 4:20 a.m. on June 18, Hastings' car hit a tree and caught fire. Investigators said there didn't appear to be any foul play. An autopsy was performed, but findings on the cause of death were deferred pending the results of toxicology tests expected in eight to 10 weeks.
The circumstances and rumors surrounding the death led the FBI to issue a statement stating that Hastings was never under investigation.
The Associated Press contributed reporting to this story.