White House 'College Scorecard' shuts out conservative schools
NEWYou can now listen to Fox News articles!
Conservative colleges say the White House flunked its so-called "College Scorecard," which is intended to help high school graduates pick schools but served up what critics say is an incomplete list of choices.
The scorecard, which ranks schools by an index designed to demonstrate "bang for buck," evaluated more than 7,000 colleges and universities. Left off the list were such well-known conservative schools as Michigan's Hillsdale College -- ranked in the top 75 by U.S. News and World Report -- and Pennsylvania's Grove City College. Also omitted were Wyoming Catholic College, Idaho's New Saint Andrews College and Christendom College in Virginia's Shenandoah Valley.
"This scorecard is nothing more than a justification of some bureaucrat's job and an attempt to manipulate the data to make it appear such independent institutions aren't up to snuff," said Kyle Olson, founder of higher education news website EAGnews.org. "As we've seen the administration attack for-profit schools, they will discredit any school that operates differently than they see fit."
"As we've seen the administration attack for-profit schools, they will discredit any school that operates differently than they see fit."
When it was released last week, the scorecard was trumpeted as a way to help high school grads sort through the higher education possibilities amid a stagnant jobs market and rising tuition costs.
"Americans will now have access to reliable data on every institution of higher education," President Obama said. "You'll be able to see how much each school's graduates earn, how much debt they graduate with, and what percentage of a school's students can pay back their loans — which will help all of us see which schools do the best job of preparing America for success."
Department of Education spokeswoman Denise Horn told FoxNews.com in a statement that some schools were left out because they did not take federal funding, which comes with a requirement that they provide data used in crafting the scorecard.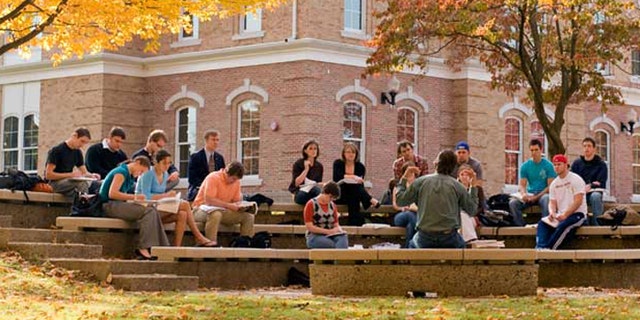 "With the College Scorecard, the Department is committed to doing what the President asked us to do: provide information to families and consumers to help them make a college choice that's smart for them," Horn said. "As of now, institutions that do not participate in Title IV federal financial aid are not included on the site because they are not required to send us data."
A Title IV participating institution is a school that accepts funding from federal sources including the Stafford, Perkins and Federal Supplemental loans, the Federal Parent Loan for Undergraduate Students and grants from the Federal Supplemental Education Opportunity and Pell programs.
Horn added that the department "is listening closely to concerns from users and other stakeholders and will work to address those concerns in future updates to the tool."
But schools said they were given other reasons for being left off the list, some of which they claim don't add up. Hillsdale officials told FoxNews.com that when they asked why they were left off, the Department of Education told them it was because most of the degrees the school awards are certificates, not two-year or four-year degrees.
"This statement is false," a school spokeswoman said. "Contrary to the Department of Education's spokeswoman, Hillsdale issues only four-year undergraduate degrees as well as master's degrees, and does not issue certificates of any kind for academic credit."
Paul McNulty, president of Grove City College, a Christian liberal arts institution that requires students of all denominations to attend a certain amount of chapel services each semester, said the school also inquired about the omission.
"In response to our inquiry, the Department informed us that the site is limited only to Title IV participating institutions," he said. "Our graduates enjoy a well-recognized return on an affordable investment that exceeds national averages in all of the Scorecard categories. We are concerned that Grove City's absence from the Scorecard will confuse or disserve families seeking out higher education institutions with our record of success.
"For now, the Department should, at the very least, include a disclaimer that the Scorecard is not comprehensive or reflective of all college and universities," he added.
Christendom College President Timothy O'Donnell said the Scorecard's criteria makes it impossible for schools like his to be included.
"We were not surprised to be left off the list as Christendom receives no federal money, and as a consequence, files no data under Title IV; without this data, it is impossible for the Scorecard to include Christendom," O'Donnell said. "We are, however, as a fully-accredited, four-year national liberal arts college ranked highly…because of our high-caliber and time-tested education."
That is the problem, according to Olson, who charged that the grading system was created with misguided reasoning in Washington.
"Such a scorecard designed by statists will naturally cast independent private institutions in a negative light," Olson said. "That's either intentional or is byproduct of the schools' unwillingness to play by the statists' rules. Parents and prospective students don't need any seal of approval from President Obama or some DOE bureaucrat to decide whether a school is good or not. The prospective student and his or her parents can make that determination just fine."