West Virginia diocese to release names of accused priests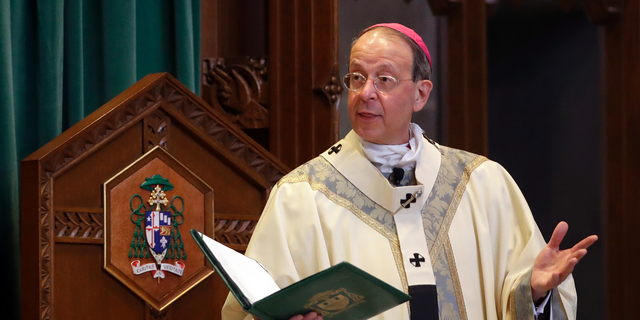 CHARLESTON, W.Va. – A Roman Catholic archdiocese in West Virginia announced Wednesday it plans to release the names of all priests and deacons who have been "credibly accused" of child sexual abuse since 1950.
None of the individuals who will be listed are in active ministry, Archbishop William Lori of the Diocese of Wheeling-Charleston said in a news release.
No timetable was given on when the list would be released. Lori said the list will include the accused priests' assignments in the diocese, whose records only go back to 1950.
"The trust of the people has been badly damaged," Lori said. "Disclosing the names of all those credibly accused of abuse is a critical step toward repairing that broken trust. I pray this will lead toward healing and demonstrate the Diocese's firm commitment to transparency and accountability."
Last month Pope Francis accepted the resignation of West Virginia Bishop Michael Bransfield and authorized an investigation into allegations he sexually harassed adults.
Bransfield had been investigated for an alleged groping incident in 2007 and was implicated in court testimony in 2012 in an infamous Philadelphia priestly sex abuse case. He strongly denied ever abusing anyone and the diocese said it had disproved the claims. He continued with his ministry until he offered to retire, as required, when he turned 75 in September.
Lori, Bransfield's temporary replacement, set up a hotline for potential victims to call, said the Vatican had instructed him to make the investigation public, and had vowed to conduct a thorough study into what he said were "troubling" claims against Bransfield, who was a major fundraiser for the Vatican through the Pennsylvania-based Papal Foundation.
The West Virginia diocese's delegate of administrative affairs, Bryan Minor, will oversee the process of reviewing files in preparation for the disclosure of the names of the accused. The list will be "as comprehensive as possible" and will be released after it has been reviewed and confirmed by a diocese review board, Minor said in the statement.
Minor said the diocese will continue to support victims after the records are released.
Zach Hiner, executive director of the Survivors Network of those Abused by Priests, said the group was pleased the diocese plans to release the names, "but the fact remains that if the lists are to carry any weight, they should be determined by independent investigators, not by church staff or church affiliated review boards.
"Trained law enforcement professionals should be in charge of investigating who knew what, when they knew it, and what a credible accusation of abuse looks like."
Curtis Johnson, a spokesman for West Virginia Attorney General Patrick Morrisey, on Wednesday referred to a statement Morrisey issued the day of Bransfield's resignation. That statement said Morrisey's office will be "closely reviewing this matter to determine how best we can protect West Virginians who might have been victims in this scandal. We have reached out to the Diocese and expect they will be fully cooperative in efforts to get to the bottom of these matters."
Earlier this month the Archdiocese of Washington, D.C., released the names of more than two dozen clergy members it says have been "credibly accused" of sexually abusing minors. Diocese officials in Texas this month announced plans to release a similar list early next year.
Lori also is the archbishop for the Baltimore archdiocese. On Monday, he announced Maryland's attorney general is delving into records of the Baltimore archdiocese as part of an investigation into child sex abuse.
In August, a Pennsylvania grand jury released a report detailing decades of abuse and cover-up in six dioceses.