Watch: Video of Chicago cop giving man jacket to stay warm goes viral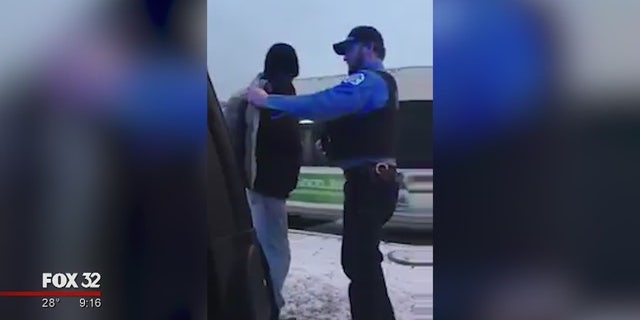 NEWYou can now listen to Fox News articles!
In the South Austin neighborhood of Chicago, two police officers went above and beyond the call of duty, and their act of kindness has now gone viral.
Chicago police officer Peter White saw a man three weeks ago and this week, he made good on a promise of a warm coat.
SAN DIEGO POLICE HELP COUPLE DELIVER BABY AT POST OFFICE
White placed the jacket over the man's much lighter coat, helped him push his arms through the sleeves, and he even checked the fit and zipped it up for him.
It was an act of kindness the officer didn't know was being recorded.
"I got out and gave him the jacket, and he thanked me and I got back in the car. He sent it to me, I sent it to my wife and his friends and my friends," White said.
SHERIFF BUSTED FOR SPEEDING ASKS FOR A TICKET
Officer Bob Osborne shared the video on social media and it picked up steam, being viewed hundreds of thousands of times.
They say it's an opportunity often not caught on camera and something that lifts spirits within the police department and with the public.
"We wrote him a ticket the time we stopped him. We still did our job. But, when we went back, you know the human always still comes out," Osborne said.
OFF-DUTY POLICE OFFICER RISKED LIFE TO HELP OTHERS AFTER TANKER EXPLOSION
The officers saw the man didn't have a warm jacket. So, it inspired them to grab one and hold onto it in case they saw him again.
"He's out there panhandling and does whatever he can to stay warm and fed, but I don't think that he gets people actually truly caring. And it felt nice for us, but I think he was appreciative himself that as not only just people, but as police officers we showed that we kept our word," White added.