Wallenda daredevil dangles over Niagara Falls by mouth, breaking record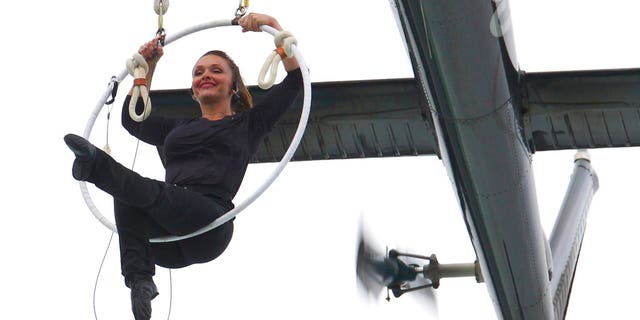 NEWYou can now listen to Fox News articles!
Exactly 5 years after Nik Wallenda's televised 1,800-foot tightrope walk from New York to Canada over Niagara Falls, his 36-year-old wife, Erendira, beat his record Thursday, hanging by her teeth from 300 feet in the air.
Nik Wallenda formerly held the record for highest suspension, after he hung from his mouth 250 feet about Silver Dollar City in Branson, Missouri in 2011.
Erendira spent eight of the 10-minute stunt hovering over the falls from a helicopter, after it took off from the parking lot roof of the nearby Seneca Niagara casino.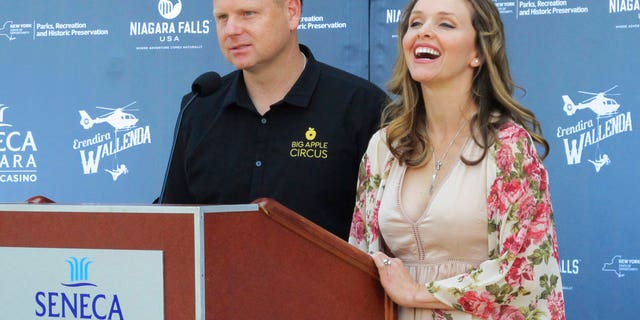 Erendira described the experience as "beautiful and amazing" but said she was caught off guard by the strong winds. Her husband said he struggled through similar conditions during his 2012 stunt above the falls.
Only a few dozen people viewed the stunt from the American side, compared to the tens of thousands who gathered on both sides for Nik's high-wire walk five years prior.
WALLENDAS HURT IN CIRCUS TIGHTROPE FALL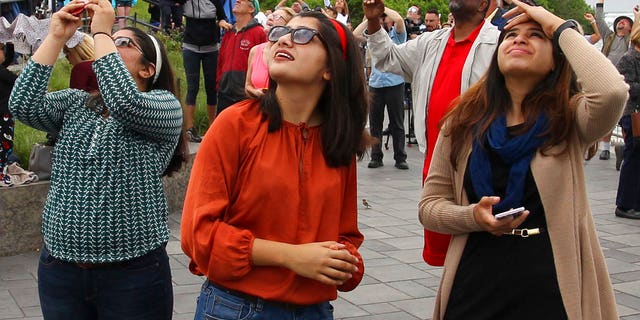 Erendira's stunt was unanimously approved by the Niagara County Legislature earlier this year, and $35,000 was set aside for the event. In 2012, Nik's walk generated an economic impact of $21.5 million and $3.3 million in direct revenues to the City of Niagara Falls, Fox News reported.
The city hoped Erendira's stunt would generate attention as well. Majority Leader Randy R. Brandt said in May "we want to recapture that energy for our local economy".
The Associated Press contributed to this report.