Waffle House shooting suspect's father could face federal charges, official says
The father of the man cops believe gunned down four people at a Waffle House restaurant in Tennessee may also face charges for returning guns that were seized from his son last year after an incident at the White House, according to a federal official.
In a news conference Monday about the capture of Travis Reinking, 29, Bureau of Alcohol, Tobacco, Firearms and Explosives Special Agent Marcus Watson said Jeffrey Reinking may have broken the law when he returned the weapons to his son.
"It is possible. If you transfer weapons knowingly to a person that is prohibited, that could potentially be a violation of federal law," Watson said.
Last July, Reinking was arrested by the U.S. Secret Service after he crossed into a restricted area near the White House and refused to leave. Reinking said at the time he wanted to meet President Trump.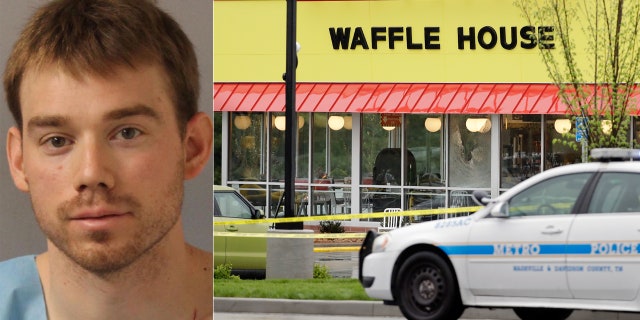 Reinking was not armed at the time, but at the FBI's request, Illinois state police revoked Reinking's state firearms card, authorities said.
The Tazewell County Sheriff's Office said in a news release on Monday the weapons were transferred to Jeffrey Reinking, who possessed a valid Firearm Owner's Identification Card and, by Illinois law, was able to legally possess them. The AR-15 used in the shootings Sunday was among the firearms seized.
"At no time were the weapons in the custody of the Tazewell County Sheriff's Office," the agency said.
WAFFLE HOUSE SHOOTER ARRESTED, AFTER COPS SAY HE STOLE BMW DAYS BEFORE DEADLY RAMPAGE
Under the Illinois' Firearm Owner's Identification Act, an individual whose FOID card is revoked must surrender his or her FOID card and complete a record for all firearms in their possession or control within 48 hours of receiving notice of the revocation to their local law enforcement agency.
The individual also must certify they have transferred all firearms they own or that are in their custody to another person with a valid FOID card, according to the sheriff's office.
"All weapons and ammo were released to Jeffrey Reinking [who] holds a valid FOID card," according to a police report from Aug. 24, 2017 obtained by Fox News. "Jeffrey was advised that he needed to keep the weapons secure and away from Travis. Jeffrey stated that he would comply." Authorities said the younger Reinking moved to Nashville last fall.
Metro Nashville Police Department spokesman Don Aaron said Monday that Reinking's father "has now acknowledged giving [the guns] back" to his son. It's not clear why or when he returned the weapons.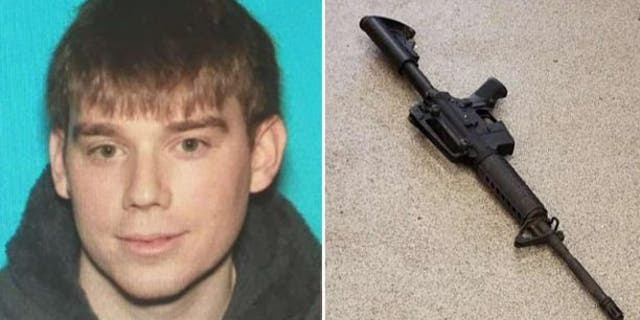 The Tennessee Bureau of Investigation said that it did not appear that Reinking or his father violated any state firearms laws before the deadly shooting.
WAFFLE HOUSE SHOOTING VICTIMS INCLUDE 'BRILLIANT' COLLEGE STUDENT, ASPRING RAPPER
"Given the information provided at this stage in the investigation about the weapons Reinking may have had in his possession, there is nothing in the record that would have given law enforcement officers an indication that possession of those weapons would be in violation of Tennessee law," the agency said in a statement Monday.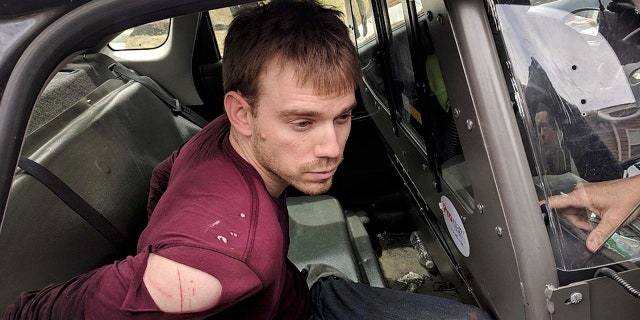 In Tennessee, the law bans anyone from obtaining a concealed carry permit if they have been "adjudicated as mental defective," but the 29-year-old never went through any judicial process after his run-ins with law enforcement, according to the Tennessean.
Reinking was formally charged late Monday with four counts of criminal homicide, according to court records. He was originally held on a $2 million bond, but that has since been revoked pending a court appearance on Wednesday.
Aaron said Reinking requested a lawyer and was taken to a hospital before being booked into custody.
Fox News' Shira Bush and The Associated Press contributed to this report.