Video captures Florida officer's graffiti proposal to girlfriend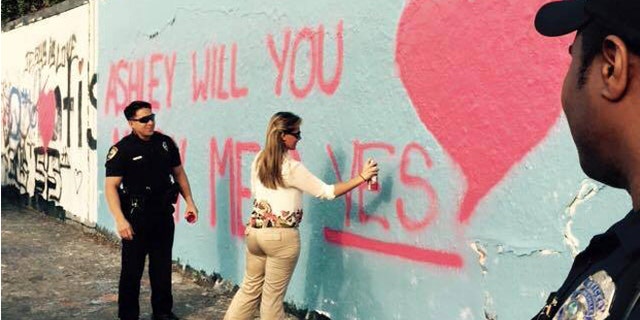 NEWYou can now listen to Fox News articles!
Video posted on the Facebook page of the Gainesville Police Department shows an officer surprising his girlfriend with a graffiti marriage proposal.
Officer Christian Hickey is seen in the video on one knee presenting a ring to girlfriend Ashley Alderman in front of his spray-painted proposal on the 34th Street Wall, a Gainesville graffiti landmark for decades.
"Ashley will you marry me?" it reads.
"Yes," Alderman replies - with a can of spray-paint.
"I actually told Ashley that we had a call at the wall that someone was painting something that they shouldn't be painting and that we had to go deal with it," Hickey told local TV station, GTN News.
He called her a blessing. They met two years ago when she was a student at the University of Florida, the station reported.

"I always wanted a big proposal but I never though it was going to be this big, even if I planned it myself it couldn't have been any better," Alderman said.
In the Facebook post, GPD provided answers to what it said were the inevitable questions:
"No, Officer Hickey didn't arrest himself or his new fiancée for painting on the 34th Street Wall. Yes, there were other officers out patrolling the city when this occurred. Yes. Cops get a lunch break just like everyone else."
GAINESVILLE PD OFFICER CALLS FOR SWEET BACKUP!GPD Officer Hickey recently had quite the elaborate proposal for his girlfriend. See how it went! #SheSaidYes!Answers to the inevitable questions:No, Officer Hickey didn't arrest himself or his new fiancee for painting on the 34th Street Wall. (https://en.wikipedia.org/wiki/34th_Street_Wall) Yes, there were other officers out patrolling the city when this occurred.Yes. Cops get a lunch break just like everyone else.

Posted by Gainesville Police Department on Wednesday, February 17, 2016