Veteran with PTSD says service dog prompted mistreatment by airline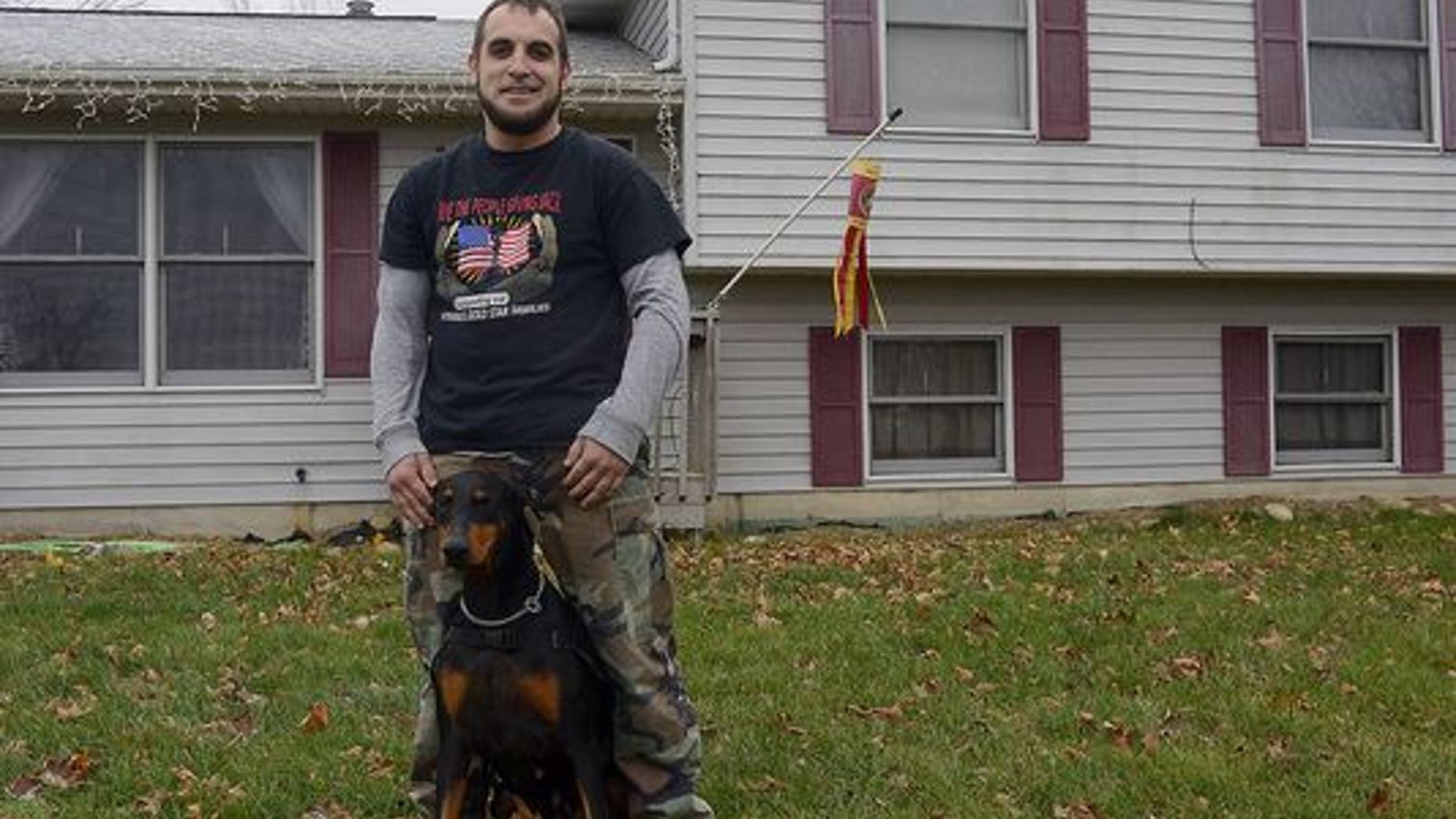 A U.S. veteran experienced some unexpected turbulence during a recent trip this month when he was scolded by a US Airways flight attendant when the vet's service dog placed her paws on an unoccupied seat.
According to the Lansing State Journal, former Marine Eric Calley was traveling from Florida to Detroit on Dec. 7 with his Doberman, Sun, who is trained to help veterans with post-traumatic stress disorder, when a flight attendant walked from first class to coach, where Calley was seated.
The flight attendant repeatedly yelled at Calley because Sun had put her paws on an empty seat.
"He started telling us that he was going to have the police waiting when we landed because we were being hostile," Chuck Aaron, another veteran on the flight, told the paper. "It was blatant disrespect. I couldn't just sit there and not say something."
The flight attendant was so rude that a dozen or so other passengers began to stand up for Calley and filed complaints when they landed, Aaron, who also served in Iraq, said.
[pullquote]
US Airways sent Calley a letter of apology this week, but the veteran said it is meaningless because the flight attendant's bad behavior was just a part of several ways he was mistreated by the airline.
Calley said the airline staff alerted other passengers that he has a medical disability and asked him for proof that Sun is a service dog, the Lansing State Journal reported.
Calley said he's speaking out about his mistreatment because he wants to alert people to the rights and needs of veterans with PTSD.
"We are going to continue to have this huge influx of new veterans coming back," Calley said. "And it can take a veteran four to five years after getting out to even attempt to get help. The thing I want US Airways to understand is that this is going to be a growing problem. There will be 10 others like me."
Calley, whose brother is Michigan Lt. Gov. Brian Calley, was part of the first wave of American troops who invaded Iraq in 2003.
Calley has struggled to adjust to normal life after he left the military, and reportedly used alcohol to cope with panic attacks and flashbacks.
Liberty, Calley's first service dog, died last year from cancer. He was able to get Sun after a fundraiser held in his honor.
"She was rescued -- to rescue me," he said.