Utah sheriff's deputy rescues boy from icy water, officials say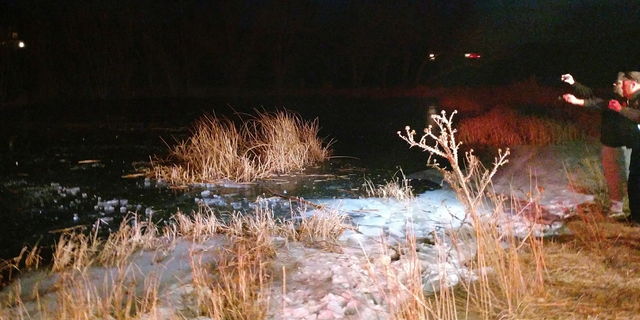 A Utah sheriff's deputy saved an 8-year-old boy who fell through an icy pond while chasing his dog, authorities said.
Police said a group of children were playing near a pond in New Harmony on Monday evening when a boy's dog ran off, KUTV reported. A boy in the group followed it out onto the pond when the ice cracked and he fell in.

Unable to get him out on their own, the other children ran for help and authorities were called to the scene, the outlet said.
Sergeant Aaron Thompson of the Washington County Sheriff's Office arrived first and "made the personal decision" to attempt the rescue without using any equipment, according to a press release obtained by Fox 13.
UTAH DAD PREPARED TO TAKE OUT LOAN AFTER PORCH PIRATES STEAL PRICEY MEDS FROM ILL SON
Thompson forced a path through 25 feet of ice to where the boy was stuck, ultimately freeing and bringing him back on land, Lt. David Crouse of the Washington County Sheriff's Office told the outlet.
"He and another citizen were actually able to break through the ice, go into the water, and retrieve the boy out of the pond," Crouse said. "He was taken to a nearby ambulance."
The boy is believed to have been in the near-freezing water for about a half hour until he was rescued, Thompson said at a news conference Tuesday. The officer previously had served on a search and rescue dive team and located the child in an area where a woman reported seeing his hand minutes before.
"I couldn't feel anything. I didn't notice anything when I was doing it," Thompson said. "I knew that time was of the essence. I had a very short window to get that child out of the water."
PIERS MORGAN SAYS VIEWER SAVED HIM FROM CANCER BY SPOTTING MARK ON HIS CHEST
"As the ice got thicker, I couldn't break it with my arms and my fists anymore, so I had to jump up on top of the ice, putting my weight on it, and then pound on it to get it to break," he added.
Emergency services arrived on scene and flew the boy to Dixie Regional Medical Center, KUTV said. He was reportedly unconscious as they left, but had vitals.
Authorities said Wednesday that the boy, identified only as Jason, was awake and doing well. The sheriff's office said he was coherent and responding to questions from hospital staff.
The deputy also required medical attention because of hypothermia and cuts on his arms and hands, KUTV reported. The dog was reportedly unharmed in the incident.
The Associated Press contributed to this report.