Utah lab could hold key to ID of Massachusetts' 'Baby Doe'
NEWYou can now listen to Fox News articles!
A break in the effort to identify a toddler whose body was found two months ago on a rocky beach near Boston could come as early as Tuesday, when a Utah forensic laboratory turns its findings over to Massachusetts authorities.
Police hope IsoForensics Laboratory in Salt Lake City can tell them where 3-year-old "Baby Doe," whose body was found on the shore of Deer Island in Winthrop, lived and traveled during her tragically short life. The lab's technique of analyzing hair and tooth enamel for telltale isotopes has a proven record in the most stubborn of cold cases.
"We often get called in as a last resort," said IsoForensics President Leslie Chesson, who said her company has been working on the case for several weeks and expects to send its findings to Massachusetts State Police early this week.
"We often get called in as a last resort."
Thousands of tips have poured in amid a huge campaign to identify the little girl, whose body was found June 25 in a trash bag left along the shoreline of a peninsula near Boston. A computer-generated composite image of the girl, prepared by the National Center for Missing and Exploited Children, has been seen by an estimated 53 million people. The image has been displayed on 84 billboards across Massachusetts. Analysis of pollen found on the girl has already shown she spent some time in the Boston area, but a broader history of her movements could lead authorities to her identity.
IsoForensics has been analyzing isotopes in a tooth and a hair sample from the girl that can pinpoint her movements, Chesson said. Such data could augment data already collected on the mystery girl, who police believe was "placed" along the shore, according to Suffolk County District Attorney Press Secretary Jake Wark. She was wearing polka-dot leggings, was wrapped in a zebra-striped blanket and had pierced ears and very long hair.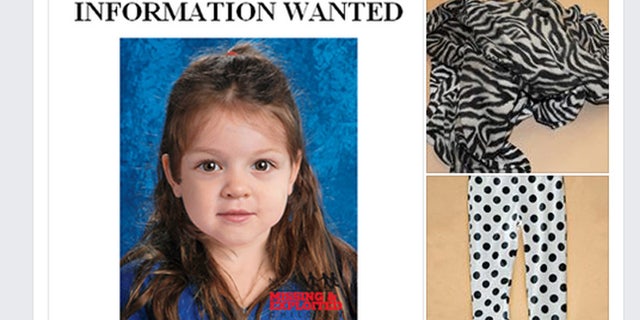 "It is not ZIP code-specific, but we can tell what regions she was in," said Chesson. "Food and water from different regions have different isotopes, and the hair and teeth keep a permanent record of that.
"You can tell the difference between Texas and Utah, for instance," she said.
The technique helped crack a cold case in IsoForensics' own backyard in 2012. Known as "Salt-Air Sally," the woman's badly decomposed remains were found in 2000 by duck hunters near Salt Lake City. Her identity eluded police until IsoForensics analyzed the remains and determined she had traveled to and from Washington state. That led authorities to match her up with a missing persons case there. Her murder remains unsolved.
The painstaking process involves wrapping hairs in pure silver capsules, then heating them until they turn into gas. Analysis of the chemical elements present in the gas can then be compared to maps that show where they are present. The lab can also radiocarbon test hair, bone, or tooth enamel to determine an individual's age and date of death, according to Chesson. She said the research and testing costs between $1,000 and $3,000 per case.
But even if the lab's findings help to pinpoint travel patterns, and that in turn allows detectives to direct their efforts in particular areas, the big break will only come when someone who knew "Baby Doe" comes forward, said Wark.
"We still believe it is going to take a person who knew her," he said. "But we're confident that we will eventually learn her identity and grant her the dignity of a burial under her true name."