US flag seen shredded by Hurricane Florence being auctioned for Red Cross
The Frying Pan Tower American Flag that millions of people saw being shredded by Hurricane Florence as the storm approached North Carolina is now being auctioned off to raise money for storm relief.
The flag was flying over an old Coast Guard station, 34 miles off the North Carolina coast, which has now been converted into a B&B run by Richard Neal, and is reachable by helicopter or boat in less treacherous conditions.
As Florence took aim at the Carolina coast, a live camera feed of the flag blowing in the storm's ferocious winds drew in eyeballs from all over the world.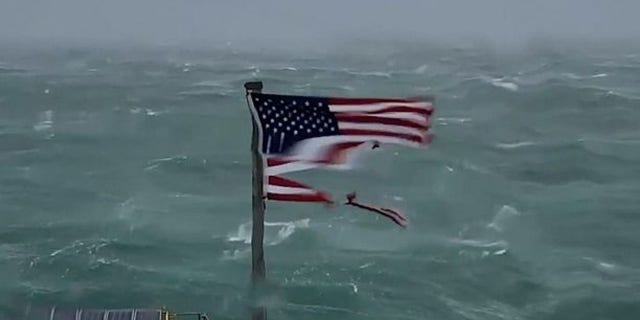 "As it was being torn to shreds on camera, all the comments coming through were so strong," Neal told The StarNews. "It really jumped out to me that it could be a way to benefit the people who were most impacted and put a few dollars in the hands of a good organization."
US FLAG SEEN SHREDDED BY HURRICANE FLORENCE OFF NC COAST TO BE REPLACED WITH DONATED OLD GLORY
The flag is now being auctioned off on eBay to benefit the American Red Cross.
"A bit tattered and torn, but like all who claim America to be home and are proud to do so, it still stands proud! Consider bidding on it to show your pride in America," the posting reads. "100% of the proceeds from this auction will be used to benefit the victims of Hurricane Florence through the American Red Cross's special funding designation."
As of Sunday morning, the current bid is at $10,100. Bidding ends at 10 p.m. ET on Sunday.
Fox News' Robert Gearty contributed to this report.