United CEO won't add chairman title in 2018 as was planned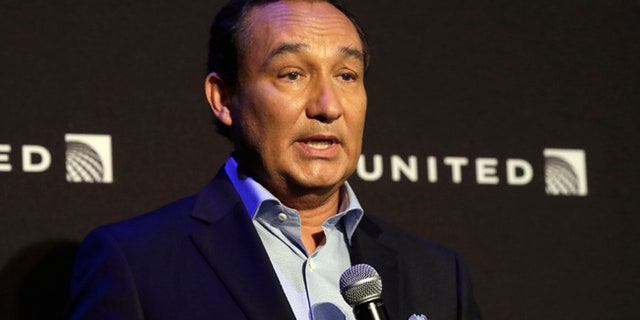 DALLAS – United Airlines said CEO Oscar Munoz, who came under withering criticism for the airline's handling of an April passenger-dragging incident, will not be automatically adding the title of chairman in 2018 as planned.
The company said Friday that Munoz proposed rewriting his employment contract to remove the expectation that he would become chairman at next year's annual meeting of parent United Continental Holdings Inc.
United also said Friday that Munoz received $18.7 million in compensation last year.
Munoz was widely faulted for his early responses to the April 9 incident on board a United Express plane. He first blamed the 69-year-old passenger who was dragged off by airport security officers, but later apologized repeatedly for United's handling of the situation.
The incident is under investigation by Congress and the Transportation Department. Lawyers for the passenger, Kentucky physician David Dao, have hinted at a lawsuit. And there have been calls online to boycott United.
Airline executives said this week it was too early to know if the widely publicized incident has affected ticket sales.
United's board of directors has supported Munoz, according to a statement last week from Chairman Robert Milton. United said Friday in a securities filing that management and the board "take recent events extremely seriously," and will link executive bonuses partly to "improving the customer experience."
Last month the airline was also criticized on social media and trolled by other airlines after a United gate agent in Denver told young girls they would have to change or cover up their leggings before being allowed to board a plane.
Munoz was named CEO in September 2015, replacing Jeffrey Smisek, who stepped down in the midst of an influence-trading scandal. Munoz had been on the airline's board while serving as CEO of freight railroad CSX Corp.
He has focused on improving United's tattered relations with labor unions. The airline has made some strides in improving its on-time performance, canceling fewer flights and losing fewer bags. However, it still generally ranks poorly in surveys of airline travelers.
Most of Munoz's compensation last year was in stock. The company said Friday in a regulatory filing that about $6.8 million of the total was related to a signing bonus that Munoz was promised in 2016.