UNC prof ignites 4th Amendment debate after being pulled over by fire truck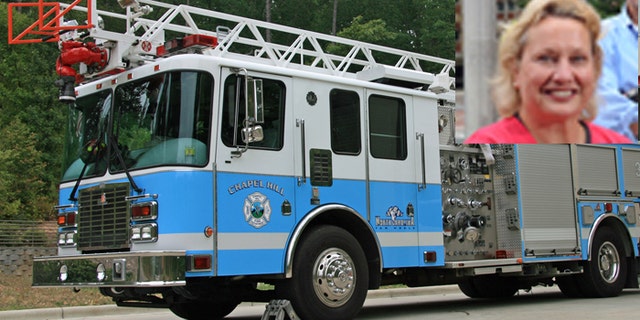 When a North Carolina firefighter switched on the siren atop his Chapel Hill Fire Department truck to get a driver he suspected of being impaired to pull over, he probably didn't expect to ignite a constitutional debate.
But that's exactly what has happened. The woman Fire Lt. Gordon Shatley pulled over on his way back from a call was Dorothy Hoogland Verkerk, a professor at the University of North Carolina and former town council member who is arguing use of the fire truck and siren - which are not authorized for law enforcement actions - gave the color of government to what might otherwise have been a lawful citizen's arrest. And although a lower court upheld Verkerk's arrest, an appellate court remanded the case with instructions to consider whether it was an illegal search and seizure.
The incident occurred in May, 2011, and led to Verkerk's arrest and eventual conviction by an Orange County District Court judge for driving while intoxicated. Verkerk, who teaches art history at UNC-Chapel Hill, claimed in her appeal that Shatley violated her rights under the Fourth Amendment when he used the lights and sirens on the fire truck he was driving to pull her over. When she sped away, he called police who later caught and charged her.
Lower court Judge Elaine Bushfan denied Verkerk's motion claiming that Shatley had conducted a citizen's arrest, but suspended her sentence and ordered the professor to spend 30 days in jail plus 18 months' probation, pay a $1,000 fine, and perform 72 hours of community service.
That's when Verkerk filed with the court of appeals and the three-member panel ordered Bushfan to consider anew the legality of Shatley stopping the driver. In particular, the appellate judges said it must be determined whether or not Shatley acted as a private citizen or as a governmental officer; if Shatley did act as a government officer, whether he followed Fourth Amendment criteria and had reasonable suspicion that a crime was being committed; and finally if the stop was unconstitutional, if that tainted evidence and the subsequent police traffic stop.
One member of the appeals panel, Judge Robert Hunter, found that Shatley was indeed a governmental officer at the time he stopped her, but conceded that he lacked police training and the legal authority to make an official traffic stop.
According to court documents, Shatley was on his way to a fire scene the night of May 27, 2011, when he saw Verkerk's Mercedes stopped in an intersection. He noticed that the headlights were off and that the interior and auxiliary lights were lit and that the driver's side window was partially opened despite a pouring rain. Shatley continued to his destination where he was no longer needed, and headed back to the firehouse.
On the way back, Shatley claims he pulled up behind Verkerk's car as she was driving with a hazard light on and was weaving while driving much slower than the speed limit. Shatley told the driver of the firetruck to turn on the lights and siren to prevent other cars from passing.
Verkerk's car then swerved to the right and hit the curb before coming to a stop, according to the documents.
Shatley hopped out of the fire truck and approached her car to see if she was ok. He did not ask if she was drunk but did urge her to park her car and have someone pick her up, according to documents. She told Shatley that she would, but then drove off. She was picked up by Chapel Hill Police 10 minutes later and charged with driving while impaired and had her license taken away.
In addition to teaching at UNC, Verkerk, who did not return requests for comment, is a former member of the Town Council and is a local environmental activist.