Two men charged after cop is lured from his vehicle and beaten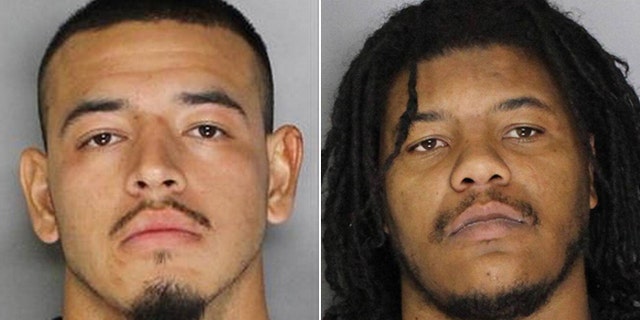 A California police officer is recovering after authorities said one man lured the cop from his cruiser Monday and beat him while another man filmed the assault and shouted encouragement.
Juan Gomez, 20, and Jamaral Lee, 35, were arrested and charged in the case.
"An event like this is just not typical," Sacramento Police Sgt. Doug Morse told FOX40.
The unidentified officer was in his patrol car around 12:30 a.m. when authorities say Gomez approached the officer and told him there was a man with a gun in the vicinity, according to a Sacramento Police Department news release obtained by the Sacramento Bee.
"As the officer stepped out of his car, Gomez immediately and violently assaulted him," the release stated.
Gomez allegedly continued beating the officer, who called for help and was eventually aided by private security guards stationed nearby. Gomez repeatedly tried to remove the officer's gun from its holster during the attack, police said.
Investigators said the officer asked Lee for help multiple times, but he refused, according to FOX40. Lee said he didn't know Gomez prior to the incident.
"My girlfriend and I were walking [in the area] and we saw a fight," Lee told FOX40 from jail. "I got out my phone and recorded like an 8-second video…I don't see why I'm in jail for that, I can do that."
Lee said he did not encourage the fight, but admits shouting, "You can fight, but don't grab the officer's gun!"
The officer, who has only been described as a white male, sustained facial trauma, was treated at a local hospital and released. The injuries, however, have prevented him from returning to work so far.
Gomez was charged with assault and battery on a peace officer and resisting arrest. His bail was set at $500,000, according to FOX40. Lee was booked on suspicion of assault and battery on a police officer, advocating injury to a police officer and resisting arrest.