Tropical Storm Harvey reporter's notebook: Getting back to normal, slowly
It took 40 minutes to go a mile in downtown Houston on Thursday afternoon.
It wasn't the water this time to blame.
Instead, it was the welcomed sign of traffic. People trying to get back to their semi-normal routines.
There were still a lot of signs that Tropical Depression Harvey wasn't done with Houston.
At the 5.11 tactical store, deep discounts were being offered to law enforcement. Down the road in the fifth ward, cops were out taking donations at the Target parking lot. Laura Adams had six bottles of water, some stuffed animals and two boxes of strawberry flavored fruit roll ups. She was 5 years old.
"It's an important lesson," her mother, Lauren, told Fox News. "She has to learn not everyone is as fortunate as she is."
EARLIER UPDATES:
It's night two of the mandatory curfew Houston Mayor Sylvester Turner has imposed.
The midnight to 5 a.m. citywide shutdown is an effort to prevent potential looting. Houston Police Chief Art Acevedo said the first night the curfew was in place there wasn't a single arrest. But would tonight be the same?
It's the eerie silence that gets me.
Back at the hotel, it's hard to miss the dozen or so men and women dressed head to toe in black, with guns and DEA badges. I ask one whether his time in Houston is almost up. He laughs.
"There is no end in sight," he says. This particular agent is from St. Louis. "It's all hands on deck."
I met another, from Miami, and ask if he knows how long he will stay: "We go where Harvey goes."
Even though the storm has moved out of east Texas, record rainfall is still crippling the area. The water caused the Neches River to overflow and damage the city's water pumps, the city's officials told us.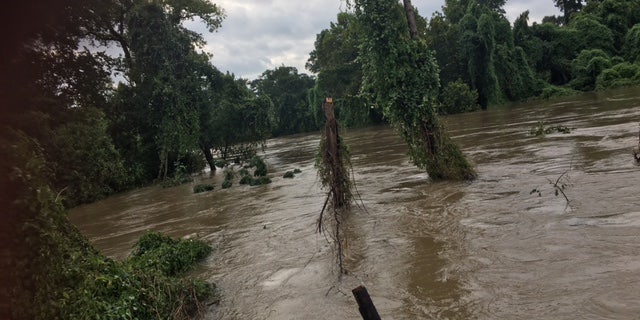 Overnight, Harvey's floodwaters knocked out Beaumont's water system completely. The city has now lost both its main and secondary water supplies.
"We will have to wait until the water levels from this historical flood recede before we can determine the extent of damage and make any needed repairs," the city said in a statement. "There is no way to determine how long this will take at this time."
Many are still without power when they got the news that the water was out too. This morning, I saw an HEB and a Kroger with lines wrapped around the building. Outside another local grocery store, there was a line 60-people deep waiting for gallons of water. Surprisingly, even though the outages had stripped these Houstonians of basic needs like power and water, they were in good spirits.
At 8 a.m. local time, 10-year-old Wendy Carter and her 12-year-old brother, Cary, rode their bikes to the store in search of water.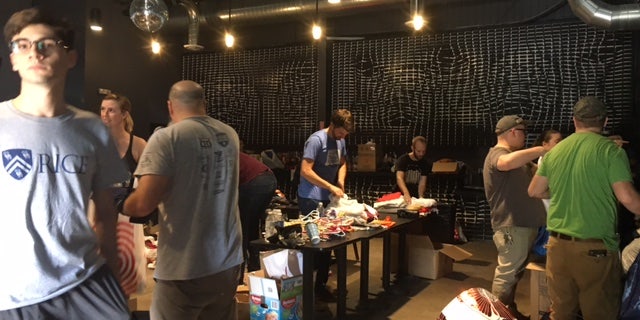 "There was a lot of water everywhere – even trying to get here – and we don't know if we can make it back," Cater told me. Her fourth grade teacher was also in line. The woman said she'd make sure Wendy and Cary made it back home safely.
Every day seems like rinse and repeat.
On Wednesday, just when Houstonians thought they were in the clear, the Addicks and Barker Reservoir could not hold any more. Both reservoir outlet gates were open, releasing storm water into Buffalo Bayou.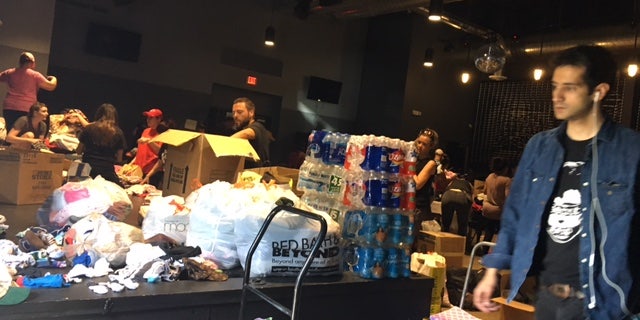 Within minutes, houses flooded in adjacent neighborhoods. Roadways that ran near the reservoirs were underwater. I had been living in that area. Harvey, whether a hurricane, tropical storm or tropical depression, remained unforgiving.
Some 3,000 homes near Addicks reservoir and 1,000 homes near Barker were inundated due to the water release. On Wednesday afternoon, Linder said the idea that 100,000 homes had been damaged is "not out of the question."
Thousands of people from neighboring cities, states and across the country have rushed to Houston to help. They brought their boats, construction equipment and whatever they could donate with them.
Others, such as David Immler and Katherine Konker, used Harvey to teach his 2-year-old daughter, Abigail, about giving back.
Their community in Houston created a pop-up donation stand. Friends, neighbors and relatives brought water, diapers, baby formula and canned goods.
"It's important to give back and that's what we wanted to teach [Abigail]," Immler said. "She even helped paint the sign."
On Polk St. downtown, employees, owners, patrons and community members were working double time at the bar and multipurpose venue. The owners had gutted the downstairs space to set up for donations. The speed and efficiency was unlike anything I had ever seen. The group holding the donation drive was called The Secret Group.
Everyone was pitching in, doing their part, and no one rested.
"If this had happened to me, I wouldn't have wanted anyone to take a leisurely pace," a man in a beard who was directing traffic out front told me.
"Are you here to make a donation? Can you help?" He asked.