Three face murder charges in 1993 Los Angeles apartment fire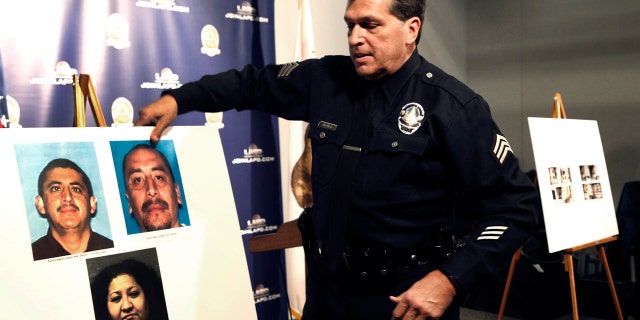 LOS ANGELES – Three gang members accused in a 1993 fire set to retaliate against an attempt to quell drug sales at a Los Angeles apartment building were charged Tuesday with murder after the blaze killed seven children, three women and two late-term fetuses, prosecutors said.
Ramiro Valerio, 43, of Palmdale and Joseph Monge, 41, of Montebello, and Johanna Lopez, 51, each pleaded not guilty Tuesday to 12 counts of murder and other charges, Los Angeles prosecutors said. The three were held without bail following their arraignments Tuesday afternoon. It wasn't immediately clear if they had attorneys who could comment on the allegations.

The March 3, 1993 fire was set as revenge after a new apartment manager tried to stop rampant drug dealing in the building filled with poor immigrants, authorities said.

Someone set a mattress ablaze in a hallway, causing fire and smoke to spread throughout the building as the manager was moving into a second-floor unit of the three-story, 40-unit building in the Westlake neighborhood.

The residents, nearly all of them from Mexico, El Salvador and Guatemala, tried to escape by jumping from windows and climbing down bed sheets tied to balconies. Neighbors formed a human chain to pass down children from upper floors. Other children were dropped from balconies into waiting hands.

Lopez had been arrested in 2011 in connection with the deadly blaze and was awaiting trial, according to court records. Valerio and Monge were arrested by Los Angeles police detectives on Feb. 3.

In 2013, the Los Angeles Police Department's Robbery-Homicide Division began a fresh examination of the case and began re-contacting witnesses. Los Angeles County District Attorney Jackie Lacey said residents of the apartment building had initially refused to cooperate with police after the fire, fearing retaliation from gang members, but some have now agreed to testify to testify in the case.

Two men were charged in the 1990s, but the cases were eventually dropped for a lack of evidence.

Prosecutors said all three defendants would be eligible for the death penalty if they are convicted, but prosecutors have not yet said whether they will pursue capital punishment in the case.

Police said a fourth person was being sought, but no information about him was released because he fled the country.

Prosecutors said the 10 people killed included: 24-year-old Olga Leon and her three children, ages 4 to 7; 29-year-old Alejandrina Roblero and her three young children who were between 6 and 11; 21-year-old Rosalia Ruiz; and a one-year-old child, Lancy Mateo.

Leon and Ruiz were pregnant when they died.