Thousands honor Joseph Lemm, NYPD detective killed in Afghanistan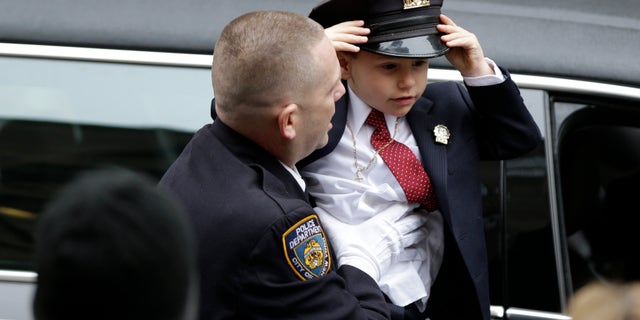 Thousands of uniformed police and U.S. military service officers lined the streets of Manhattan on Wednesday to pay their final respects to an NYPD detective and Air National Guard sergeant who friends and fellow cops called "Superman."

NYPD Commissioner William Bratton, Mayor Bill de Blasio and others attended the service for Joseph Lemm at St. Patrick's Cathedral. Lemm's casket, draped in an American flag, was carried into the storied church on the shoulders of fellow officers.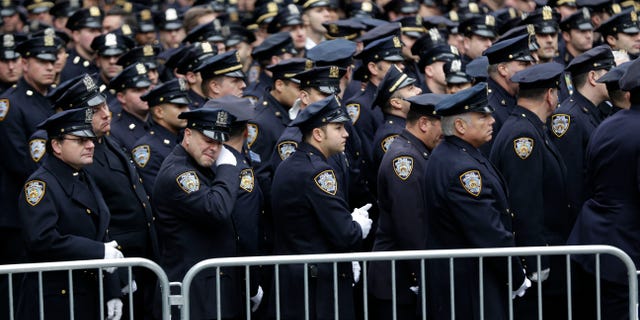 About 100 police motorcycles lead a caravan along Fifth Avenue as police officers from departments across the state followed.
As Lemm's flag-draped coffin was carried out of a hearse, his 4-year-old son, Ryan, sitting on the shoulders of an NYPD officer and wearing his hat, saluted his father's casket as it entered the church.
His wife, Christine, stood stoically as his 17-year-old daughter, Brooke, read from Corinthians.
"He embodied honor to the end."
Lemm, a 15-year NYPD vet and a technical sergeant with the Air National Guard who was serving his third tour of duty in the Middle East, was one of six Americans killed Dec. 21 when a suicide bomber rammed a motorcycle packed with explosives into Lemm's patrol car in Afghanistan.
"He really was Superman," Maj. John Torres, a chaplain with the Air National Guard, said Tuesday, according to The Journal News. "It's hard not to smile when you recall his antics. It's harder still to believe that he's gone."
Torres added: "He embodied honor to the end."
A tearful police Commissioner William Bratton posthumously promoted Lemm to detective first-grade.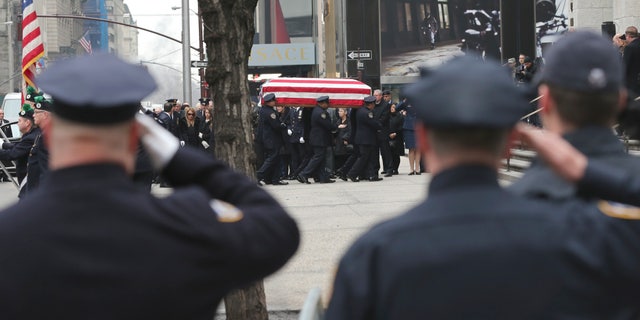 "Three times, this war took him thousands of miles away from his family, and the city and country he so dearly loved," he said in a eulogy. "And now it has taken him farther than miles. It has taken him to a new post in eternity."
About 400 people attended a "ramp ceremony" when the plane transporting Lemm's body landed in New York, The Journal News reported, and hundreds more attended Tuesday's wake. A moment of silence was held during Tuesday's NYPD graduation ceremony for nearly 1,200 new cops at Madison Square Garden, Newsday reported.
But those numbers were dwarfed by the sea of blue that descended Wednesday on St. Patrick's.
"Joe never missed a police funeral no matter where it was," Lemm's local priest, Rev. Christopher Monturo, said. "It's fitting there are so many here today."
Following the funeral, a military helicopter flyover was scheduled before Lemm is buried at Gate of Heaven Cemetery in Hawthorne, according to The Journal News.
Lemm, 45, was on his second tour of duty in Afghanistan and had also served in Iraq. Relatives said his current deployment was set to be his last, NBC 4 reported.
"A guy who does three tours overseas, protects his community as a police officer in a bad, dangerous part of America and then unfortunately his life is taken from him; that's a hero," Westchester County Executive Rob Astorino told PIX11.
A resident of West Harrison, Lemm served with the 50th precinct in the Bronx as a detective, a title he attained in January 2014.
"He got a lot of violent guys off the street…he got a lot of guns off the street," Lemm's commanding officer, Capt. William Kivlehan, said during a conference call with the press. "He was fearless."
The Associated Press contributed to this report.