The Latest: Trump hits back at Clinton's Islamic State claim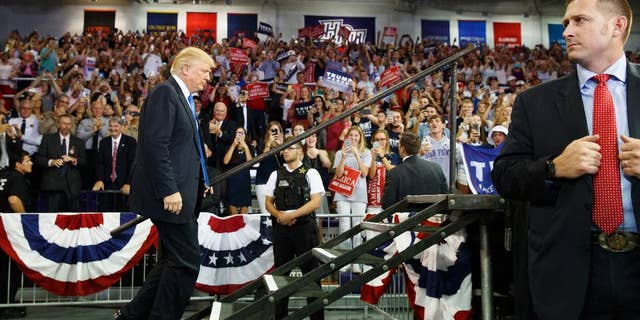 NEWYou can now listen to Fox News articles!
WASHINGTON – The Latest on the 2016 presidential campaign (all times EDT):
1:25 p.m.
Donald Trump is again pushing back on rival Hillary Clinton's assertion that his rhetoric serves as a recruiting tool for Islamic State militants.
Trump told a rally crowd Tuesday: "I'm being tough. How is that a recruiting tool?"
He was speaking at High Point University in North Carolina.
The Republican presidential nominee said it's Clinton whose policies as secretary of state allowed the militant group to rise.
He says that ISIS "happened on Hillary Clinton's watch," and added: "the rise of ISIS is Hillary Clinton's foreign policy legacy." ISIS is an acronym for the Islamic State group.
___
1:15 p.m.
Hillary Clinton says recent violent attacks show that "to defeat the terrorists, we need experienced, steady leadership."
The Democratic presidential campaign held a conference call with national security advisers Tuesday to discuss the attacks in New York, New Jersey and Minnesota. Her opening remarks were provided to reporters.
Clinton didn't name Republican opponent Donald Trump. But she said that it was important not to "lose our cool and start ranting and waving our arms." She added that this was not the time for "extreme proposals," adding "that's what the terrorists are aiming for."
Participants on the conference call included Rand Beers, former Deputy Secretary of Homeland Security and former White House Deputy Homeland Security Adviser and Matt Olson, former Director of the National Counterterrorism Center.
___
12:50 p.m.
The Washington Post says Donald Trump used $258,000 from his charitable foundation for legal settlements involving his Mar-a-Largo resort in Florida and a New York golf course.
The Post reports that in 2007, Trump used his foundation's money when his Palm Beach, Florida, club was fined $120,000 by the town for having a flagpole that was almost twice the height allowed under local rules.
As part of a settlement, Trump donated $125,000 to veterans' charities from the Trump Foundation. The foundation's money comes mainly from other donors, not Trump himself.
The Post reports that in 2010, a golfer sued when he was denied a $1 million prize for a hole-in-one in a charity tournament at Trump's course outside New York City. A $158,000 settlement also came from Trump's foundation.
___
12:20 p.m.
The Senate's top Democrat is escalating his attacks on Donald Trump, saying the Republican presidential nominee would be the "scammer in chief" if elected.
Minority Leader Harry Reid of Nevada said on the Senate floor Tuesday that in the 2008 financial crisis, Americans lost their savings, livelihoods and businesses because of the greed of a few. Reid said the last thing the American people "want, or need, is a president who will run another financial scam on them."
Reid called Trump a fraud who was born with an inheritance but lost it. He said that's why Trump won't release his tax returns.
Last week, in a swipe at Reid, Trump suggested that the senator go back to his exercise equipment. Reid was severely injured in an accident with the equipment last year.
___
10:15 a.m.
Florida Attorney General Pam Bondi is defending her decision to accept a $25,000 donation from Donald Trump while her office was fielding consumer complaints about Trump University.
Bondi on Tuesday for the first time directly answered questions about the 2013 donation from Trump's family foundation. She said she has no regrets about accepting the money from Trump and repeated that her office did nothing improper. Bondi also said it would have looked like a "bribe" if she had chosen to return the money once questions arose.
Bondi personally asked Trump for money and got a $25,000 check for her political organization. Emails from the same time period show that her office had been asked about a lawsuit filed by New York against Trump University.
___
6:45 a.m.
A prominent member of the Kennedy family says former Republican President George H.W. Bush told her that he plans to vote for Democrat Hillary Clinton for president this fall.
Former Maryland Lieutenant Governor Kathleen Kennedy Townsend posted a picture of herself with Bush on Facebook Monday and added, "The President told me he's voting for Hillary!!" Townsend later confirmed the conversation she had while meeting Bush in Maine to Politico, which shared a screengrab of the Facebook post.
Bush's spokesman, Jim McGrath, says in a statement that the 92-year-old former president's vote is private and Bush isn't commenting on the race. McGrath later said on Twitter that he's "still checking" if anyone was there to verify Townsend's conversation.
Bush hasn't offered support for GOP nominee Donald Trump, who defeated his son, Jeb Bush, in a testy Republican primary season.
3:30 a.m.
Hillary Clinton is accusing Donald Trump of giving "aid and comfort" to Islamic terrorists, declaring his anti-Muslim rhetoric helps the Islamic State group and other militants recruit new fighters. Trump is insisting the U.S. should "use whatever lawful methods are available" to get information from the Afghan immigrant arrested in this weekend's bombings.
As Trump supporters at a packed rally in Florida shouted "Hang him!" the Republican presidential candidate mocked the fact that Ahmad Khan Rahami, a 28-year-old U.S. citizen originally from Afghanistan, would receive quality medical care and legal representation.
"We must deliver a just and very harsh punishment to these people," he said. "These are enemies, these are combatants and we have to be tough, we have to be strong."
Both candidates moved swiftly to capitalize on investigations into a weekend of violent attacks — bombings in New York and New Jersey and stabbings at a Minnesota mall — casting themselves as most qualified to combat terrorism at home and abroad.