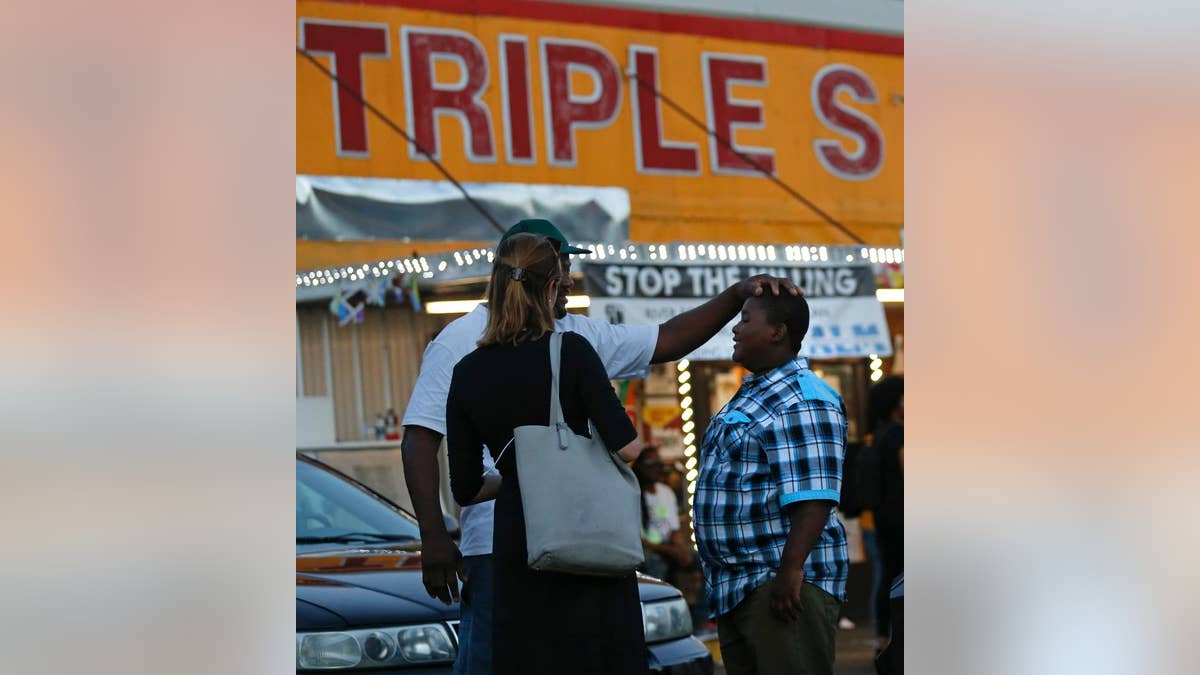 BATON ROUGE, La. – The Latest on the Justice Department's decision not to charge two officers in the shooting death of Alton Sterling (all times local):
8 p.m.
An aunt of a black man who was shot and killed in front of a convenience store after an altercation with police last summer says those responsible for his death need to be charged and convicted.
Veda Sterling spoke at a vigil Tuesday outside the convenience store where her nephew Alton was shot.
The vigil was held after news broke that the Department of Justice would not be charging two white police officers in connection with Sterling's death.
Veda Sterling led a crowd of several dozen people in chants of "No justice, no peace!"
She said it's been "almost a year and we're still suffering like it happened yesterday."
Sterling's death was captured on cellphone video and sparked widespread protests over the treatment of black men by police.
__
6:45 p.m.
A spokesman for the Louisiana governor says his office has not been notified of any federal decision in the Alton Sterling investigation.
In a statement, Richard Carbo said Tuesday that Gov. John Bel Edwards' office has been in "constant contact with the U.S. Attorney's Office."
He says the governor's office was "... assured that both our office and the Sterling family would be given advance notice of the decision."
The statement comes after The Associated Press and other news organizations reported that the Department of Justice has decided not to charge the two officers in Sterling's death.
Sterling's July 2016 death was captured on cellphone video that was widely dispersed and helped set off widespread protests last summer.
__
Dozens of people have gathered outside a convenience store where a black man was shot last summer, after news broke that two Baton Rouge police officers would not be charged in connection with his death.
The crowd late Tuesday was a mixture of neighborhood residents and reporters.
Sterling was selling CDs outside the Triple S Food Mart when he died. His death set off protests at the time in Louisiana's capital and beyond.
A local activist, Arthur Reed, said he broke the news to Sandra Sterling, Alton Sterling's aunt, in a telephone call after seeing the news reports that neither officer would be charged.
Reed says she broke down crying and is "heartbroken," not only because of the decision but because the Justice Department did not notify the family first.
__
4:35 p.m.
The Associated Press has learned that the Justice Department has decided not to bring charges against two white Baton Rouge police officers in the death of a black man whose fatal shooting was captured on cellphone video.
A person familiar with the decision disclosed it to the AP on Tuesday. The person was not authorized to talk publicly about the decision and spoke to the AP on condition of anonymity.
The decision doesn't prevent state authorities from investigating Alton Sterling's death themselves and pursuing their own criminal charges.
The July 2016 shooting set off protests in Louisiana's capital and beyond.
A police report says the officers saw the butt of a gun in one of Sterling's pants pockets and saw him try to reach for it before he was shot.