The Latest: Fast-moving flames force people to flee quickly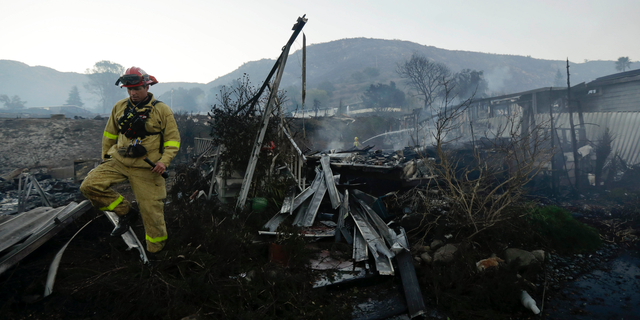 FALLBROOK, Calif. – The Latest on Southern California wildfires (all times local):
3 p.m.
The California wildfires drove retirees from a mobile home park north of San Diego with only minutes to spare.
Ferocious winds whipped sparks into massive infernos that have destroyed more than 500 buildings, killed dozens of horses and forced hundreds of thousands of people to flee from their homes.
The flames have burned nearly 250 square miles (650 square kilometers) since Monday.
Fire sprang up so quickly that many who managed to escape unscathed did so with little more than the clothes on their backs. Three people were burned trying to escape.
___
11:04 am.
Some residents have returned to the ruins of homes they fled when a wind-driven wildfire roared through northern San Diego County.
Retirees Dick and Joan Marsala found the wreckage of their mobile home still smoldering Friday morning.
Their daughter, Misty Sherman, says her parents had spent 11 years in their dream home at Monserate Country Club.
They fled Thursday with only a change of clothes and their medications as flames engulfed the tiny community. They first went to a nearby hotel, but then had to flee from the fire again.
After returning home, Dick Marsala climbed among the charred remains in search of his wallet, but the debris was still too hot and he climbed back out. Looking through a window, he saw a framed photo of himself golfing still hanging on a blackened wall.
___
10:38 a.m.
A new wildfire has ignited in San Diego County, which is already reeling from a wind-driven blaze that has destroyed at least 85 structures.
Authorities say the new fire is near the mountain town of Alpine, about 30 miles (48 kilometers) east of downtown San Diego. The fire remains small, but officials say they are sending numerous resources to fight it.
The larger fire 50 miles (80 kilometers) north of San Diego ignited for unknown reasons Thursday during fierce Santa Ana winds, which have since abated.
More than 1,000 firefighters are on the ground, aided by seven air tankers and 15 helicopters, including two each from the Marines and Navy.
Authorities say 10,000 people were evacuated and 900 are in shelters.
___
10:10 a.m.
Authorities say 85 structures have been destroyed by a wind-driven wildfire that swept through a semi-rural area of northern San Diego County.
County Supervisor Dianne Jacob says it's not clear if all of those structures are homes.
The fire erupted Thursday and rapidly expanded to more than 6 square miles (15 sq. kilometers) until fierce Santa Ana winds subsided.
Cal Fire says there's still zero containment, but a fleet of air tankers will be aiding more than 1,000 firefighters on the ground.
___
7:48 a.m.
At least 65 structures have been destroyed by a wildfire in semi-rural north San Diego County.
Cal Fire also says there's still no containment of the fire early Friday.
The blaze exceeded 6 square miles (16 square kilometers) in a matter of hours Thursday and burned dozens of houses as it tore through the tightly packed Rancho Monserate Country Club community in the small city of Fallbrook.
Strong winds subsided overnight, but forecasters say they will return later Friday, although they will be less widespread.
The fire is on the eastern border of the Marine Corps' sprawling Camp Pendleton, and military aircraft are expected to help battle the flames.
___
6:04 a.m.
Winds driving an uncontained wildfire in northern San Diego County subsided substantially overnight but forecasters say they will return after sunrise Friday.
The fire erupted Thursday and quickly burned dozens of homes as it spread over more than 6 square miles (15.5 sq. kilometers) and pushed west.
The National Weather Service says there will be a resurgence of winds after daybreak with gusts up to 60 mph (96 kph) directly below mountain slopes and in passes but will be less widespread than on Thursday.
The fire also tore through a horse racing training center, where state authorities now estimate about 25 of the 500 horses stabled there were killed.
___
12:14 a.m.
California's newest wildfire tore through retirement communities built on golf courses and killed elite thoroughbred horses in its first destructive day.
The new blaze in San Diego County means a huge swath of Southern California is now in flames. December's shockingly dry, hot and windy conditions brought on unprecedented fire danger.
The San Diego-area fire quickly grew to more than 6 square miles and burned dozens of homes at Rancho Monserate Country Club.
Flames engulfed a horse training center, prompting trainers to unlock stables and encourage hundreds of race horses to run for their lives. It's not clear how many died.
The region's biggest fire, which is 200 miles north, keeps growing and has destroyed more than 400 homes and buildings.