Texas councilman Tased in incident involving deputy who arrested woman found dead in jail cell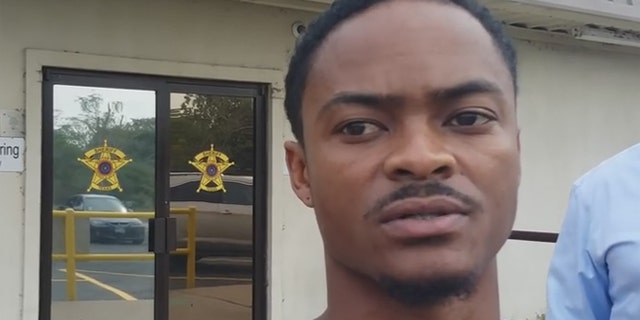 NEWYou can now listen to Fox News articles!
Police used a stun gun on a Texas councilman Thursday during a controversial incident that involved one of the deputies who arrested Sandra Bland, the woman who officials say committed suicide in her jail cell after being arrested for a traffic violation.
Prairie View Councilman Jonathan Miller, 26, was Tased in front of his home and later arrested on a charge of interfering with an investigation and resisting arrest. The episode was captured on cellphone video and by a police body cam.
"I feel like it escalated to a situation where I was Tased and it shouldn't have came that far," Miller told FOX26 after leaving Waller County jail on Friday.
The incident began when two police officers, including a female officer who was involved in the July arrest of Bland, questioned three of Miller's fraternity brothers outside his home. The friends were there to practice a step routine for a college homecoming, according to KHOU. On the body cam footage, the female officer can be heard saying the men are being questioned because of "drug activity" in the area.
That's when Miller came out to speak with the cops.
"I knew the officer, she knew me, so I figured if I let her know that these are my guests, you know, kind of lessen the tension," Miller told NBC News on Monday.
After a brief exchange, Miller is told to step away by a male officer. Miller takes several steps back, but asks the officer not to "put your hands on me."
The officer continues telling Miller to move back and at one point tells him, "You're always starting problems, so go back there." Miller answers: "I live here." The officer asks Miller to move back again, threatening arrest if he doesn't comply, and Miller stands stoically. Then, the officer attempts to arrest Miller – however, it's also at this point the officer's body cam falls off and the ensuing moments are unclear.
"Once officers attempted to arrest Miller, he physically resisted," a statement from the Prairie View Police Department said. "Mr. Miller continued to resist even after repeated commands to stop. Officers deployed a Taser to subdue Mr. Miller."
In a cellphone video, Miller is seen kneeling on the ground motionless with his arms at his side right before the male officer Tases him.
"I just feel like it was kind of unwarranted to be almost harassed like that," said Miller, who spent the night in jail.
Prairie View police are investigating, according to KHOU, and the officers involved are not currently on leave since no deadly force was used. Charges against Miller are still pending, but no charges were filed against the three men who police initially stopped to question, KHOU reported.
Miller graduated from Prairie View A&M University in May and is the youngest member of the City Council, according to his government biography. His father was twice-elected president of the local school board and served as a principal.
Miller recently voted in favor of a pay raise for the police.
He was asked by FOX26 if he had any regrets about that vote: "No regrets. I just feel like if you have those resources they need to be used in a proper way."