Teen in custody after shooting at NYC skating rink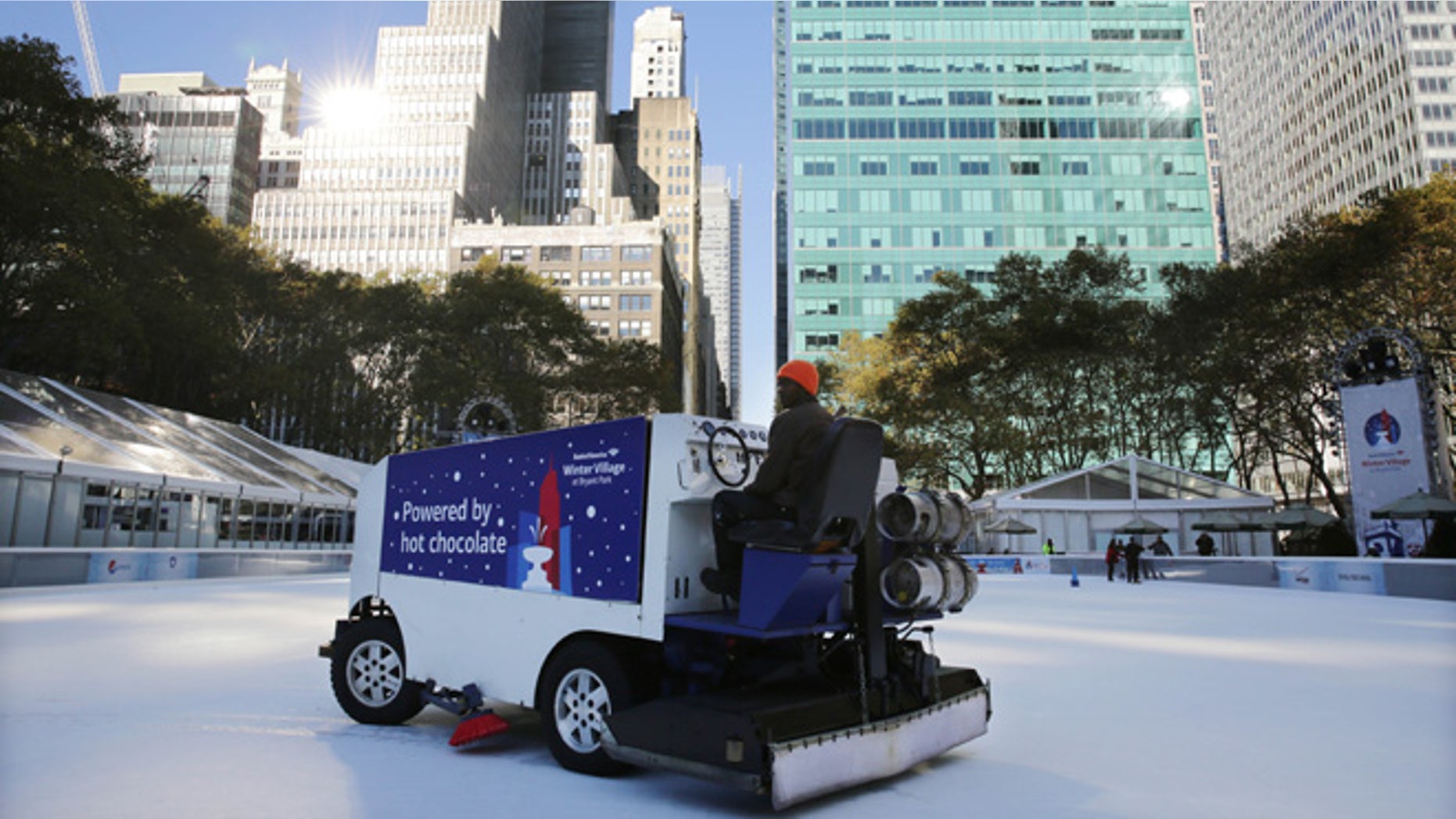 New York City police say robbery was the motive behind a shooting at a popular Midtown Manhattan skating rink that left two people wounded and the ice splattered with blood.
The New York Post reported that 16-year-old Corey Dunton surrendered to police Sunday morning and was charged with attempted murder, assault, criminal possession of a weapon and reckless endangerment.
Investigators said Dunton had approached the 20-year-old man, identified by the Post as Javier Contreras, at the rink at Bryant Park and demanded his coat. Contreras refused to hand it over, and Dunton left. Police say the teen then returned and started firing. Dunton is being charged as an adult, according to The Associated Press.
Police believe Contreras was the intended target and that he did not know the suspect. They said the 14-year-old boy was just an innocent bystander. The Post identified the 14-year-old as Adonis Mera of East Harlem, and reported that the boy would likely be paralyzed as a result of the shooting.
Mera "has no feelings from the waist down,"  the teen's brother, Jorge Arias, 29, told the paper early Sunday.
The popular park is between Fifth and Sixth Avenues in Manhattan, behind the New York Public Library.
Joe Carella, a spokesman for Bryant Park Corporation, the not-for-profit company that privately manages the park, said there were about 300 people on the ice at the time of the shooting.
The rink opened as normal on Sunday morning. Many people sitting at tables in the park were unaware that the shooting had occurred.
Allen Targhi, a Manhattan shoe salesman who comes to the park almost daily, said he hadn't heard about the violence.
"But I'm surprised — absolutely surprised. I expect peace and love and happiness in this park. It's the reason I come," he said as he lounged in the sun.
Targhi couldn't recall any recent crime in the park. "In the old days, more than 20 years ago, yes, there were muggings and stabbings — but not now," he said.
The ice skating rink, which is free to use, is open until midnight on the weekends. The park also features green space, restaurants and tables and chairs for public use.
The Associated Press contributed to this report.