Tearful Memorial for New York City Bus Crash Dead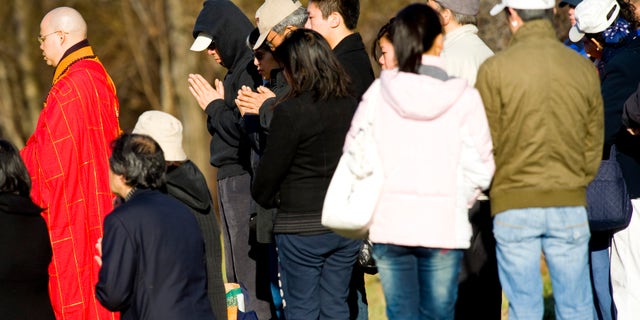 Tears flowed this morning at a roadside, Buddhist memorial service for the 15 people killed in last week's horrific crash of a budget casino tour bus on its way back to the city from a Connecticut casino.
Three monks joined 19 relatives, many of them Chinese and Malaysian, for an hour-long service on the side of Interstate 95, where the World Wide Tours bus slammed into a signpost. The crash left a grisly scene that killed nearly half of the 32 people on the bus and left others with severed hands and limbs.
One lane of the southbound highway was shutdown for the service, which followed the Buddhist belief that the souls of those who die under tragic circumstances are trapped.
The memorial was held to free those trapped spirits and included prayers, burning incense, letters mourners had written to the victims and offerings of apples, oranges, containers of food such as green beans, broccoli, rice, noodles, broth, and tofu.
Bus driver Ophadell Williams, 40, of Brooklyn, initially claimed a tractor-trailer hit the bus and caused him to lose control, but investigators are now concentrating on his actions in the hours before he began the 3:45 a.m. trip out of Mohegan Sun.
Williams', who has a criminal background that includes manslaughter and grand larceny, had his license suspended for allegedly using aliases when he applied for a commercial driver's license.
Click here for more on this from The New York Post.