Tanker 'heavily fragmented' after Utah crash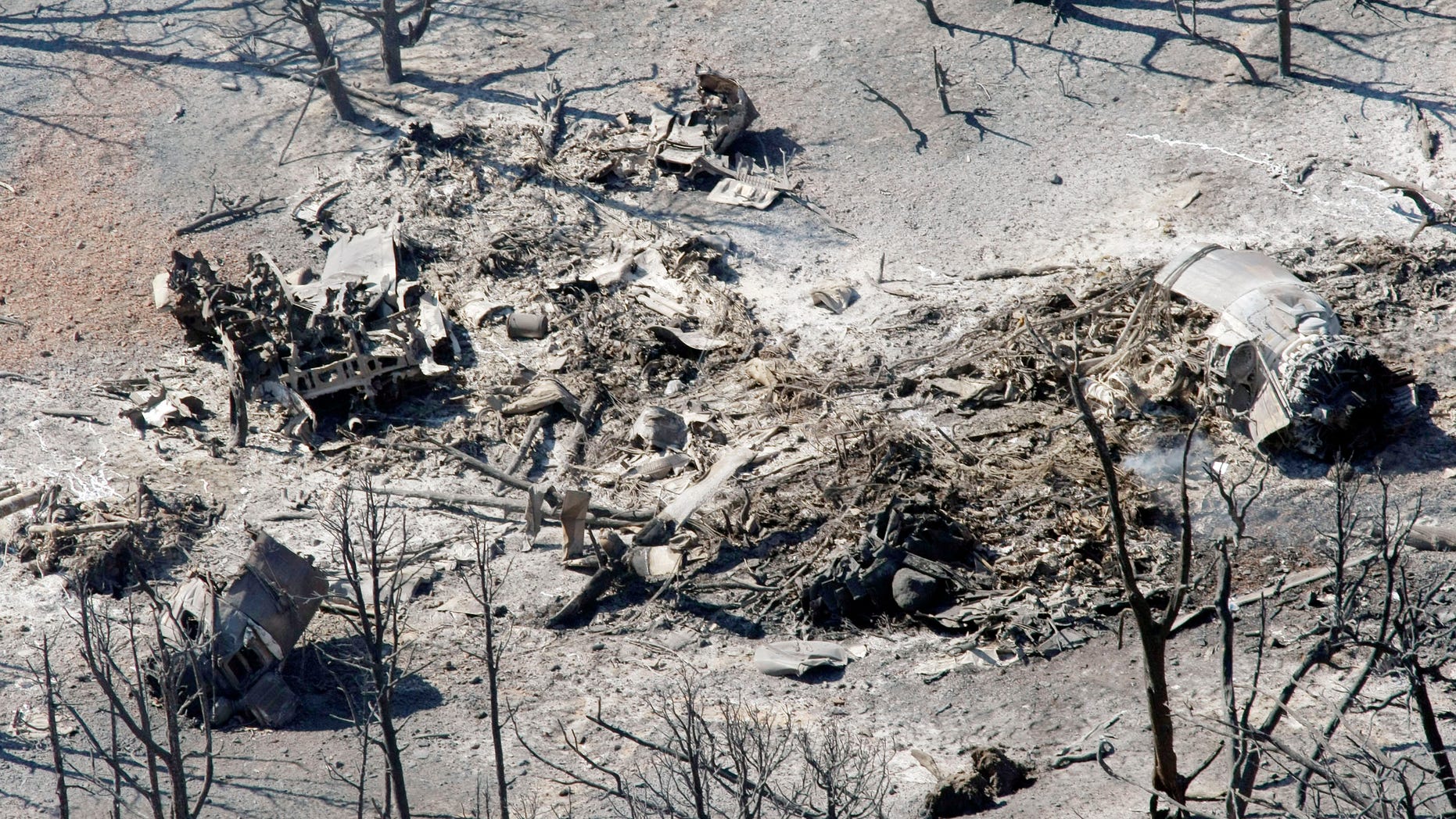 SALT LAKE CITY – An air tanker that crashed and killed two pilots fighting a wildfire in southern Utah was reduced to fragments that shed few clues about the accident's cause, federal investigators said Wednesday.
The wreckage will be recovered within days for a closer look, said Debra Eckrote, deputy regional chief at the National Transportation Safety Board's Seattle office.
"It's heavily fragmented obviously," Eckrote said Wednesday. "There was a lot of burn damage to the wreckage."
NTSB investigator Van McKenny found a 600-yard debris path littered with pieces of the 50-year-old air tanker, said Eckrote, the investigator's supervisor. McKenny was out of cellphone range Wednesday, his second day at the crash site.
Eckrote said the pilots were dropping flame retardant or had just done so when the Lockheed P2V went down Sunday — the same day another tanker of the same vintage was forced to make a crash landing at Nevada's Minden-Tahoe Airport when its left-side landing gear failed to deploy. No one was injured.
The U.S. Forest Service now has nine large air tankers under contract and announced Wednesday it has made arrangements to make four more available immediately to fight fires. California is staffing two tankers a month earlier than normal with funding from the Forest Service. The other two tankers are being made available through agreements with Alaska and the Canadian Interagency Fire Centre, the Forest Service said.
Sen. Mark Udall, D-Colo., said Wednesday he recently sponsored legislation that would allow the Forest Service to expand and upgrade its contractor fleet of firefighting planes.
"The West is experiencing severe drought conditions, which has led to an outbreak in wildfires across the region," Udall said. "I urge my colleagues to get this legislation to the president's desk to ensure our nation's air-tanker fleet can safely and effectively respond to wildfires."
The wildfire burning on the Nevada-Utah border has scorched about 6,900 acres and is 40 percent contained, fire officials said Wednesday. Crews don't expect to fully contain the blaze until Sunday evening. Nearly 350 people, including support staff, are working on the fire.
In New Mexico, crews had contained more than 20 percent of a massive wildfire in the Gila National Forest by Wednesday morning. The blaze has charred about 412 square miles, but it's not growing as fast as it was last week.
The tanker that crashed in Utah was owned by Neptune Aviation Services of Missoula, Mont. It was built in 1962, according to federal aviation records, but had been modified to fight fires and was among only a handful of air tankers available nationwide. The other P2V was owned by Minden Air Corp. in Minden, Nev.
The P2V was once a Cold War-era submarine attack plane but for years has been a mainstay of the nation's aerial firefighting arsenal.
At a news conference Tuesday in Albuquerque, N.M., Forest Service chief Tom Tidwell acknowledged the need to modernize the country's firefighting fleet and said the Forest Service was asking contractors to upgrade to a more modern plane.
Neptune Aviation maintains the P2V is a safe plane, despite its age. The company has gathered the plane's maintenance records for an NTSB investigation; however, it has refused to make those records public.
The Utah crash killed two pilots: Todd Neal Tompkins and Ronnie Edwin Chambless, both of Boise, Idaho.
The NTSB investigation could take months, Eckrote said.