Suspects steal more than 30 weapons from Maryland gun store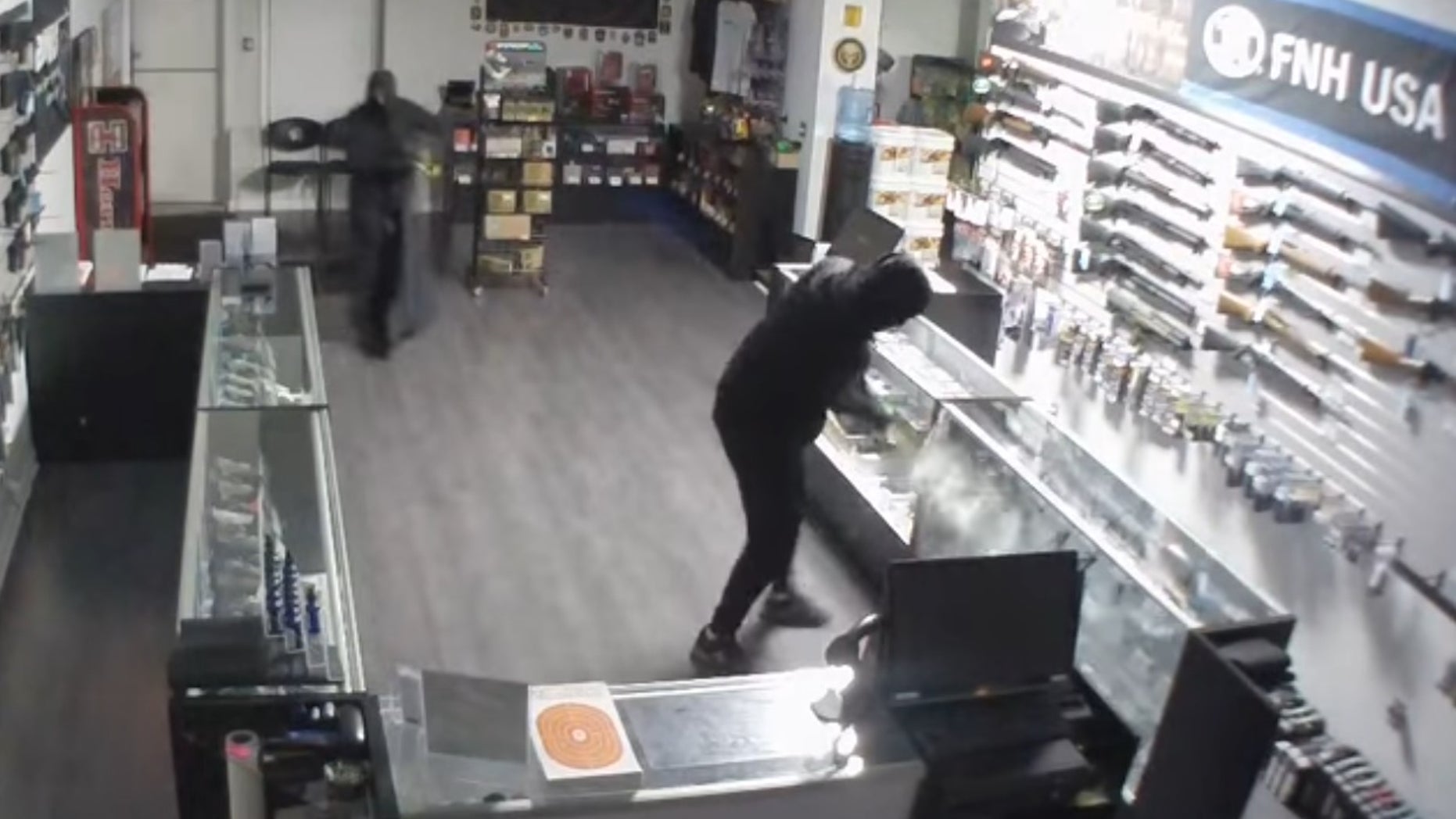 Police and federal investigators are searching for two burglars who stole more than 30 weapons from a gun shop in Rockville, Md.
Montgomery County police said they received an alert about an alarm going off around 3:50 a.m. Thursday at the United Gun Shop in the 5400 block of Randolph Road. When officers arrived, the suspects had fled the scene and police found the front door pried open and glass display cases that had been smashed.
Security video from inside the store show the suspects entered and left the store in less than 90 seconds. According to investigators, the suspects used crowbars to open the front door of the store. After entering, they also use the crowbars to smash the glass display cases to steal 24 handguns and seven long guns.
As the suspects collect the guns and put them into bags one of the suspects climbs over the counter to pull more weapons off the wall. Once his hands and arms are full, you hear him turn to his partner and warn him time was up and they grab the bags and head out of the door they initially came through.
TRAVELER FOUND WITH 10 POUNDS OF COCAINE STRAPPED TO LEGS AT AIRPORT, POLICE SAY
Police said the suspects are believed to have fled in a light-colored, four-door sedan. The suspects were also wearing dark clothing, gloves, and had their faces concealed.
"It just shows you how quickly these burglaries can take place," said Montgomery County Police Sgt. Rebecca Innocenti. "In 90 seconds, they were able to take those 24 handguns and what we believe to be seven long guns. Certainly it is concerning we have these guns that are unaccounted for. That is why we are reaching out to the public asking anyone with information to call that ATF hotline. Up to a $10,000 reward for information that leads to an arrest and conviction in this case."
The Bureau of Alcohol, Tobacco, Firearms and Explosives (ATF) is also taking part in this investigation with police. The ATF said there are no federal regulations that specify how to secure weapons at gun shops.
"Anytime that there is a theft to firearms, the ATF has found that those firearms are destined to wind up in the hands of criminals," said David Cheplak of the ATF. "We take these thefts very seriously. It is important for us to work with the firearms industry to make sure that they do properly secure their weapons. This particular federal firearms licensee had a very significant security system in place."
The ATF said national federal firearms licensee burglaries have gone up by 48 percent in the last five years. Maryland reported having 38 of these similar gun shop burglaries in 2016 – fourth-most in the U.S. behind Texas, North Carolina and California.
Meanwhile, United Gun Shop was closed on Thursday as cleanup took place and the damaged front door was taken down and replaced.
"I'm surprised they got through," said Betty Armstrong, who works at a neighboring business. "I'm surprised they got through their security. They have got cameras out here. They have got a steel door. They got bars on their windows. We really love having them down here because we feel safe and the police are around here, so I didn't think this place would get broken into."