Suspect leads Denver police on high speed chase after allegedly carjacking auto with 4-year-old inside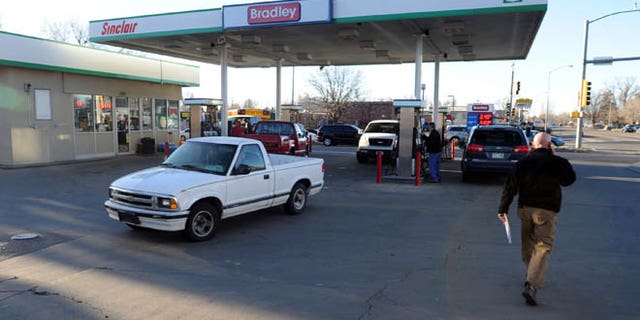 NEWYou can now listen to Fox News articles!
A carjacking at a Denver area gas station quickly turned into a high speed police chase to catch the suspect who allegedly stole a minivan with a child inside.
A red Ford Edge was left running at a Longmont gas station with a pajama-clad 4-year-old boy in the backseat just after 6 a.m. local time, The Denver Channel reported.
The car was stolen from the gas station and, according to the Denver Channel, surveillance video showed a man wearing a yellow and black jacket there at the time. Police issued an Amber Alert with a picture of the suspect, who authorities identified at Ryan Stone, 28.
During the chase, a Colorado state trooper was seriously injured after being struck by Stone as the trooper put down stop sticks, devices designed to deflate tires and slow down suspects.
Authorities said the unidentified trooper was undergoing surgery Wednesday morning, and it was unclear whether Stone was trying to avoid the stop sticks, or if he intended to barrel into the trooper.
Stone allegedly carjacked two other vehicles during the chase, and was eventually captured on foot by police after fleeing one of cars when it slammed into another automobile and was rendered inoperable.
The 4-year-old boy was found safe and reunited with his mother.
At one point, Stone yanked a woman out of the driver's seat of a BMW and threw her to the ground, The Denver Channel reported. She tried to grab the door handle as he drove away.
No one else, including the boy, was injured during the ordeal, televised live during the morning rush hour.
Stone was wanted by police for failing to appear in court March 4 on a "dangerous drug" charge.
Stone has an extensive criminal record, including multiple drug and theft charges, The Denver Channel reported.
Longmont police spokesman Commander Jeffrey Satur said Stone was "definitely running like a person who did not want to go back to jail."
Satur said the boy's mother will not face any charges for leaving her son in the car.
"We're talking very short distances," Satur said, according to The Denver Channel. "It is not like she left her kid in the car for hours on end. She just parked outside the business and walked in and the guy jumped in the car. So, we're talking maybe 15 or 20 feet."
The Associated Press contributed to this report.